Monsieur Ibrahim and the Flowers of the Qur'an
Eric-Emmanuel Schmidt, translated by Patrick Driver and Patricia Benecke
UK premiere: Dialogue Productions in association with Guildford's Yvonne Arnaud Theatre, Richard Jordan and The Bush Theatre
Bush Theatre
(2006)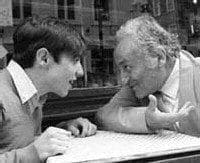 Monsieur Ibrahim and the Flowers of the Qur'an comes as a complete but very delightful surprise. The publicity had explained that it was a two-hander featuring an old Arab man and a young Jewish one.
Rather than some hate-filled political drama this turns out to be something close to a love story in the platonic sense that is at different times both heart-warming and heart rending.
The pleasure is enhanced by a production in which all of the elements work together to create a simple but moving evening's entertainment that does not go short on laughs.
The drama is set in Paris in the 1960s and, despite British ignorance, has been performed in thirteen countries, published in twelve languages; and a film version starring Omar Sharif has won awards.
Moses - or more familiarly, Momo - is a 13 year-old Jewish boy played by the very talented Ryan Sampson. He lives unhappily with his lawyer father and is keen on escapism having just discovered that by saving FF200, he can afford a trip to the Rue du Paradis where he can meet ladies of the night.
His other discovery is the local Arab shopkeeper, Nadim Sawalha's Monsieur Ibrahim. This old man seems out of place on a street full of Jews but his brand of humanism and wisdom based loosely on the Qur'an can fit in anywhere. Soon Momo has a father figure at long last and begins to smile and enjoy life.
The contrast between his real father and the surrogate grows as the former becomes increasingly depressed, particularly after losing his job.
Like his wife a decade before, he eventually abandons his teenaged son whose only noticeable reaction is a sigh of relief.
Following his father's suicide, a long delayed reaction to his own parents' death in a wartime Concentration Camp, Momo is thrown on to the mercy of Monsieur Ibrahim and, despite a brief visit from his long lost mother, the pair decide that a legal adoption must take place.
At that point, they mutually enter their own version of paradise and the play, which lasts less than an hour and a quarter, draws to its close when they take a trip to visit the old man's birthplace in the Golden Crescent, between Anatolia and Persia.
Monsieur Ibrahim and the Flowers of the Qur'an has a real feel-good factor about it. The bond that is achieved between the boy on the verge of manhood and a veteran who helps him to get there is constantly fascinating and beautifully told.
It helps that Eric-Emmanuel Schmidt writes poetically and has been well served by his English translators, one of whom is director Patricia Benecke. One expects high quality acting from Nadim Sawalha but Ryan Sampson, who was recently in A Brief History of Helen of Troy at Soho, is outstanding.
Not only do both play their main characters effectively but they also fill in around at the edges, injecting comedy, for example, in female roles. Sawalha is suitably coquettish playing the street walkers, while Sampson competes in kind as the far more glamorous Brigitte Bardot. In both cases, they are aided by John Harris' often excellent but occasionally overly-intrusive lighting.
The atmosphere is created and retained by Soutra Gilmour's deceptively practical set which is characterised by a shop full of tin cans but has enough corners to serve the script and all of the other props carefully placed to speed the action.
For anybody who lacks a little cheer on a dark, cold winter's night, a trip to Shepherd's Bush will put a smile back on their face.
Reviewer: Philip Fisher