Mother Goose
Susie McKenna
Hackney Empire
–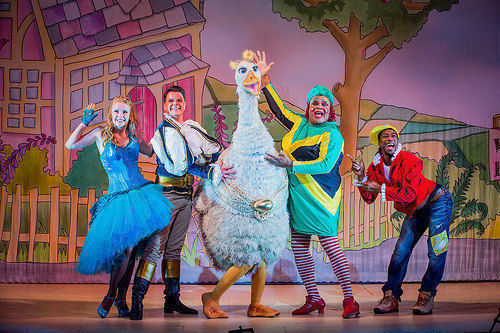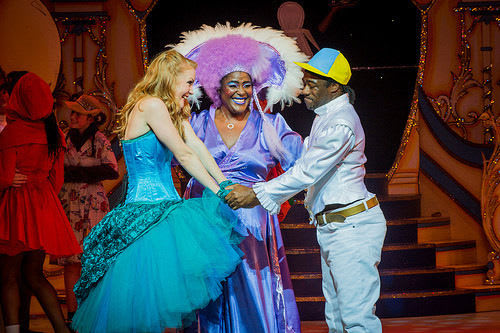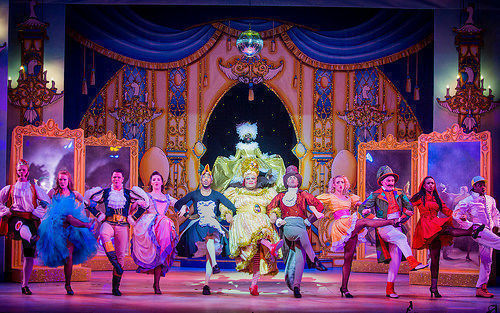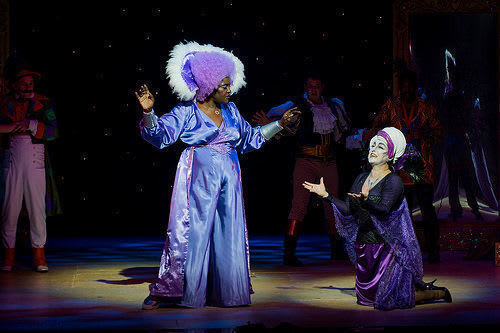 This is Susie McKenna's sixteenth panto at the Empire (all with music by Steve Edis) and this time she has not only written the script and directed the show but is herself grey-wigged and dragged up in purple as the boo-worthy baddy Wicked Witch Vanity—and she pulls it off on all levels.
I haven't seen all of her pantos but I've caught quite a lot of them and I reckon this year's is probably the best. I enjoyed every moment and so did my companion, a friend from Europe seeing her first English panto, and she loved it.
It is a simple tale; you don't need the story. Good versus evil as usual and we all know which side we are on. McKenna's book doesn't go in for masses of dialogue but gets on with things often carrying things along with a number that is almost always choreographed.
Clive Rowe is back as dame, his Mother Goose the centrepiece, and not only when doing a walk down in yet a funny new frock. He is now so experienced in the genre that he could probably do it all on automatic, but he doesn't—he is always absolutely in touch with his audience, and that goes for all this cast.
Sharon D Clarke brings her great voice and big personality to Good Witch Charity—she is all there, not just her voice as sometimes in past years, and there is another pair of Hackney favourites in Kat B as Billy, Mother Goose's boy and Darren Hart as Frightening Freddy, at first on the side of the bad guys. Those two both have the moves and the magic.
Newcomer Abigail Rosser is Prince Jill and Matt Dempsey is back as big-headed Prince Jack ("He's not been the same," she says. "since we fell down the hill.") but we all know that Billy is the one who really loves her and Jack finds a soulmate in Freddy.
Then there is Tony Timberlake (it's only his third Hackney panto) and Alix Ross reprising her role as Priscilla the golden-egg-laying goose—the last time I saw her she was a troubled teenager in Roy Williams's Advice for the Young of Heart and somehow she manages the same sensitivity with a twist of her goose neck or inclining her head.
Arthur Kyeyune is exquisitely feline with a finely poised paw that adds finish to his line as a dancer and also, seemingly growing in height, as Mother Goose's elegant mirror reflection. There is a quintet of other excellent dancers as other fairy-tale characters and scary skeletons doing credit to Frank Thompson's choreography—not to mention a vicious huge vulture that, like Priscilla's outer appearance is the product of creature designer Scott Brooker's workshop.
Lotte Collett keeps scenery fairly simple, like coloured in drawings which adds impact to glamorous costumes and sparkly extravagances but this is a fast-moving, music-packed show that doesn't leave you time to take a long look at things.
Hackney has sometimes heavily over-amplified. That seem to have been solved this year (though it is still a bit loud it doesn't distort things) and the balance with the excellent band is no problem. The plate-smashing, knock-about kitchen scene doesn't work quite as well as it should do. It's funny but could be much funnier, but that's an unkind cavil when the rest well deserves to get five of Priscilla's golden eggs.
With geese sweeping across the whole auditorium and a Danny Boy in the audience finding himself involved in an ice bucket challenge, this is a show that spreads joy right through the theatre, though the audience would clearly have liked even more participation. I would like to see the traditional song-sheet number (with its lively choreography) being moved earlier and I am dying to know what kept on creasing our Clive who somehow made the audience complicit without revealing what.
Reviewer: Howard Loxton