Mr Foote's Other Leg
Ian Kelly
Michael Codron, Anthony Pye-Jeary, Hampstead Theatre Productions and James L Nederlander
Theatre Royal Haymarket
–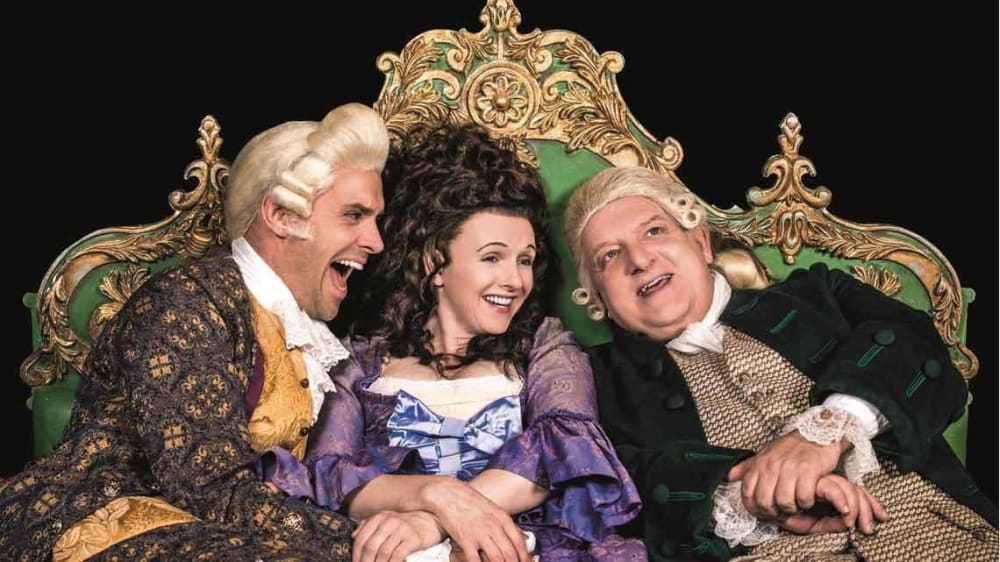 Ian Kelly scooped the Theatre Book Prize with his biography of eighteenth-century actor Samuel Foote and this dramatisation of some of the same material is another hit, sold out at Hampstead Theatre earlier this year and now it's in the West End.
Sam Foote, comedy actor extraordinaire, was an eighteenth century star, a contemporary and friend of David Garrick. They both took elocution and acting lessons from Charles Macklin. Garrick and his sometime lover Margaret (Peg) Woffington are key characters in this story, along with American polymath politician Benjamin Franklin and pioneering surgeon Dr John Hunter.
Kelly open his play with a prologue in Dr Hunter's macabre collection of preserved human body parts (they are now in London at the Royal College of Surgeon's Hunterian Collection and at Glasgow University). Foote's cockney prompter / stage manager and his black West Indian valet / dresser are attempting to purloin his amputated limb to bury it with the rest of him in Westminster Abbey. It then goes back thirty years behind the scenes with Macklin.
It is there that tyro performer Foote, already moving in literary and theatre circles, meets Garrick (with a heavy Brummagem accent—he comes from nearby Lichfield) and Irish Woffington, already a star in Dublin, and the real story starts.
This isn't a play about grand historical figures. In every sense, it is a backstage picture; these are private portraits, warts and all. Those who know their eighteenth century will gain an extra frisson from seeing these people brought to life, theatre buffs especially, but you don't have to be a history expert to find this a fascinating story that lifts the lid on life, revealing a world where royals and high society mix with low life and ripe with sexual scandal, even as Garrick battles to gain respectability for his profession.
It is a bet set up by Prince George (the future George III, played here by dramatist Kelly) that leads to the accident that ends in Foote's leg amputation. The surgery, performed historically and theatrically on stage, gives Simon Russell Beale's brave but outrageous Foote a perfect line to bring down the first act curtain.
But this isn't just a play about amputation. It is a picture of a man determined to be himself, damn the consequences, set against Garrick's aspirations, of a world where the American colonies are rebelling, scientists pursuing knowledge, Franklin's electrical experiments (he even dishes out kites as presents) and of black slaves seeking freedom.
Russell Beale, sometimes resplendent in strapped-on gowns with bulging bosoms and towering millinery, is a splendid Foote, though it is a pity that as we only get the frocks and no taste of the satirical character sketches of the one-man show performances that he invented. Joseph Millson, though much taller than the real-life actor, gives Garrick a measure of the gravitas with which he sought to elevate the social status of the profession as well as friendly bon homie and just a touch of his disdain at the way in which the incorrigible Foote undermines all sense of propriety.
Dervla Kirwan's Peg Woffington is a lively, lusty lady, it is easy to imagine her success in breeches roles, though we don't get to see her play one—but then this is off- not on-stage theatre and Micha Balfour's dresser Frank (oddly named after Samuel Johnson's man rather than Foote's real one) and Jenny Galloway's coarse but competent prompter make a major contribution as Foote's loyal supporters—and her Mrs Gardner makes a powerful plea for recognizing the value of all stage managers.
Colin Stinton as Ben Franklin and Forbes Masson's Dr Hunter, a glimpse into the parallel world of science in this Age of Enlightenment, present characters we want to see more of—but that goes for everyone in this story. Richard Eyre's production is sometimes too packed with incident and information to take it all in—or have time for—but it is a fascinating and hilarious evening that isn't only about the eighteenth century.
It is particularly appropriate that this play is in this theatre for Foote's own theatre, the Little Theatres which preceded it on Haymarket, was right next door; some of his private house is now part of its backstage. It was in 1766 that King George III granted Sam Foote a Royal Licence for his theatre in the Haymarket. After two centuries and a half, it's great to see him back in today's Haymarket Theatre Royal.
Reviewer: Howard Loxton