The Adventures of Baron Munchausen
National Black Light Theatre Prague
The Lowry, Salford, and touring
(2011)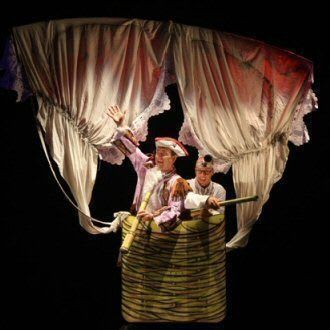 National Black Light Theatre Prague blurs the lines between fantasy and reality with a toy box full of traditional and hi-tec tricks applied to a story about a famous fantasist.
The Munchausen story is ideal for this type of theatrical treatment. This version is narrated by Dr Jonathan Parker (get the Dracula reference?) of the Royal Psychiatric Hospital, whom we initially see checking out some of his patients and dealing with them rather harshly, like naughty children. His last patient is Baron Munchausen who writes a journal of his wild adventures that no one else believes really happened, but Dr Parker gets dragged into Munchausen's fantasy world and taken on some of his adventures.
These adventures take them across the sea to a land of giants where they are captured and made to perform by an unscrupulous innkeeper, to the east where they try to rescue a girl whom a fat sultan is trying to force to join his harem, under the sea, on the moon and eventually back to the hospital, but with the doctor a changed man through his adventures and through finding love. The whole story is told visually and through a voice over narrative with no dialogue from the actors apart from occasional mutterings.
Through a combination of old-fashioned flying techniques with UV (the American name for UV is "black light") light on fluorescent objects manipulated by performers in black and projections on a gauze to superimpose moving images both behind and over the actors all against a black background, the production creates a magical feel where things and people can appear, disappear or fly around the stage. Mostly, these effects are achieved smoothly and impressively without revealing the mechanisms behind them. Not everything works perfectly: the eyelines between the projected characters and the live actors are nothing like as perfect as the publicity shots make them appear, and there are times when things don't work as they should or a stray or late follow spot catches something it shouldn't. Generally, though, it's technically impressive and imaginative and looks wonderful.
The same attention to detail hasn't been applied to the narrative. Sequences that make a stunning initial impact often go on for far too long with little variety, and sometimes the actors appear to be filling time until the current music ends and the next sequence starts. Some of the comic stage business is fine but some is a little scrappy and rushed and in some cases it is difficult to work out exactly what they are trying to show.
The programme tells the fascinating story of how this style of theatre came to be popular in Prague in the 1980s as a way of using fantasy stories to subtly comment on the authoritarian Communist regime, and this idea survives even in this production. While on the surface it is just a fantasy story, the prologue uses voice over and projected film images of twentieth century wars, dictators and atrocities to place the story in a world where imagination and fantasy are frowned upon by the authorities as incompatible with their materialist philosophy.
Martin Kalous is a suave, swashbuckling Munchausen, Pavel Marek Junior (son of the company's founder) gives a very good and varied performance as Parker, Jakub Marek as the Sultan gives an impressively physical performance in a huge fat suit (climbing over the audience at one point), Jan Kuzelka is the Sultan's comic servant Pochop, Veronika Miklova gives a suitable damsel-in-distress performance as the girl, and there is some impressive belly dancing from Ludmila Sluneckova.
There is a great deal about The Adventures of Baron Munchausen to admire, from the beautiful design (the creative designer is Emma Srncova) to the way the impressive technical effects are integrated with the story into the overall concept, but there is a nagging feeling that it could be much better with just a few tweaks. However as a family show with a difference that has the power, in its best moments, to wow people of all ages, it's certainly worth a look.
Reviewer: David Chadderton