N.N.N.N. / Study #3
Choreography by William Forsythe
The Forsythe Company
Sadler's Wells
–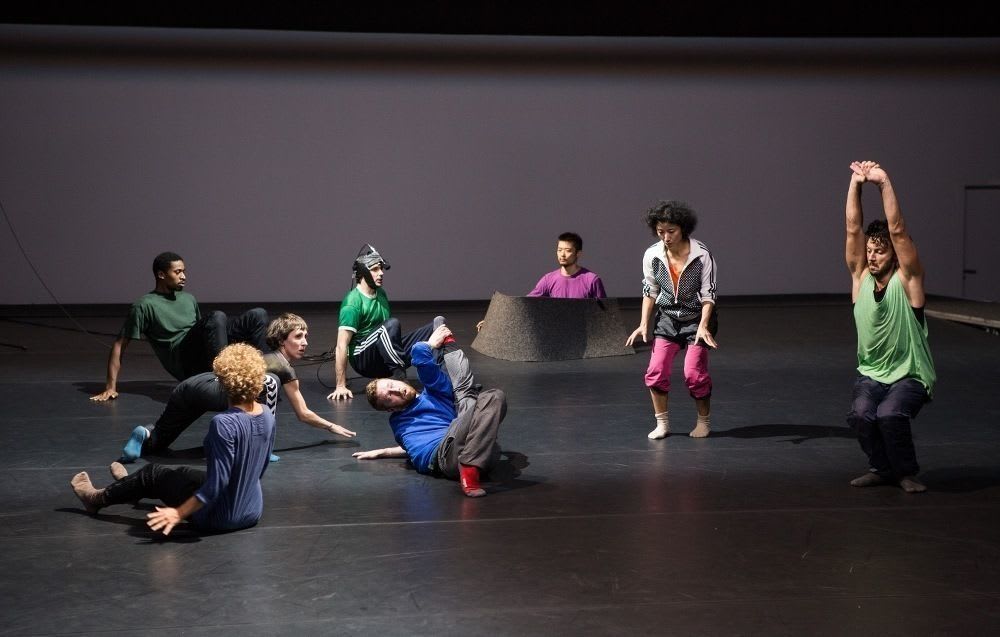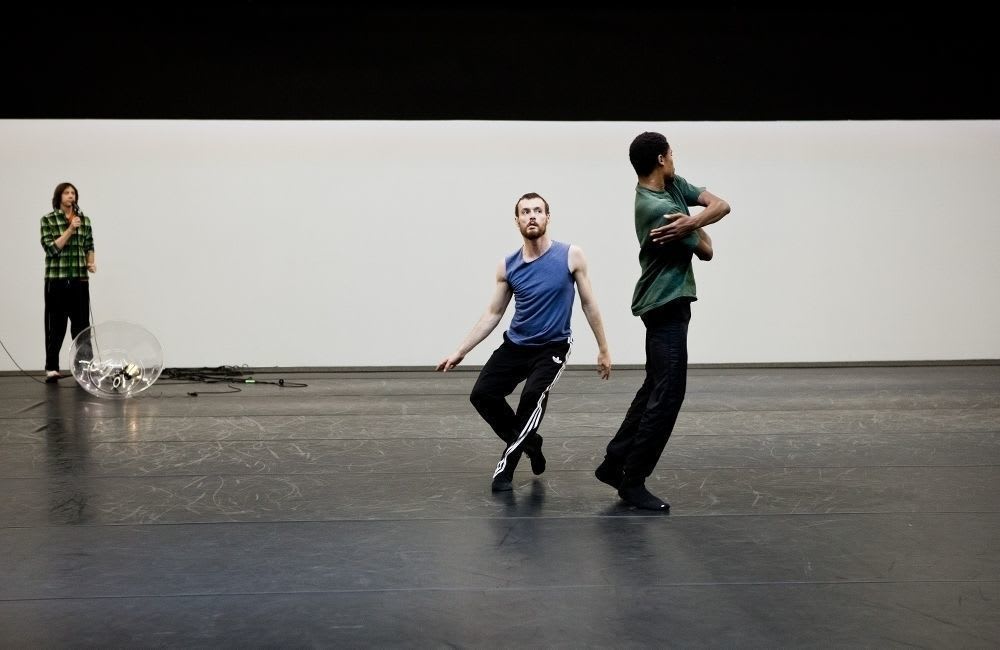 William Forsythe has been scripting intellectually quirky, quizzical dance in a unique idiom for half his lifetime, calling his version, based in classical but taken to postmodern avant-gardist sampling lengths, an 'idiolect… a tiny language spoken by a little tribe'.
Whether one of his passionate followers or uncomprehending novices, one can see that the human body is his laboratory, his end product artwork installation.
A playful twenty-minute hors d'oeuvre, N.N.N.N.—four men, four cygnets warming up to take off—warms up the audience for the hour-long Study #3, created and premièred in Frankfurt (Forsythe's base) in 2012.
Workshop bare stage, electric cables and gantries on show, matches the movement-in-embryo concept. Four men, no music, just the sound of their breathing, test their limbs' gravity in tai chi flow, in Eric Hawkins's tasselling momentum, in capoeira competition, movement instigating movement like the internal workings of an expensive Swiss watch: weight, balance, counterweight, contact, action and reaction, sequence after sequence in pairs, threes and fours.
Study #3 is more of the same, less structured in appearance, to Thom Willems's (Forsythe's regular collaborator) industrial soundscape, and to (deliberately?) incoherent text and distorted beat-box sounds performed live by individual dancers into stage microphones. Stage-managed by Forsythe at a mixing desk in the stalls auditorium.
Study #3 'recontextualizes movement sequences, compositional methods, music, text, props, costumes, lighting, scenery and technical effects from 27 works spanning the last 30 years', states the programme blurb. Hmm.
A collage; a legacy; an improvement; a rehash; a revisiting; a remembering; a reinvestigation; an easy ride? Don't all classical ballets do that, reuse what's gone before? At least that's Forsythe's claim.
The dancers generate seemingly improvised random moves to nonsensical, or maybe significant, eclectic text and noises. This takes me back to my dance student days in the eighties and a choreographic exercise to Lewis Carroll's Jabberwocky. I may have mentioned this before…
Twister games, Grandmother's Footsteps, Space Odyssey and Solaris, enigmatic chaos, OCD repetition, dance as quantum physics, bodies tangle, collide, bounce off each other, birds, sheep (if noises are to be believed) call and respond.
Concentration and meditation, deformity and conformity, Isadora Duncan and auteur art house film (Godard, Antonioni, Lynch), the mind wanders in search of connection, tolerance and willpower are tested.
Perplexing, imaginative, crazy, one does need to be on the same wavelength, but would there be a Wayne McGregor or a Russell Maliphant without a Bill Forsythe? I see McGregor's turkey cock sway body strut and Maliphant's kinetic sculptural forms.
Ballet, and Forsythe calls his dance installations ballet, can take on many forms: articulation and the body's geometric possibilities fascinated Merce Cunningham, and still fascinate Forsythe, the Charlatan Showman with his seventeen-strong international troupe of Petrushkas, who are fabulous.
Reviewer: Vera Liber