The Night Season
Rebecca Lenkiewicz
RNT Cottesloe
(2004)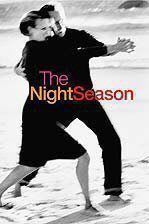 Questions may well be asked as to why a first serious play by a young actress turned playwright should be produced at the National Theatre. If the word gets out that Rebecca Lenkiewicz whoops with delight at the end of selected performances, the more puritanical will shake their heads even more sharply.
The answer to the conundrum is very simple. This is one of the best plays of the year and will garner awards, or at the very least nominations, for several different members of the creative team.
In simple terms, the plot follows the complicated lives of members of an Irish family, the Kennedys after a film actor, significantly playing Yeats, comes to stay. He is the catalyst for dramas and dreams of every kind.
By turns, The Night Season is funny and tremendously moving, Many members of the audience will have found themselves with tears of both laughter and sadness in their eyes.
The drama is perfectly constructed as one might expect from an actress's play. This is the secret of its power, as dilemmas are addressed from every aspect. Each actor is thrust centrestage for a moment of glory.
The only exception is an absent protagonist. As mother, daughter and wife she is a central figure even though she has not been seen for ten years.
The matriarch, Lily (after Marlene), played with wonderful veracity by Annette Crosbie, may be dotty but she sees through to hidden truths. She is desperate for a last love and, like her granddaughters, is entranced by John Light's pretty actor.
In different ways, Rose and Maud (Justine Mitchell and Sarah-Jane Drummey respectivel) yearn for him as a means of escape. At the same time, prim librarian Judith pursues a cold fish, Lloyd Hutchinson's solo chess-playing Gary and even their seedy, drunken father Patrick, a comic gem of a performance from David Bradley, wants his moment of squalor with a busty barmaid.
The Night Season uses rich metaphor to explore love, both sexual and familial, mixing lush and often fruity language with raw emotion. With the exception of the one-dimensional incomer, everyone on stage, not to mention absent mother, seems like real flesh and blood. This is an extraordinary achievement for such a novice and her juggling is greatly assisted by the fine performances and witty touches drawn from her cast by director Lucy Bailey.
Miss Bailey must also share the plaudits for the constantly surprising and entirely delightful design by Dick Bird. The set uses space well with beds, sand dunes, symbols and stars embedded in walls, as well as a stage split between kitchen and bedroom (complete with magic bed), that even doubles as the sea.
Rebecca Lenkiewicz may not be a name that many people can pronounce but it is one that they will hear a great deal more from. She may wish to consider hanging up her acting shoes. She was by no means the only person on her feet at the end of a memorable two and a half hours and the clamour for her next play will be tremendous.
Reviewer: Philip Fisher