Our Big Land
Dan Allum
Romany Theatre Company and Oval House in co-production with New Wolsey, Ipswich
Oval House Downstairs
–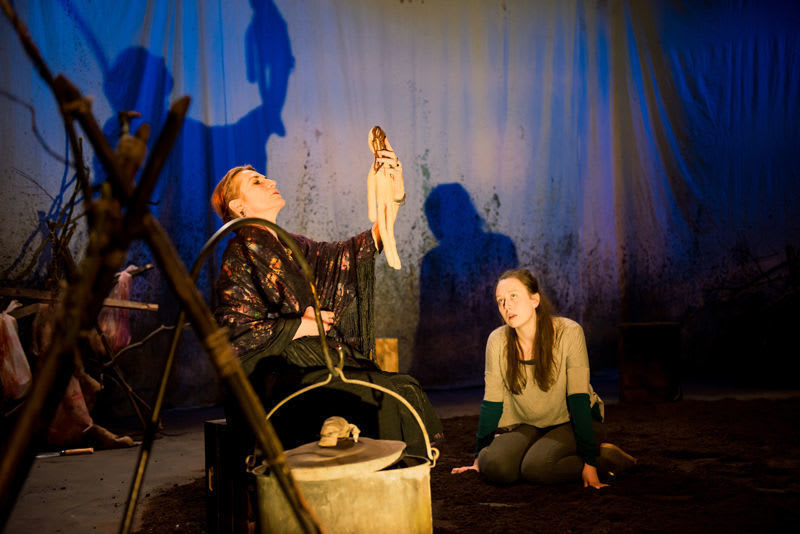 "My mother said/ I never should/ Play with the gypsies/ In the wood" goes the old song but lonely Sophie with no father and a mother who doesn't give her much attention is fascinated by the people she sees living in their caravan in local woodland, cooking in the open food gathered from the land.
Mother Oceania (Robyn Moore) and her son Roman (Samuel Edward-Cooke) are isolated too, cut off from other Romanys. Intrigued by this strange girl who stands watching them, Oceania calls her. She bonds with Roman, their games include teaching him to read.
Oceania sees Sophie as having a gypsy spirit; she encourages the growing love of the two youngsters and wants to pass on to her the lovely shawl, the bauro diklo, a storytelling shawl that has great significance in Romany culture.
Oceania marries, performing a traditional gypsy wedding ceremony, but there is an interruption of the ritual when a red ribbon floats to the ground, a bad omen, and their whole future is threatened.
A story of Romany travellers evicted from their camping ground is straight from newspaper headlines and here it is framed by gunfire and the roar of bulldozers. It sets an ancient way of life against Sophie's computer savvy action as she tries to secure a future for her unborn child, but this is not a plea for Romany rights so much as a celebration of Romany culture.
For sixty minutes, it combines text with songs, dance and physical theatre in a beautiful and visceral performance. The mixture of accents and Romany language makes it sometimes difficult to follow exactly but director Amy Hodge creates a mood that combines the theatrical power of original Romany songs, James Fortunes sound design, Takis's set (with a miniature caravan on the earth floor mistily enlarged on the backcloth) atmospherically lit by Lee Curran to give it impact and support some faultless acting.
It is a glimpse that makes you want much more.
Reviewer: Howard Loxton