Peter Pan
J M Barrie, adapted by Sarah Punshon
The Dukes
–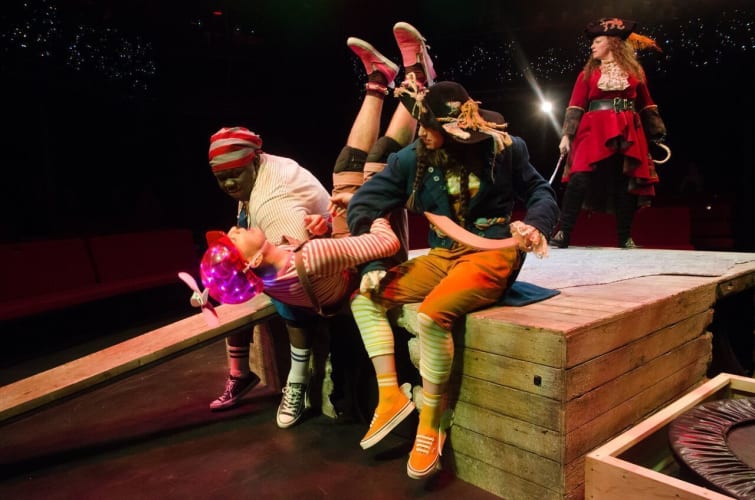 Once it gets over its contemporary issues of gender fluidity, or single parenthood, this anarchic adaptation of the J M Barrie classic becomes a frenzied but funny Christmas entertainment.
This is a playground Peter Pan aimed squarely at an audience who know physical fun when they see it, and respond accordingly. The venue would do well to book the three young theatregoers on the front row—this particular night—for the whole run, then the rest of the audience can just sit back and lap up their enjoyment.
You're certainly unlikely to find a smaller cast than the frantic five here, performing aerial stunts, bouncing around on trampolines, or generally containing so much physical theatre inside a space smaller than some rehearsal rooms. The raised stage becomes a box of tricks and for its inner workings the uncredited stagehands deserve their own round of applause. It's not too much of a plot spoiler to say that the crocodile's supper goes down a treat...
Before all of that though, writer and director Sarah Punshon sticks close enough to Barrie's original but chucks in mobile phones, a light sabre and the Floss Dance out of respect to modern sensibilities. The suite of original songs, from Punshon, Claire Tustin and musical director Ziad Jabero, would do credit to shows enjoying much bigger budgets.
Gareth Morgan is a suitably emotionally-stunted Pan, more likely to earn himself an ASBO nowadays than a flight to Neverland. Helen Longworth is a raucous Captain Hook and Henry Mettle, Jason Patel and Dora Rubinstein add their own youthful energy. Since all of them perform three or four roles apiece, and change characters and costumes at speed, it becomes part of the fun anticipating who will come through which stage entrance next.
A production that proves you can get away with a little diversity, and a lot of divergency, and still have a show sprinkled with magic dust.
Reviewer: David Upton