Peter Pan
J M Barrie adapted by Robin Belfield and Simon Slater
Watermill Theatre Company
Watermill Theatre Newbury
–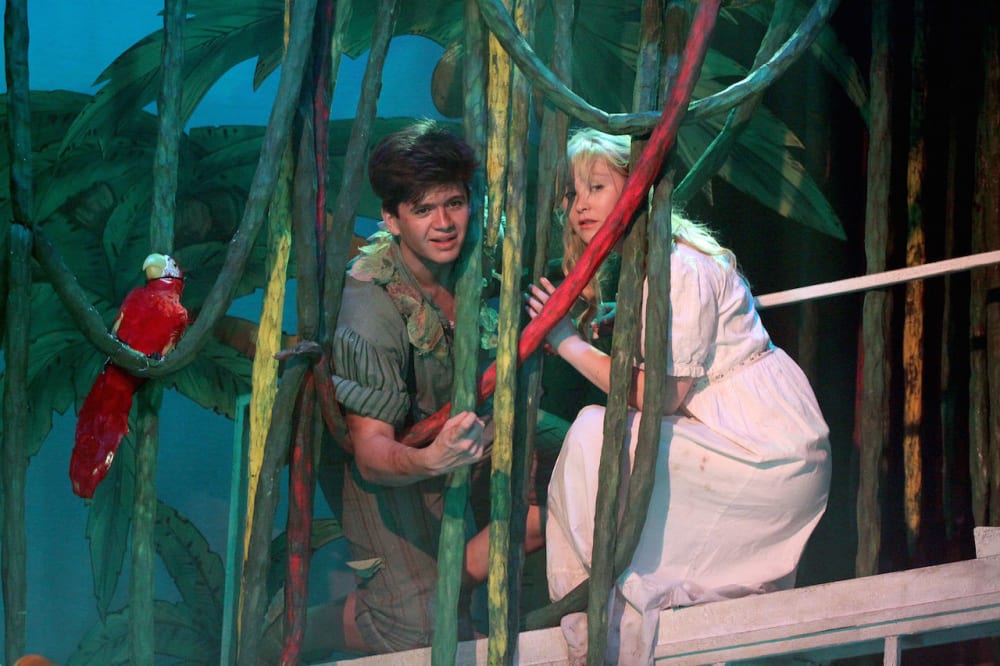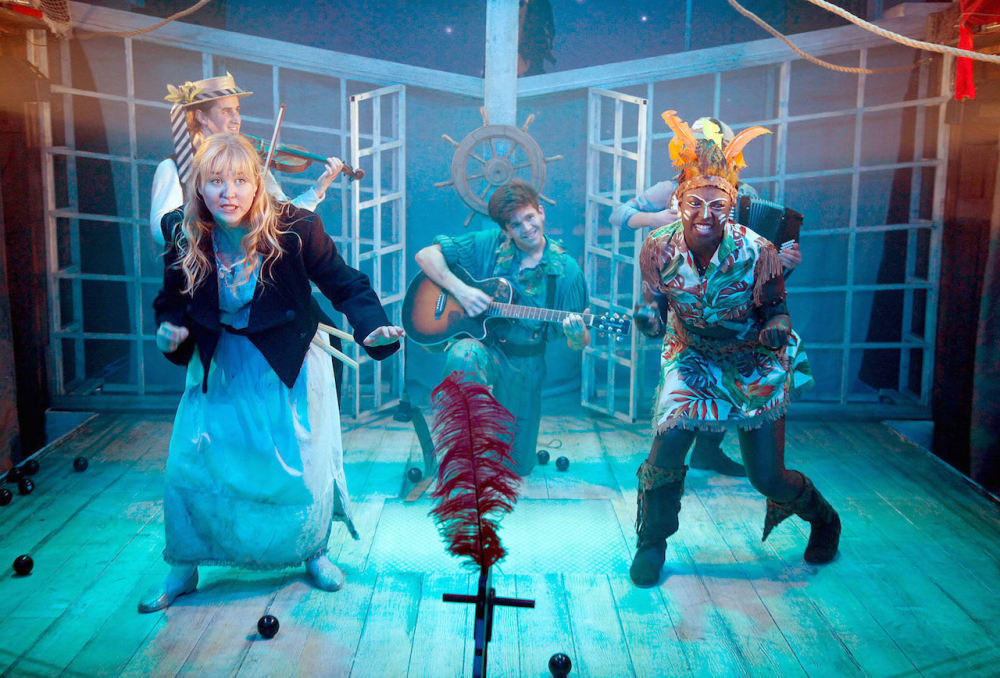 The Watermill's fun-filled, family-friendly Peter Pan is the perfect start to the festive season. Once again, the partnership of director and writer Robin Belfield and Simon Slater, who also composed the vibrant music, have come up trumps in this hugely enjoyable and pacey adaption of J M Barrie's classic story.
Neil Irish's colourful, inventive set transports us from the streets of London to the magical world of Neverland with the help of some fairy dust "second star to the right and straight on to morning."
The talented cast of six actor-musicians are terrific relishing every moment of this adventure tale.
In a clever twist, Bronte Tasman, who recently graduated from the Oxford School of Drama, enthusiastically plays Wendy as a feisty tomboy who loves playing pirates and boy's games.
Jay Worley is the spirited Peter Pan enjoying the delights of innocent boyhood and is determined not to grow up and revels in being the leader of the Lost Boys and is totally convincing.
Returning to the Watermill for the sixth year, Morgan Philpott is a powerful domineering, evil Captain Hook with great facial expressions and physical presence. A nice touch is when he is talking to his exceedingly large hook that he calls Horatio with some unexpected outcomes. By contrast, he gives a warm-hearted performance as Mr Darling.
Abiola Ogunbiyi portrays Tiger Lily as a defiant woman who is fed up playing the damsel in distress and wants to go on adventures with the Lost Boys.
Splendidly playing all the other characters are Oliver Izod and Ed Thorpe, and they certainly work their socks off with swift costume changes as they become the Lost Boys Slightly and Tootles as well as the pirates Smee and Starkey and even the camp mermaids, which is truly hilarious—I wont spoil it.
However, the games begin to turn serious as Hook is determined to kill Peter for real and it's only the clock in the crocodile that keeps Hook in fear and Wendy no longer want to be mother but join Peter and the boys on adventures.
There is great audience participation as we all clapped to bring Tinkerbell back to life after she drank the poisoned milk meant for Peter and we all threw "cannon balls" to defeat Hook, which was tremendous fun.
With many groan-making pirate puns and swashbuckling sword fights, this is a superb show that entranced both children and adults in the audience who enthusiastically responded with "woo hoos", repeating Peter's call and much well-deserved applause. Highly recommended.
Reviewer: Robin Strapp