My Trip Down the Pink Carpet
Leslie Jordan
Apollo Theatre
(2011)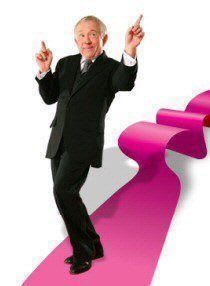 This is a one-man show, written and performed by an American actor who has appeared in numerous television series and won an Emmy in 2006 as Outstanding Guest Actor in a Comedy Series for his portrayal of Beverley Leslie in Will & Grace, a role he tells us was intended for Joan Collins. He has been in Ugly Betty too so perhaps I have seen him but must confess his name meant nothing to me but the title of his show does more than hint that this is something of a gay fest.
Mr Jordan must be the campest Munchkin in Hollywood, and would probably be delighted to be called so: this diminutive entertainer tells us he really 'a high-school cheer leader in a 55-year-old male body' and that he fell straight from his mother's womb into her high-heeled shoes. As he takes us from his schoolboy pashes, and rather more that happened in the woods with the President of the School Bible Society, his sense of guilt sitting in the Baptist church pews in Chattanooga, Tennessee, his decision when he was 27 to board a Greyhound bus and head for Hollywood and those years since in show biz, his tart wit and reminiscences jump around in time with tales of working with Faye Dunaway and encounters with male stars Mark Harmon, Robert Urich and a gorgeous young George Clooney on all of whom he immediately developed crushes. There is just a hint of scandal but Jordan is never malicious; he is usually the butt of his own humour, which can include talk of body parts (male and female) so prudes beware.
Highlights include is account of making a saki commercial in the scorching Mojave Desert playing a monkey in prosthetics with Boy George high (in both senses) on a horse and dressed as a geisha. There is a delicious protrayal of gay disco dancing contrasting the arm pumping butch queen and the head-jerking floating fairy; the story of his first visit to a gay bar, after weeks of building up to it, escorted in by a pair of drag queens in full regalia, and an up-beat telling of his couselling for addiction and first taking the podium after joining a testosterone-charged group of jocks providing a serious coda for the show.
It is all very carefully scripted and neatly directed by David Galligan in a sumptuous set by Michael Hotopp and in the first few minutes the contrivance shows but, once Jordan has got the measure of that night's audience, flows seemingly effortlessly for over 90 minutes (no interval). That it does so is due to the energy, skill and open personality of this accomplished performer. This is an intimate show that Jordan has to make carry to everyone in the audience and he seems to do it, though I was in the stalls and can't personally speak for the gods. My lady companion wondered whether making fun of what matches the stereotypical idea of a homosexual might be offensive to gay men but those around us were clearly loving Jordan sending himself up
Grey-haired and face creased by life and laughter he looks older than he admits to, which makes his nimble footwork and sprightly performance even more engaging. As he himself says he is not a character actor, he is always playing a version of himself - and that is what this is, decidedly bigger than his four foot eleven life-size. He has written a book with the same title on which his play is based but readers lose out on this encounter with the man himself.
Limited run ends 19th February 2011
Reviewer: Howard Loxton