Please Excuse My Dear Aunt Sally
Kevin Armento
One year Lease Theater Company
Pleasance Courtyard
–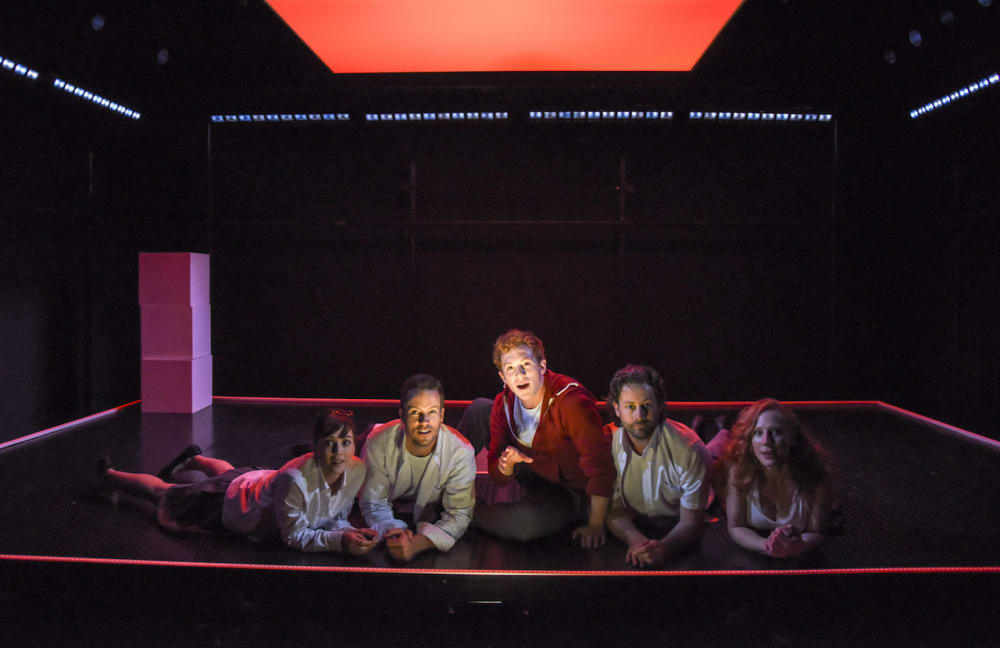 Please Excuse My Dear Aunt Sally by Kevin Armento is a remarkable and intriguing play. The title is a mnemonic used in teaching algebra.
A relationship between teachers and students is very much a taboo subject that can result in horrendous consequences for both. When a high school teacher confiscates 15-year-old Red's mobile 'phone, an illicit affair begins between them.
The twist in this production is that the story is told through the eyes of the mobile 'phone with the cast sometimes voicing the phone individually or together reflecting a Greek Chorus that works extremely well.
At the side of the stage on a swing is a mandolin player who adds a musical accompaniment, mirroring the action on stage.
It's set in the USA with inventive staging and is beautifully lit. In the centre of the raised stage, there is a large pit with the action performed around it or in it and simple white props are used creatively.
As the story unfolds, we meet out-of-work Donald who has moved in with the teacher and also Red's divorced dad who is trying to come to terms with the separation.
When the teacher sends a text to Red, the obsession and infatuation escalates almost out of control with the teacher making excuses of stomach ache so that she can text Red from the bathroom.
His mother is at first pleased that Red is staying at school to attend clubs or training but when she discovers an incriminating photo on his 'phone attitudes change and family life becomes strained.
This experience will change all of their lives forever as Red learns a hard knock life lesson.
The cast are exceedingly impressive and although the plot is simple they perform it in an original and imaginative way with tremendous physicality, pace and energy.
Reviewer: Robin Strapp