Popular Performance
Edited by Adam Ainsworth, Oliver Double and Louise Peacock
Bloomsbury Methuen Drama
Released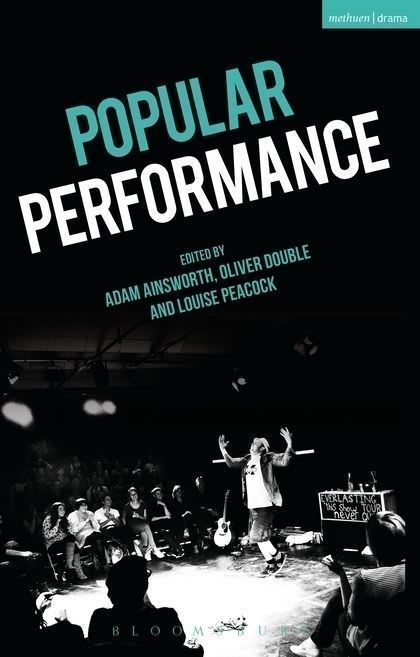 This book on popular performance—which includes a contribution from BTG's own Panto Editor Simon Sladen on, of course, panto—is aimed very much at the academic market (and priced accordingly), but there are some elements of it interesting to the lay reader.
Co-editor Oliver Double, who has written some great books on stand-up comedy in the past, introduces this collection of essays with an attempt to define the term in its title. Note that this isn't popular theatre, and there has often been an attempt to distance the types of performances included with the so-called "legitimate" theatre, although there is a lot of cross-fertilisation between both sides of the "legitimacy" divide.
The kinds of performances included are "popular" in the literal sense of being able to attract large audiences, and are not necessarily aimed just at the working classes. A significant element of popular performance is what is now termed "breaking the fourth wall", in other words a direct communication between performer and audience, the former not pretending to ignore the presence of the latter as in naturalistic theatre for which the concept of the "fourth wall" was conceived in the late nineteenth century.
Other elements of the "popular" include demonstration of skills (e.g. dance, acrobatics, magic) for their own sake and not to serve a theme or story, situating the performance in the current moment and acknowledging current events and the performer playing a combination of him- or herself and a stage role or persona.
There are essays that look at comedy in different periods, including music hall comic Dan Leno, the great clown Grock, Josie Long's free-for-all evenings in her regular "Lost Treasures of the Black Heart" events and the live sketch comedy of Pappy's. There is a look at the effect of Munich's cabaret scene on the young Bert Brecht, a close analysis of the stage conjuror through the work of Derren Brown, an examination of the pantomime performer's multiple roles—bringing whatever the performer is famous for into his or her role in the pantomime—plus modern burlesque, American vaudeville and British variety.
Some are densely argued academic arguments that take some study to unravel, while others read very easily and integrate their academic arguments well with some very interesting historical and contemporary research. Overall, it is an interesting collection of academic treatments of areas of performance that perhaps do not get as much attention, which has to be welcomed.
While the performances examined in this volume may be closely related to "legitimate" theatre and even take place often in the same venues, the most significant difference, as examined in every chapter of this book, is the relationship between the performer and the audience. The book as a whole brings these diverse forms of entertainment together to successfully analyse that relationship in different ways.
Reviewer: David Chadderton