Potted Panto
Daniel Clarkson, Jefferson Turner and Richard Hurst
James Seabright for Seabright Productions Ltd
Vaudeville Theatre, London
(2010)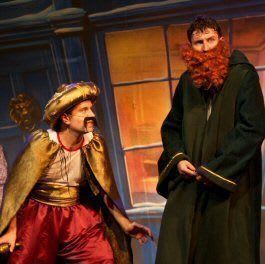 After Potted Potter and Potted Pirates, Clarkson and Turner add another 'P' to their potted portfolio to form a trilogy of titles with Potted Panto.
An experienced comedy partnership, Clarkson and Turner delight audiences with their zany and energetic performance style. Turner is the straight man to Clarkson's silliness in a pairing not dissimilar to that of Morecambe and Wise. Much of the piece's humour arises from the duo's comedic interplay and in Potted Panto this is firmly rooted in Clarkson's constant desire to perform A Christmas Carol, which, as Turner rightly states, is clearly not a pantomime.
Throughout the course of the 95 minute show, the audience are treated to six pantomime titles, and one non-pantomime title, each delivered in record time via a series of silly hats, outlandish accents and comedy costumes. The usual pantomime walkdown finale concludes each chapter and highlights that this is not merely a seven-for-the-price-of-one show, but also a lesson in the history and conventions of the genre.
Delivered in a knowingly mocking way, the pair debate the many absurdities of the genre much to the audience's delight. Breaking down the 'Ghost Gag' is particularly effective and reminds us just how nonsensical pantomime can be at times. Other conventions, such as booing, are discussed and 'panto novice' Clarkson is amazed that audience members inherently know what to do in a call and response situation. Great fun is had with the 'Oh No It Isn't / Oh Yes It Is' patter and children in the audience scream with delight when Clarkson proceeds to whole-heartedly boo his co-star in order to show his appreciation.
Clarkson and Jefferson have decided to use the Grimm tales for their Potted Panto playlets and in doing so appear somewhat out of touch with today's panto stories, which share much more in common with the sugary-sweet Disney versions. They also state that "Villains have to die - that's the way it goes. It's traditional, it's been like that for years", but this is an oversight seeing as today it is deemed inappropriate that the Villain should be killed or die. Instead Villains are often given another chance and become incorporated into the society they once fought against.
One pantomime tradition gathering pace is the use of 3D technology and Potted Panto put their own glorious spin on this during their telling of the Cinderella story, complete with spiders that really do come out at the audience. Everything is delivered tongue-in-cheek, but in many ways, their sequence is more 4D than 3D as the audience not only experience, but feel the magic - or should that be water?
So why is A Christmas Carol advertised as one of the tales included in the show? We all know that the Dickens' story is not a pantomime, but the team behind Potted Panto very cleverly combine it with another pantomime title and in doing so create the character of Abanazar Scrooge to expose similarities between the two tales, as well as allowing for more of that zany humour and comic interplay that the audience love.
Whilst An Ideal Husband runs at the Vaudeville in the evenings, the ideal introduction to the genre of British pantomime runs mornings and afternoons. For those unable to catch this wonderful piece of panto pie in London, there's no need for sorrow - as Potted Panto goes on tour throughout January and February ready for consumption across the UK.
Playing at the Vaudeville Theatre, London until 9th January 2011 and then tours to Great Torrington (15th January), Cardigan (16th January), Bedford (22nd January), Exeter (5th February), Stantonbury (6th February), Felsted (9th February), Andover (19th February), Salisbury (20th February), Birmingham (23rd February), Alnwick (24th February), Maidstone (25th February), Basingstoke (26th February) and Didcot (27th February).
Visit our sponsor 1st 4 London Theatre to book tickets for Potted Panto
Reviewer: Simon Sladen