Peter Pan
Qdos Entertainment with One From The Heart
Wyvern Theatre, Swindon
(2010)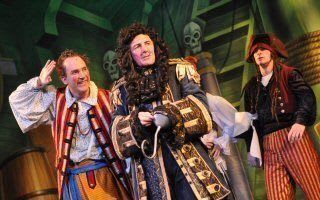 Once again the Wyvern Theatre in Swindon has come up trumps with a swashbuckling panto that will 'hook' you from start to finish because Peter Pan has flown into town. And what great fun for all the family a wonderful evening's entertainment this show is. The audience absolutely loved it, and were totally involved from the very start.
With stunning sets and energetic choreography (Phyllida Crowley-Smith) this was "no ordinary panto: this was a Swindon panto." It was filled with magic and the highest production standards and brimful with audience participation and local references and some of the most outlandish corny jokes that worked well for both adults and kids.
Richard Vincent was excellent as Peter, the boy who has lost his shadow and is determined not to grow up. He flies into the Darling's home in London and persuades Wendy (Louisa Horsman) and her brothers to travel with him to Never-Never Land. Their flying scene over London was pure magic.
Always protecting Peter is Tinkerbell, the fairy who first appears as a shimmering light but is transformed into a tutu wearing Dame, splendidly played by Andy Cryer who developed a superb rapport with the audience.
Paul Nicholas gave an impressive delightful performance as the evil Captain Hook who deliciously deserved all the boos from the audience as he sought his revenge on poor Peter Pan, ably assisted by the motley crew of the Jolly Roger and its first mate Smee (Stephen Carlile) who never really wanted to be a pirate but to remain as a 'lost boy'.
All the traditional elements of panto are here in abundance. Loads of special effects, pyrotechnics, a hilarious version of the twelve days of Christmas, including slapstick pies, four ghosts chasing each other round the auditorium, a giant water pistols fight blasting the audience and a somewhat risqué version of What shall we do with the Drunken Sailor in which the whole audience joined in the chorus - "shave his bum with a lady's razor". The audience loved hurling sponge rocks to defeat Hook, relished by all and great fun.
With a spirited musical score of songs under the direction of Ed Bussey this fast paced production directed by Michael Fentiman is the perfect way to celebrate the festive season. With tickets selling out fast I urge you to book soon you will not be disappointed. Highly recommended.
Runs until the 9th January.
Reviewer: Robin Strapp