Private Fears in Public Places
Alan Ayckbourn
Stephen Joseph Theatre, Scarborough
(2004)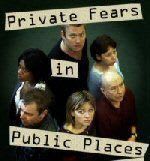 Now here's a creative writing scenario: you're allowed three male characters, three female characters, and a fixed set. These six characters must all connect with each other in some way, in either private or professional life, and by the end of the play certain changes must have taken place in at least some of the relationships. Oh, and you've also got to make it true to life, and funny.
It will come as no surprise that Alan Ayckbourn has achieved all of this in his new play, which is made up of a mosaic of short scenes between two or occasionally three people. Each character touches the life of at least one other character: we have the upper-middle-class engaged couple, Nicola and Dan (Melanie Gutteridge, Stephen Beckett), we have estate agent colleagues Stewart and Charlotte (Paul Kemp, Billie-Claire Wright), we have Stewart's sister Imogen (Sarah Moyle), and we have Ambrose (Adrian McLoughlin), the hotel bartender. By the end of the play, Nicola has given Dan the boot, Dan has moved into the hotel, and been on a successful blind date with Imogen. Stewart and Charlotte haven't quite got it together, and perhaps they never will; however, Charlotte has been rather more successful as a voluntary carer, looking after Ambrose's irascible bedridden father.
The set, designed by Pip Leckenby, consists of five areas, representing different locations: the hotel bar, a sofa and coffee table for Stewart's and Imogen's home, a circular table for the blind date venue, a kitchen table for Ambrose's flat, and a desk and chair for the estate agency office.
There are lots of comic one-liners, and comic situations -- the play is not as serious as the publicity photo of six worried-looking people might suggest, though of course one of Ayckbourn's strengths is the way he taps into a vein of humour within serious issues: in this case, unrequited love, closet gayness, caring for the elderly, unemployment, drinking too much and too often, religious fundamentalism, ingratitude, incompatibility, lack of fulfilment in life and love ... I've probably missed a few ...
The play runs for two hours without an interval -- thank you, thank you, SJT, I hate intervals! It was so nice to be able to get totally absorbed in the characters and their situations without that unwelcome, 20-minute interruption, the scramble for the bar, people squeezing past on their way out, and squeezing past again on their way back in. The two hours just fly by, thanks to a snappy pace that never sags and, as ever, an excellent, well-matched cast.
Philip Fisher reviewed this production when it transferred to the Orange Tree, Richmond
Reviewer: Gill Stoker