Quidam
Created by Dominique Lemieux, Luc Lafortune, Benoit Jutras, Debra Brown, Michel Crête and François Bergeron
Cirque du Soleil
Royal Albert Hall
–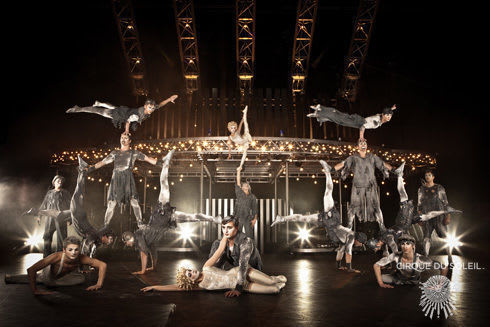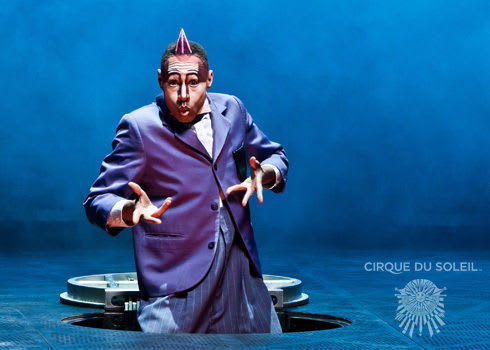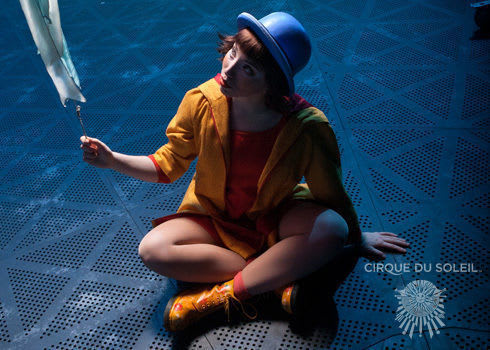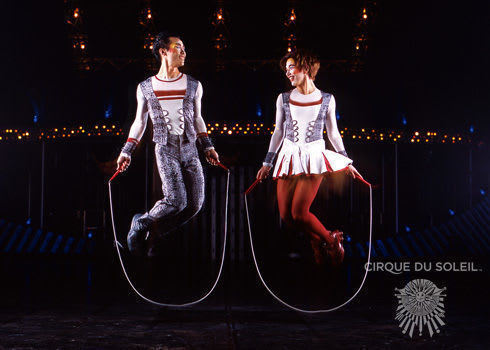 The Latin Quidam means somebody or something, an unknown person, a passerby, and here that is a strange figure, headless under an open umbrella, who walks into the home of a bored little girl, unnoticed by her preoccupied parents.
He hands her a blue hard hat and, donning it, she enters a world of her imagination populated by fantasy persons with occasional appearances by her parents, a journey that frames the speciality acts of the circus acts.
Even this framing is preceded by a prologue in which a character with a spike on the top of his head, later identified as "John", and a parade of figures clad in white anti-contamination outfits abduct a member of the audience. It is John and a lively dancing character, identified in the cast sheet as "Target" who also sneaks into her house, who lead little Zoe, White Rabbit-like, down a manhole to enter a fantasy world of her own dreaming.
The meaning of the prologue and the actual storyline of Zoe's journey are so obscure that I couldn't fathom them but their whimsicalities are in key with the rather charming Gallic artistic envelope that is a signature of Cirque de Soleil shows.
Quidam, first mounted back in 1996, is not as consciously glamorous and glitzy as some of their shows; its mood is enigmatic. Its set of unfussy, huge trackways (the téléphérique from which aerial equipment is suspended and tracked forward) arch forward high above the stage and a revolve is used to add an edge to more static acts, but there is no complicated scenery and costumes are often muted, the ensemble characters seeming sometimes almost revenants.
There is background action linking almost all the speciality acts, which sometimes distracts attention from them but is generally supportive, a reflection of what the principals are doing, and it freezes or melts away at their most breathtaking moments of physical risk and skill.
Alessandra Gonzalez's Zoe acts as helpmate to some of the acts and has some charming songs. Lively Ardee Dionisio adds a joyous element as dancing Target and Patrick McGuire's Father performs his own complex juggling act, keeping multiple balls and a bowler in the air. Mark Ward has his own little specialities as the ubiquitous John. There is also a character called Boum-Boum (JP Viens) in boxing gloves and Grimaldi-like make-up, but I could not work out his role either.
The circus acts include Cory Sylvester rolling and spinning with precise control on the German Wheel, Wei Liang Lin handling multiple airborne diabolos and Julie Cameron doing spectacular silk lisse work. There is even more spectacular ropework from Mei-Mei Bouchard, Guilherme Fortes, Viktor Katona, Rafael Munhoz and Carol Valim (who also plays Zoe's mother) on the Spanish Webs and Danila Birm, Lois Camilla and Lisa Skinner pivot and twirl through the air on suspended hoops.
There is a hand-balancing act perched on canes from Anna Ostapenko and some stunning and beautiful slow-motion balancing by Yves Decoste and Valentyna Sidenko in their Statue performance—the way in which they emerge from a huddled ensemble is Le Cirque at its best and their skill and control quite amazing.
Clown Toto Castineira's send-up of silent movie making, in which members of the audience become participants, is the main comic element, though I didn't find it particularly funny, perhaps because his grotesque over-playing seems out of key with the rest of the show.
You might not think of skipping as very spectacular but here, with the whole company involved led by Norihisa Taguchi and Kata Banhegi, it is a fast-paced, happy-making highlight that keeps adding an extra level to its display of skills.
Pride of place, however, must go to Banquine, a group of acrobats largely from Russia and the Ukraine: Andrey Bilozor, Andrii Bonarenko, Olesandr Bondarenko, Anastasia Chistiakova, Dmytro Filevski, AnastasIn an act that becomes increasingly complex. Their aerialists are thrown somersaulting into the air by the thrust of their comrades, often in synchronised patterns. Their airborne members land on the hands of the others, reaching a climax when diminutive Dmytro Felevski is cast upwards to land after a back flip as the top layer of a four-man column. Heart-stoppingly impressive!.
Reviewer: Howard Loxton