Rhinoceros
Eugène Ionesco, in a new version by Zinnie Harris
Royal Lyceum Theatre and DOT Theatre of Istanbul
Royal Lyceum Theatre
–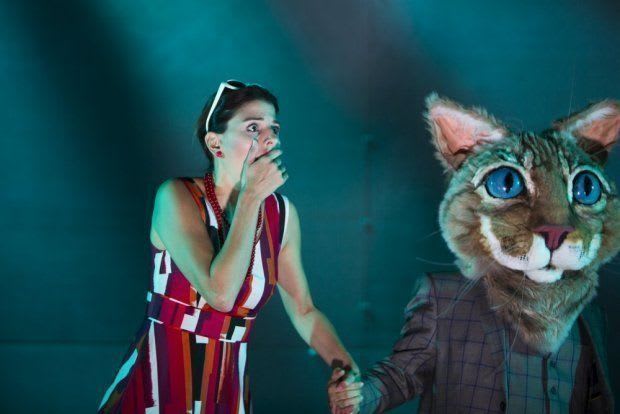 This co-production between Edinburgh's Royal Lyceum Theatre and DOT Theatre of Istanbul is a Rhinoceros for the Trump generation.
The ubiquitous Zinnie Harris uses modern language and takes liberties with the text, leading to a visually striking 1¾ hours that takes some time to warm up under Turkish director Murat Daltaban but reaches a poignant climax.
Ionesco wrote a surreal play that has generally been seen as a warning about the terrors of totalitarianism and the rise of Adolf Hitler.
It follows the fortunes of Berenger played by Robert Jack, a man with a drink problem suffering from a severe lack of confidence. He isn't helped by Steven McNicoll as friend Jean, a larger than life bigot who could should down a much stronger personality than our weak hero.
However, minor problems become insignificant with the advent of a plague of rhinoceri. At first, they merely provide a subject for debate and argument led by an illogical logician. However, soon numbers increase and the wild animals become recognisable as converts from the human race.
The evening then picks up in a series of debates with Jean then Harry Ward as Dudard and Ece Dizar playing the woman of Berenger's dreams, Papatya.
Each is turned by the populist attractions of horns and green flesh until there is one man standing and he has to decide whether to follow the mob or stand out.
This production has a live musician on stage, Oğuz Kaplangi, and is stunningly lit by Chris Davey, making the most of Tom Piper's clinical set, which closes in symbolically as escape becomes increasingly difficult.
By the end, viewers may decide that this interpretation, which is both humorous and chilling at different points, makes enough sense in Trump times to justify its appearance in Edinburgh, although many traditionalists will probably have been happier with a more traditional reading.
Reviewer: Philip Fisher