Romeo and Juliet
William Shakespeare
Watermill Theatre Company
Watermill Theatre Newbury
–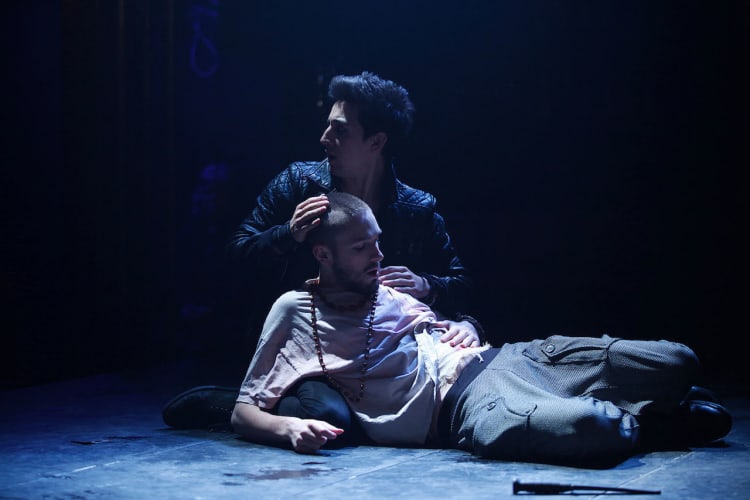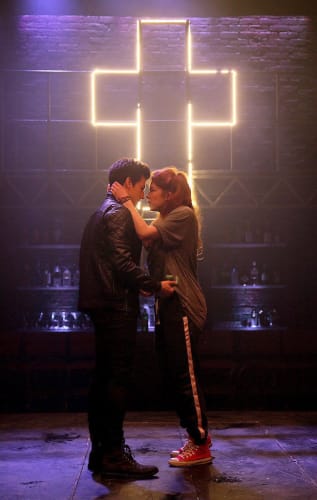 The Watermill Theatre has gained an international reputation for producing Shakespeare's plays, including promoting the all-male Propeller theatre company and foreign tours under the auspices of The British Council.
So it is perhaps fitting that Paul Hart, the new artistic director, should choose Romeo and Juliet as his debut production.
The theatre has been transformed into Capulet's Club where audience members have to line up to get a stamp on their wrists before entering this fun nightclub.
The young cast are already on stage playing music on guitars, singing, dancing and creating a vibrant atmosphere. This is certainly a fresh and vivacious interpretation of the tragic story of the two star-crossed lovers.
It is staged in-the-round, designed by Katie Lias, with a bar filling up the back wall brimful of bottles of drinks with some of the audience bravely sitting in front of it.
This is very much a physical performance with impressive movement and fight sequences choreographed by Tom Jackson Greaves and Ian McCracken.
This youthful company is committed and hard working with many making their professional stage debuts and it is with due credit that Hart has been brave enough to give these actors the opportunity to strut the stage for "the two hours traffic of our stage."
Stuart Wilde cuts an arresting Romeo, relishing his role, overcome by the nervousness of an impetuous youth in love.
He is a Montague and, together with the swaggering effusive Mercutio (Peter Mooney) and his cousin Benvolio (Victoria Blunt), all fuelled by copious amounts of alcohol, plans to gatecrash the annual party of their archenemy, the Montagues.
It is here that Romeo meets Juliet (Lucy Keirl), the petulant, stroppy 14-year-old teenager as she sneaks out to the balcony to light up a cigarette and so the inevitable tragic love affair begins.
However the physical chemistry between the two lovers is not fully realised with Juliet appearing and acting much older than the character demands, which is a pity.
The conduit to the proceedings is Lauryn Redding's blunt northern Nurse, always controlling and convincing. She is also powerful as the Prince of Verona.
Samantha Pearl gives an imposing performance as Lady Capulet, whilst her animated boisterous husband Lord Capulet (Mike Slader) is determined to marry his daughter to the most acceptable Paris (Ned Rudkins-Stow).
When the fiery smouldering Tybalt (Rupert Lazarus) finds out that the Montagues are at the party, he seeks retribution with disastrous results.
Rebecca Lee gives a sensitive performance as the caring horticulturist Friar Laurence whose ministry backfires when the plan for the two lovers catastrophically fails.
The music by Johnny Flynn, played and sung by the actors, brings a spirited dimension to the production and Tom White's imaginative lighting is visually effective.
The poignant ending in the church is both heart-rending and powerfully portrayed.
Paul Hart's inventive direction is filled with magic moments and will certainly be a hit with younger audiences.
Reviewer: Robin Strapp