Rose Campion and the Curse of the Doomstone
Lyn Gardner
Nosy Crow
Released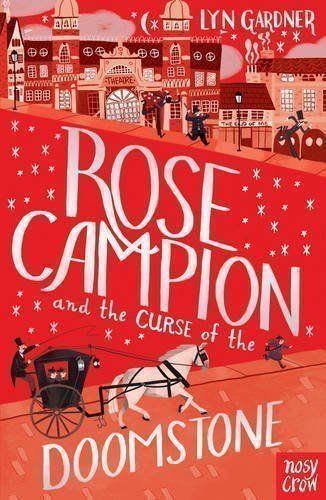 Lyn Gardner's dual career as a theatre critic at The Guardian and novelist for younger audiences continues apace.
The second novel in the Rose Campion series is a rip-roaring thriller based around the Victorian London stage.
Its heroine, Rose Campion, is one of those irritatingly precocious young detectives who try to outdo Scotland Yard, while causing mild chaos and distress to friends and loved ones along the way.
In this particular case, there is excitement at every turn.
It even offers an Upstairs Downstairs quality. On one level, a pair of actors—one of them a Lord, the other a manipulative but beautiful mystery named Lydia—fall in love as they rehearse Hamlet at the Pall Mall Theatre. Amongst the hoi polloi just across the river, The Illustrious Gandini, the Great Wizard of the North, shows off his magic skills at Campion's Music Hall.
As befits a music hall, Rose's home, managed and owned by her beloved stepfather Thomas, harbours a number of pretty dodgy characters as well her bosom buddies Aurora (now Rory but also a Lady) and Effie, a former pickpocket who would not have been out of place in Oliver Twist, the Dickensian allusion appropriate both to the period and some of the character's names that Lyn Gardner litters around this novel.
The cursed doomstone of the title is the engine for much of the action, a large blue diamond that is literally stolen from around the neck of lovely Lydia, a society lady with more airs than graces.
Following the theft, suspicion falls here there and everywhere, particularly in Rose's mind as the amateur detective tries to outdo Inspector Cliff of the Yard. The drama really hots up when Gandini decides to up the stakes on his act by introducing The Bullet Catch a legendary and occasionally fatal trick, brought to attention more recently by Rob Drummond in his play of that title, which started out in Scotland and eventually made a guest appearance at the National Theatre.
This involves poor Effie, now the magician's very committed and devoted assistant, firing a bullet for the magician to catch between his teeth. In a very roundabout way, this eventually leads to the resolution of every loose end in a true page-turner that never loses pace and, while designed for younger audiences, will also richly entertain any older relatives who pick up a copy to present as a gift or borrow when the youngsters' backs are turned.
Reviewer: Philip Fisher