Ruddigore, or the Witch's Curse
Libretto by W S Gilbert, music by Sir Arthur Sullivan
Charles Court Opera
Kings Head Theatre
–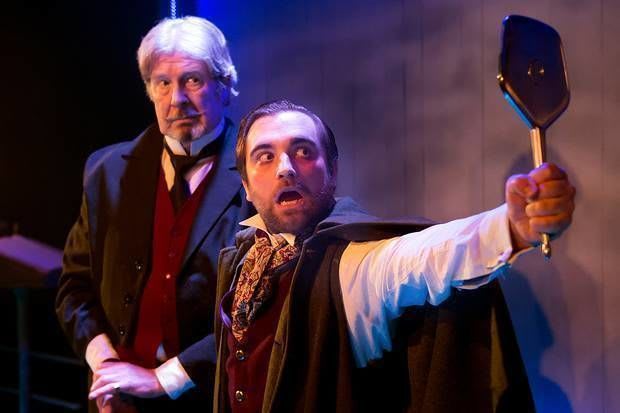 Charles Court Opera marks its 10th birthday with a production of the 1887 G & S collaboration that is itself a cause for celebration.
John Savournin adds another delightful presentation to the company's repertoire directing a simple staging that puts the emphasis on the performers who serve it well both vocally and in interpretation.
James Perkins's design is pared down to a simple platform, a couple of items of furniture, a candle and a witty second act gimmick for the ancestral picture gallery the plot demands, with costumes largely contemporary with a touch of gothic Victorian for the wicked Murgatroyds. A couple of hundred cues in Nicholas Holdridge's lighting plot make it a very lively scene to match the spirited playing of the cast.
In this opera, Gilbert doesn't seem to be lampooning any well-known individuals as in some of his other libretti, though his inconstant heroine Rose Maybud, a pert caricature of a very proper miss living by the instructions of her book on etiquette (left with a change of baby linen and her tiny self at the workhouse door), is a neat satire on Victorian respectability. He seems largely interested in gently sending up the burlesque, naval and gothic melodrama genres, which by the 1880s were out of fashion.
Savournin and his cast get that tongue-on-cheek approach just right. All of these characters have serious flaws. The may look like stereotypical types but Gilbert makes ideas of good and bad quite topsy-turvy.
Rebecca Moon is an attractive Rose and gives her appropriate superficial charm that may blind her suitors to her flighty primness. Matthew Kellett's timid pocket Romeo Robin Oakapple is warm and personable, though big-headed out of all proportion. He may "combine the manners of a Marquis with the morals of a Methodist" but, rather than see Rose and him as a heaven-sent love-match, you could say they just deserve each other.
Tattooed hornpipe-dancing bosun Richard Dauntless seems the conventional naval hero then turns treacherous but Philip Lee gives him an innocence that keeps him likeable. As loyal old servant Adam, Simon Masterton-Smith supplies an old-style fruitiness to match his bass profundity and Cassandra McCowan makes madwoman Margaret a crazy creature who suddenly becomes a charming beauty with momentary lapses.
The village of Rederring is the only one to have its own professional bridesmaids. Susanna Buckle and Andrea Tweedale make a right giggly pair, desperate for Rose to get married so that the village boys might start to look their way.
There is a beautifully ripe performance as Dame Hannah from Amy J Payne, superbly sung and nicely judged, and John Savournin himself plays "evil" Sir Despard Murgatroyd with elegant hauteur. He is also wickedly droll as one of his ancestors and knows just how far it is possible go without it being too far—even though he is his own director.
Indeed, that careful judgement is what makes this whole production successful. Although the original production ran for 288 performances, it was not considered one of D'Oyly Carte's successes and it was over thirty years before it was revived. Late Victorian audience thought it in bad taste and their were objections to its title.
Of course, it is exactly that kind of person that Ruddigore is targeting and this production invites you to laugh at such pretention as well as to enjoy Gilbert's coyly conscious word play and Sullivan's magic music, which is safely in the hands of musical director David Eaton at the piano playing this transcription.
Reviewer: Howard Loxton