Satyagraha
Music Philip Glass, book by Philip Glass and Constance de Jong
English National Opera
London Coliseum
–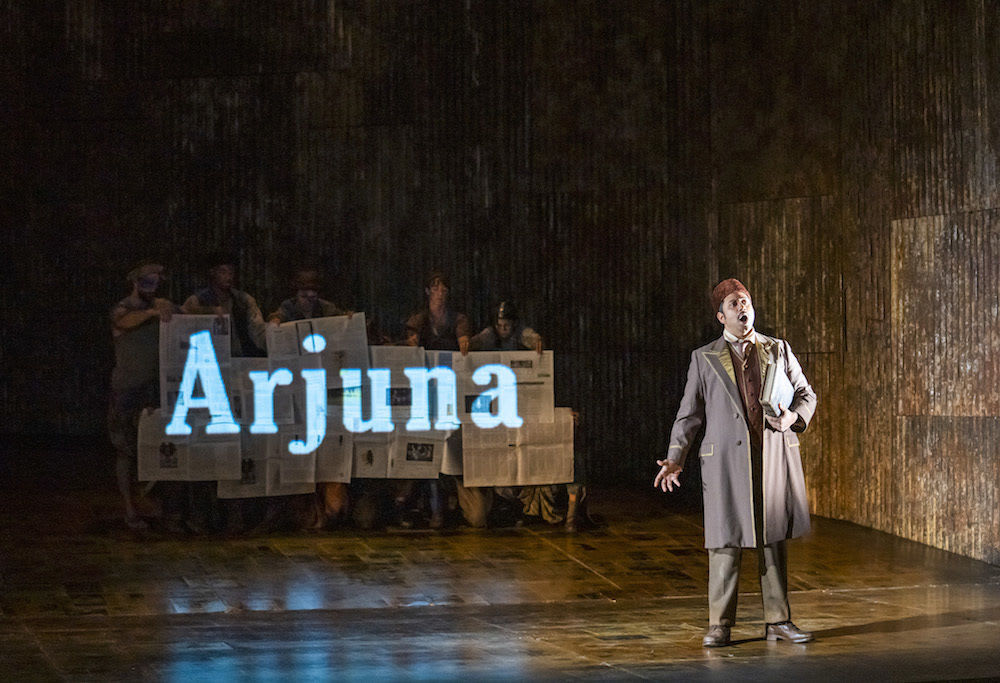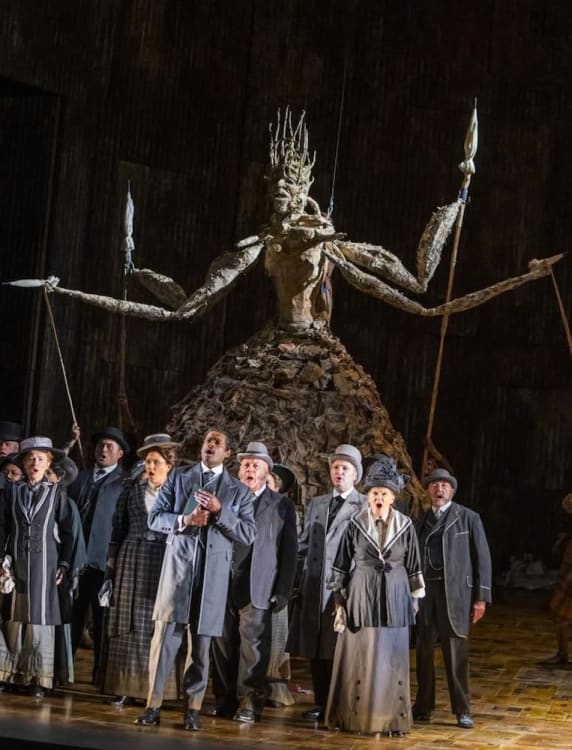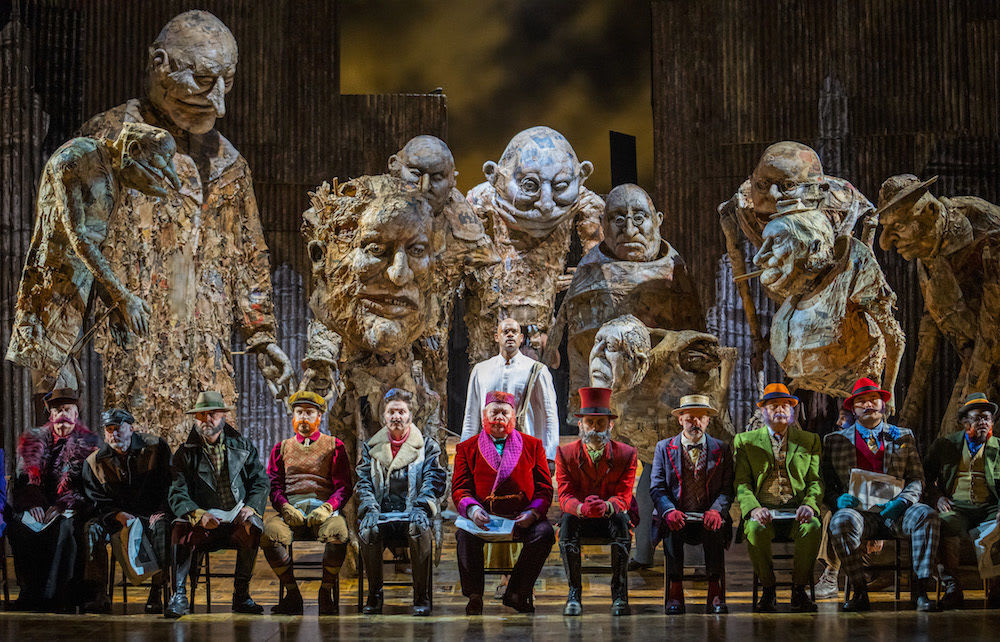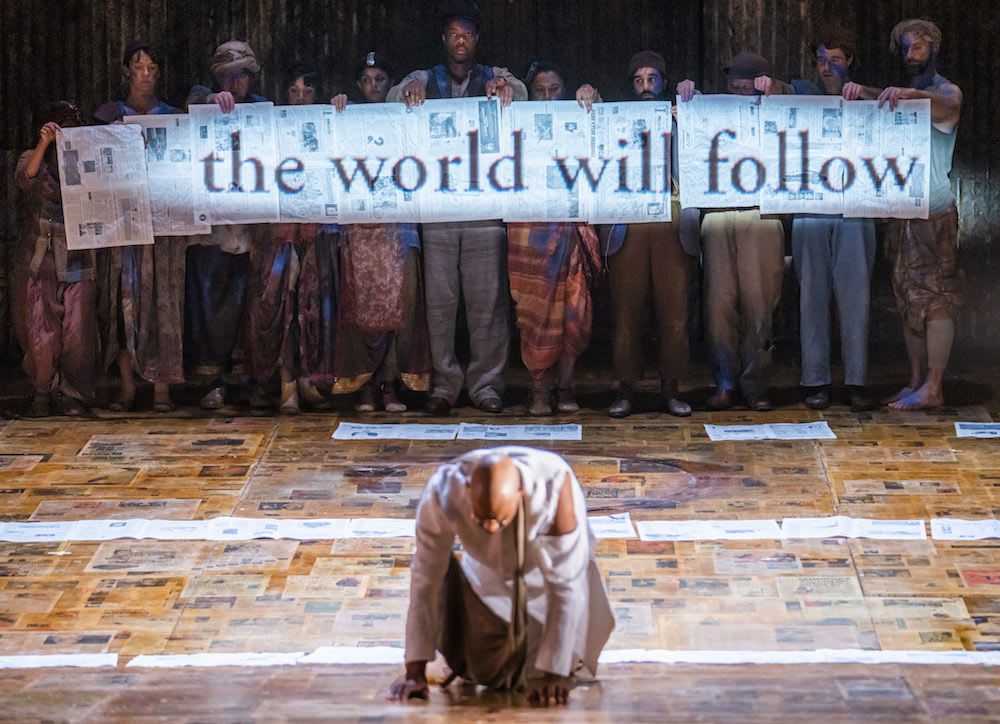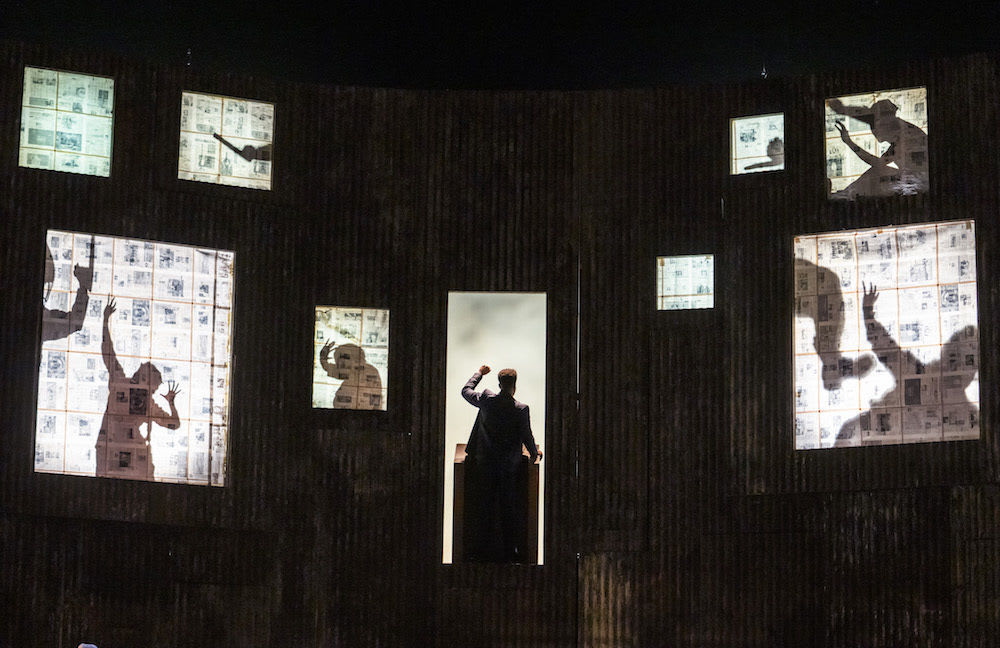 A revival of a production first seen here in 2007, Philip Glass's Satyagraha is a marvellous, and apt, choice to reopen the new ENO season after its nineteen-month lockdown. Speaking of Ghandi's non-violent resistance, of community, solidarity, honesty, and wisdom freed from desire, freed from greed, it is sung in Sanskrit without surtitles (translation is available for download on ENO's web site and in the programme), but what is language but sound—it's quite a trip, meditative, mystical, mesmerising.
The middle one of Glass's 'Portrait Trilogy' based on historical figures—Einstein on the Beach (1976), Akhnaten (1984)—Satyagraha had its première in 1980. The three-act opera is not linear, more a layered painting, threads and stitches in a meticulous tapestry explicating Ghandi's life, from 1893–1914, from early days in South Africa, protesting against its racial laws, to his inspirations and his lasting legacy. Whilst all the while the singers sing appropriate verses from the Bhagavada Gita, opening with Krishna and Arjuna on the Kuru Field of Justice—biblical, epic, incantatory, spiritual.
Satyagraha is a Sanskrit word meaning "truth force", Mahatma Gandhi's word slogan, which describes his quietly determined political resistance. Prepared to lay down his life for it. Ultimately, of course, he did, assassinated in 1948, but by then maybe his work was done. The opera looks back to his Tolstoyan days, his friendship with Tagore, and to the future, his ethos taken up by Martin Luther King Jr., another martyr to the cause.
But who needs words when Glass's harmonies (Ghandi was all about living in serene harmony) speak directly into our very souls, through all our senses—the sound produced from the pit and the stage are remarkable, moving me almost to tears. His silences are deafening. A Russian symbolist poet once talked of hearing harmonies in the air—here they are, enveloping the vast auditorium, soothing, exciting, heavenly. Conductor Carolyn Kuan (music director of the Hartford Symphony Orchestra) is a dynamo in the pit.
The music is supreme, voices another instrument in the great scheme of sound. But what voices—Sean Panikkar's Ghandi a warm tenor, stoic, calm, a handsome presence quietly commanding the stage. I must confess I watched the streaming of Satyagraha from the Met twice during lockdown, and was thrilled by Richard Croft in the role and his lyrical tenor voice is still in my head. Panikkar replaces it, in a slightly lower register, but secure, unshowy and moving. James Cleverton's Mr Kallenbach's baritone, William Thomas's bass Parsi Rustomji, soprano Verity Wingate's Mrs Naidoo, Felicity Buckland's mezzo Kasturbai (Ghandi's wife) blend like milk and honey.
And Gabriella Cassidy's (Miss Schlesen) powerful glass-shattering soprano could reach across the Atlantic. Ross Ramgoblin (baritone) and Musa Ngqungwana (bass-baritone) as Prince Arjuna and Lord Krishna are a pairing made in Hindu heaven. The famous ENO chorus is out of this world, a powerhouse of sound, now filthy capitalists stoning Ghandi, now his acolytes in white.
One could happily close one's eyes and listen to the opera, but for Improbable Theatre's Phelim McDermott (original director) and Julian Crouch's (original set design) fabulous conceptual 'arte povera' papier mâché and basket ware grotesque puppets, a twelve-strong acrobatic puppeteer ensemble, not to mention video design back projections from 59 Productions (select scripture on the walls).
Magical optical illusions, stilts, wires, a corrugated iron (or could be cardboard) set at once monolithic and impoverished with Untouchables gathered in its dark corners. Overwhelming at times, we're in a fantastical allegorical world of alligators, gods, giant long-beaked birds, holy cows (I love its flicking tail).
And I've not mentioned newspapers and Sellotape yet… Newspapers, the spread of the word, the weekly Indian Opinion, proliferate in many guises. And sticky tape—a puppet show to tease the adults and inspire the young (apparently tickets are free for under-21s tonight). The mind splinters—I want to listen, to drown in the sound, but I'm too curious as to where Improbable's eclectic skills are leading. Glass loves circuses, and numbers many artists as friends—this interpretation must play into his natural habitat. Read his autobiography Words Without Music.
The final image of Martin Luther King Jr. framed against the sky; the buildings parting like the Red Sea; Ghandi at the base of King's pulpit blessing it with the touch of his hand… his legacy lives on… love your enemies… is this optimistic in present times? Are the boot and the baton forever with us? A must-see, an awakening of sorts after our out-of-sorts period, Satyagraha works on so many levels.
Reviewer: Vera Liber