Seven Year Twitch
David Lewis
Orange Tree Theatre
–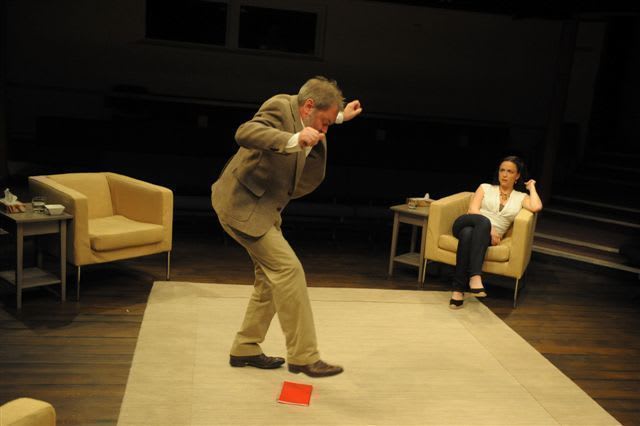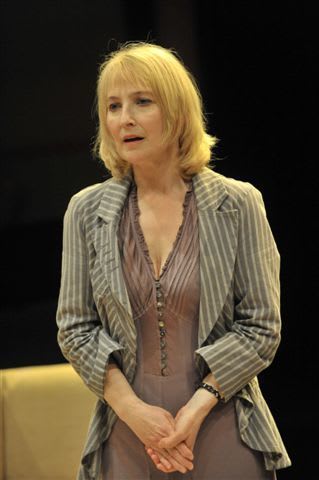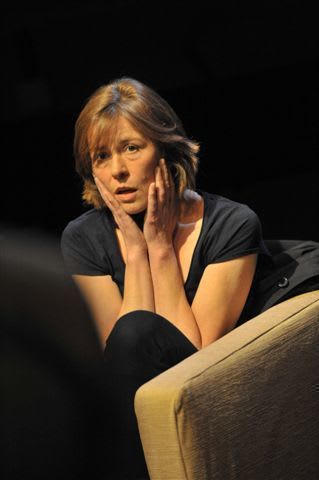 Birding, psychotherapy and third world charities all come together in David Lewis's new comedy which offers both patients and psychiatrists with their relationships in crisis.
Fran, a key employee with a British charity taking aid to Africa is married to Terry, a lifelong dedicated twitcher, off at a moment's notice to catch sight of a rare bird species the moment he hears it has been spotted. They are both seeing shrinks. Fran's much admired boss is Ben; Terry has met another fanatical twitcher just back from bird spotting in Peru. What is going on in these relationships?
We learn about them through their therapy sessions which are cleverly intercut between two psychiatrists Charlie, who treating Fran, and Megan who is sees Terry and, as it happens, Fran's boss. This way we get the same situations from each participant's viewpoint.
It is Ben who begins, mid therapy session worried about his inadequacies with women. Could building schools in Africa be his way of rebelling against parental authority? With Lewis's neatly managed writing and direction that overlaps into Fran's version of an incident he has just recounted, a series of marital impasses is uncovered—and that includes the psychiatrists as well as their patients.
Sam Dawson's simple setting with four identical chairs, tables and even what is on them set at the corners of a plain, pale carpet. Is a one-fits-all environment with scenes overlapping or quickly replacing each other as we move from reporting to enacting or an alternative version. Stuart Burgess's lighting helps punctuate the action and even Beethoven's Spring Symphony with its birdcalls is used to give ornithological emphasis.
As a reflection of the tensions that occur in any long-term relationship, the irritation there can be with a partner's obsessions and exasperation at one's own inadequacies, this may hit the mark for many in the audience if they care to recognize themselves, but Lewis escalates the comedy to full-blown farce in a scene which accidentally turns twitching into voyeurism.
Paul Kemp is splendid as a psychiatrist who can't keep the cork on his own anger and Lucy Tregear, the other shrink he trained whom he accuses of treating her own relationships as though people were her patients, observing not involving, just as twitching provides an obsession occupation without personal commitment.
Simon Mattocks is Terry, disappearing the moment he feels threatened (as it seems all the men in Fran's life have done), and Amanda Royal is Fran, whom Terry insists is equally obsessed with decoupage and home improvement. They both keep that delicate balance between making the characters true to life and extracting every ounce of humour.
Karen Miles plays Charlie's exasperated partner and Joannah Tincey the female birder—what happens when she spots a rare migratory species would be tragic if it weren't so funny.
This light-hearted evening might yet leave you thinking for if Lewis may have it in for shrinks and obsession hobbyists he is also pointing a finger at many mid-marriage problems.
Reviewer: Howard Loxton