Shrek The Musical
Book and lyrics by David Lindsay-Abaire, music by Jeanine Tesori
DreamWorks Theatricals and Neal Street Productions
Bristol Hippodrome
–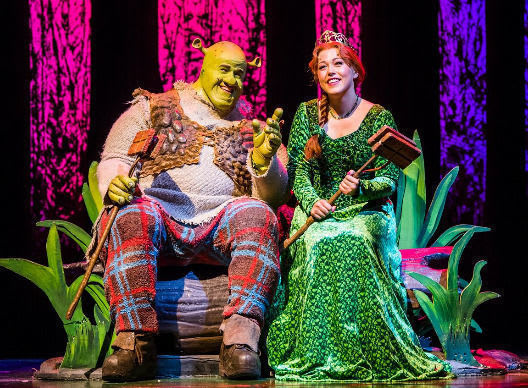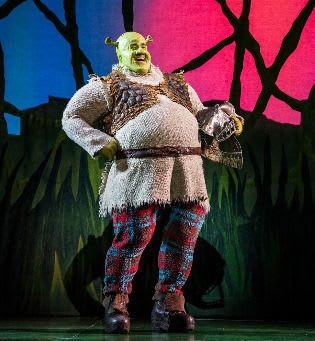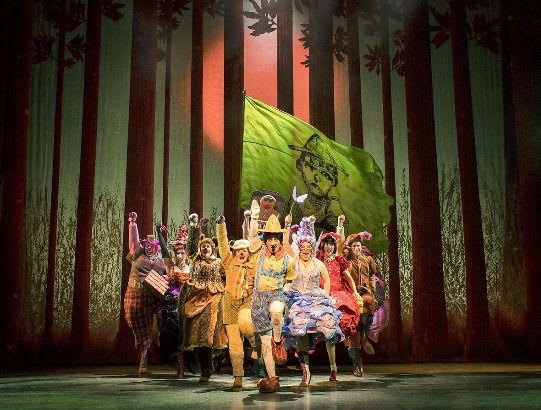 Shrek the cantankerous green ogre is midway through a new UK and Ireland tour of the musical first seen on Broadway nearly ten years ago.
Based on the perennially popular 2001 DreamWorks movie, it's a warm-hearted and fun-filled family show with a message that today seems more relevant than ever. And, though there are as many musical misses as hits in Jeanine Tesori's songbook, Nigel Harman's direction still provides plenty of toe-tapping exuberance to enjoy along the way.
By way of introduction to a familiar tale, we learn more about the backstory of the main characters. It emerges that Shrek and Princess Fiona were both cast out of their family homes at an early age into a life of seclusion. Later, the show-stealing Lord Farquaad is revealed to have had a hilariously colourful past.
Tim Hatley's slick and serviceable touring set is enhanced by projection and puppetry. As Shrek (played in this performance by Michael Carolan replacing Steffan Harri) embarks on his quest to rescue Princess Fiona so that he can get his swamp back, some of the most enjoyable moments are refreshingly low-tech.
There's the physical comedy of Samuel Holmes as Lord Farquaad shuffling on his knees with tiny yellow-clothed prop legs replacing his own and an eclectic parade of animals met along Shrek's road trip with Donkey (a sassy, braying Marcus Ayton, reminiscent of Red Dwarf's Cat). In act II, an ingenious rat tap routine turns into a glittering song and dance number that wouldn't feel out of place in 42nd Street.
Some moments in the first act do feel static, particularly the scenes between Shrek and Donkey, where there are one or two forgettable ballads and, despite individually strong performances, an initial lack of chemistry. Momentum is restored by the strong ensemble cast of fairy-tale characters ejected from the town of Duloc, perfect in both pitch and step, as well as Lord Farquaad directing the remaining townspeople according to his vision and the magical puppet Dragon guarding her quarry in the castle.
Act II feels to be on firmer ground. Shrek and Donkey trek back to Duloc escorting a hopeful Princess Fiona, portrayed with distinctive verve and spirit by X Factor's Amelia Lily. The sound is clearer and words more distinct. All the film's humour is still present in Fiona's memorable "Morning Person" and enhanced in her flatulence-filled duet with Shrek "I Think I Got You Beat". As with the original, there's enough here to appeal to adults and children alike.
The odd contemporary reference to Love Island and Meghan and Harry is thrown in to give a pantomime feel, but when Shrek is persuaded he doesn't need to build a wall and isolation is not all he thought it was, the show's central theme of inclusiveness really hits home.
That we should be loved for who we are and not how we look or where we're from plays out in the rousing song "Freak Flag". After this, the reprise of "Big Bright Beautiful World" and zestful rendition of the Neil Diamond penned classic "I'm a Believer" are all it takes to send the audience home on a high note.
Reviewer: Claire Hayes