Sign of the Times
Tim Firth
Duchess Theatre
(2011)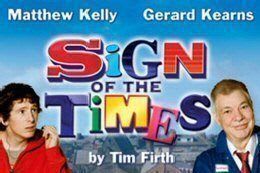 Even if he is played by the affable Matthew Kelly, it is very brave to write a play whose central figure is an old bore. In fact, the man who penned the ever-popular Calendar Girls, Tim Firth, has created a kind of dual sitcom about a pair of men in dead end jobs whose lives are given meaning by their artistic aspirations.
His subtext in Sign of the Times, a comedy first seen at Sir Alan Ayckbourn's Stephen Joseph Theatre in Scarborough three years ago, might be the pointlessness of so much that people do to earn a crust today and the lack of respect with which they are treated. He also has an eye on the inevitable problems created by generational differences in outlook and philosophy.
Kelly plays Frank Tollitt, a loyal Mr Fixit from Batley in Yorkshire with a grandiose title and 35 years of experience who, before the interval, slowly constructs his own farewell from the world of employment.
His foil is Gerard Kearns' teenaged Alan, a typically catatonic youth doing work experience with little hope of a worthwhile career at the end of it.
This is hardly the stuff of cutting edge drama but Firth injects something a little more enticing as Frank writes atrocious espionage novels, while Alan is part of a serviceable rock band going by the name of Lizard.
Initially, the pair seem to have nothing in common, as the oldie tediously tries to inculcate his decades of meaningless experience into the sullen apprentice. However, gradually as the world turns against them, a kind of father-son relationship develops, leading to a defiant tribute and interval curtain.
Afterwards, the set and the roles are both reversed. Three years on, Alan is a Deputy Trainee Assistant Manager for an electrical retailer, while Frank is a prospective employee having been unemployed for the intervening period.
In these slightly different circumstances, Firth and director Peter Wilson run through roughly the same situation with Alan now the mentor and Frank the unwilling trainee. This all culminates in a clever and novel comic scene from which there appears no escape for duo or audience until, at the end of two hours, there is a gentle twist in the tail.
Sign of the Times is an old-fashioned comedy that relies heavily on the skills and personality of its two actors but especially Matthew Kelly, who manages to draw more pathos from Frank than seemed possible on first meeting him.
Playing until 28 May
Reviewer: Philip Fisher