Sinbad the Sailor
Book and lyrics Paul Sirett, music and lyrics Wayne Nunes & Perry Melius
Theatre Royal, Stratford East
–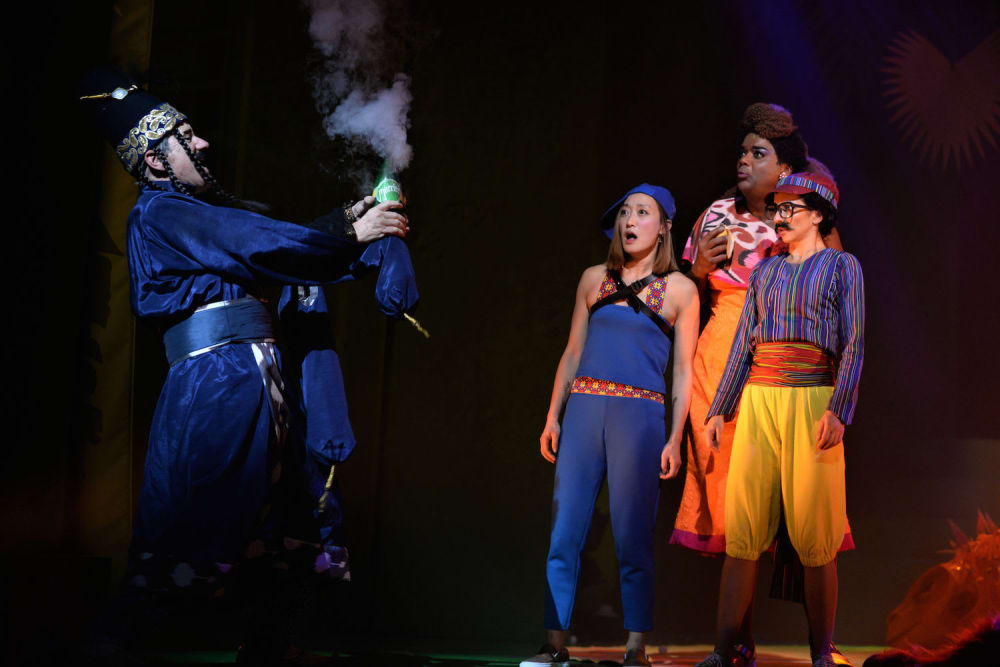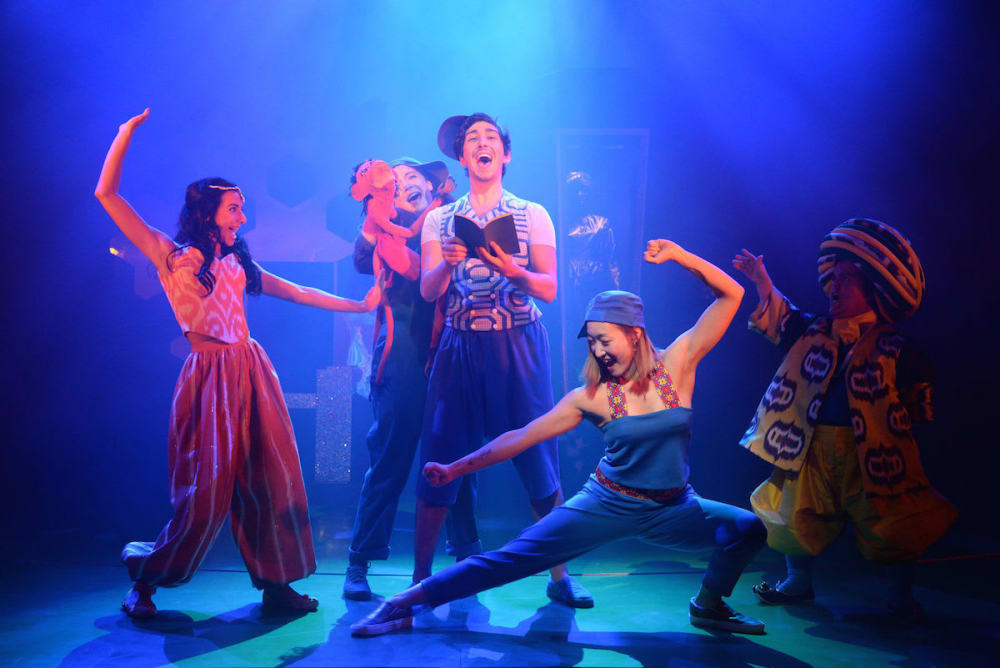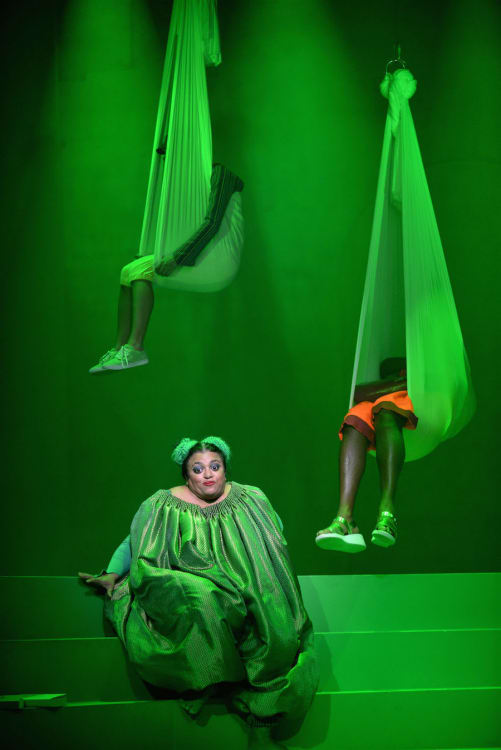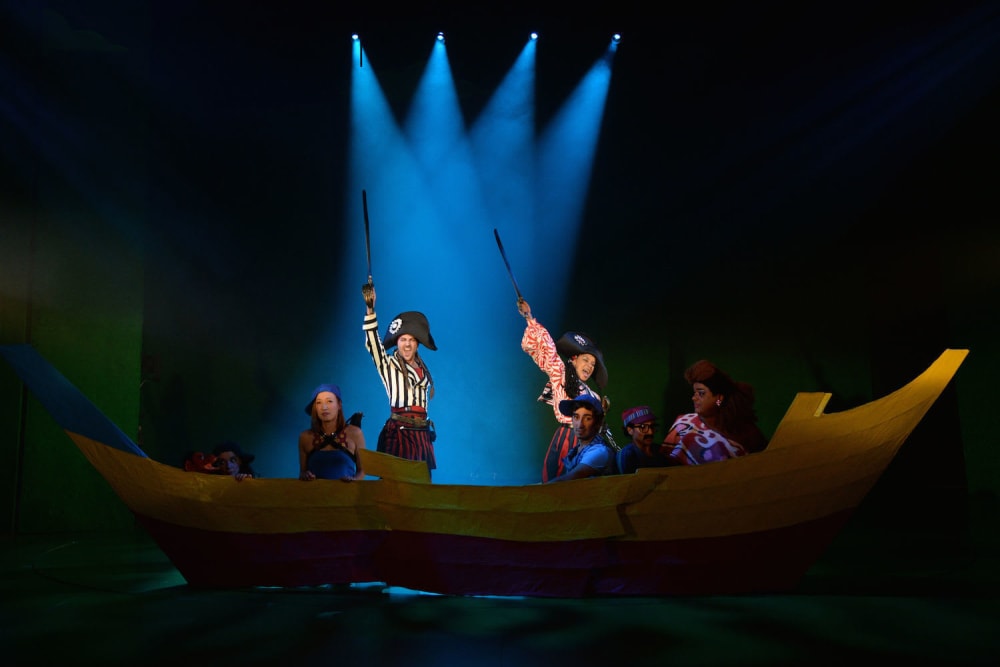 Everyone seems to be rewriting traditional stories and Paul Sirett is no exception.
When Stratford East's Sinbad goes off on his adventures he doesn't meet the Old Man of the Sea, or the cannibals, monsters and giant bird of the old middle-eastern tales. In fact he's not really the great adventurer. That's his sister Sinbada. He's the one who writes all the adventures down, the storyteller—and in that he follows the Arabic origin.
But Sirett's new plot line forces him into being an adventurer sent in search of a gold chest for the Sultan. If he finds it before his rival the wicked Prince Naw-Ze Uzz, he gains the hand of the Sultan's daughter, with whom he is already in love.
Prince Naw-Ze Uzz (just say it) has got an advantage, not just his rank (if he is a real prince) but he's got a magic bottle in which lives a wish-granting genie. Sinbad and Sinbada and their colleague, a monkey called Funky, are going to have a lot to handle when they set sail to find the distant island where the gold is.
Stratford East stalwart Michael Bertenshaw is back, not as Dame this time but the baddie, leeringly low-life, with Rina Fatania, another Stratford favourite, as the Green Genie who has to grant his wishes however much she disapproves of him. She is not the only one who makes magical appearances, there's a high-tech come-alive statue later, but meanwhile you can't help wondering how Rina managed to fit in the bottle!
Having to carry out Naw-Ze Uzz's wishes makes the Green Genie depressed and she meets up with others just like her at a meeting of DGA (Depressed Genies Anonymous).
Julian Capolei, making his professional debut, is a fresh-faced Sinbad, not too wimpish, though it is good thing big sister Sinbada is around, played with Kung Fu style confidence by Gabby Wong. Their companion Funky is a puppet, given lively personality by puppeteer Gemma Salter. He's not sure where he comes from but on their adventures he meets some spectacular larger relations and a whole tribe of dancing monkeys.
Fellow adventurers are a Nurse, the Dame in this show, a role fully-filled by Johnny Amobi, and a young fellow who says he's been sent out by Ben Goffe's delightful diminutive Sultan to record everything that happens. Actually it is Marianna Neofitou's charming Princess in disguise.
On the way to the treasure island, they encounter pirates in the form of Captain Greenbeard (Alim Jayda) and his side-kick Clanker (Josephine Melville) whom their audience have already met, being friendly not fearsome, in an opening warm-up sing-along competition: this panto's equivalent of the traditional song-sheet.
There is no transformation scene or slop scene in this show but there is a stylish shipwreck and an excellent use of video animation that at one point blends into action. Kamilah Beckles's choreography adds extra sparkle to Kerry Michael's fast-paced production which concentrates on telling the story, the dame and the villain's interaction with the audience becoming part of it.
Designers Harriet Barsby and Jenny Tiramani make it look good. Down in the pit MD Robert Hyman works harder than anyone driving the show from the keyboards, the heart pumping musical blood through the show's veins.
Girl power seems to be the thing this year but Stratford's Sinbad is a fun night for all the family. There is lively interaction with the audience but it is not overdone, the story comes first, but the warmth coming across from the company gets any equal response from the audience: everyone is having a good time.
Reviewer: Howard Loxton