Skin Tight
Gary Henderson
Epsilon Productions
Park Theatre (Park 90)
–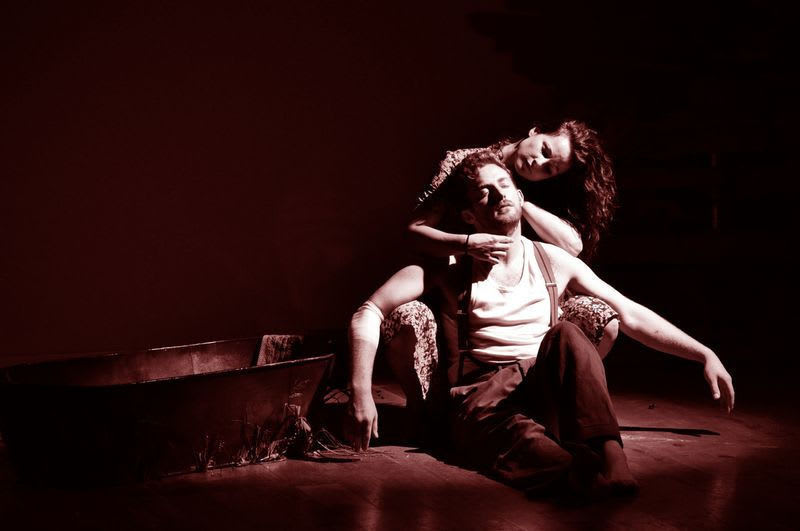 New Zealander Gary Henderson's play is about love. It is only an hour long but it encompasses its joys, its irritations, its heartbreaks and its passion in the life memories a farming couple who have known each other since childhood.
Places mentioned in the text locate it in the middle of New Zealand's South Island but, rightly, Jemma Gross's stunning production does not reproduce New Zealand accents, for though specific local references add reality this is a story that's universal.
Henderson took his inspiration from two poems by fellow New Zealanders: Sam Hunt's "Baptism by River Water" and "The Magpies" by Denis Glover. There is sacramental water imagery in the play and Glover's poem outlines a couple's life together in just six quatrains (all of which include the lines "and Quardle oodle ardle wardle doodle/The magpies said" a rendering of the call of the New Zealand magpie). You can read a great deal into that poem but Henderson's play goes deeper and works on many levels as you watch a passionate and sometimes painful encounter between his Tom and Elizabeth.
On the one hand this seems a simple recapture of past moments but it is also a tantalising exploration of feelings, that knife edge between opposing emotions, a physical manifestation of feeling.
Things usually said only in moments of great intimacy are here enlarged to theatrical dimensions, risks taken—physical and dramatic—that demand a hypnotic attention, an embodiment in action of what more often happens in the mind, though at the same time what could be a realistic picture.
These are a couple destined for each other; they have faced war and separation, economic disaster, family confrontation, fighting each other and the world through thick and thin. They are a metaphor for all of use but absolutely real, memory made corporeal.
Angela Bull as Elizabeth and John Schumacher as Tom give performances that are amazing. They are moving, funny, visceral and deeply engaged but necessarily supported by a physical control and skill that dazzles as they grapple with each other. Fight director Dan Styles's expertise has obviously been important and fortunately both actors already had stage fight training but they make it pretty scary.
It is set against a skycloth and section of slatted fence with grasses and cow parsley poking through it (or is it more ominous and hemlock—no that symbolism doesn't seem intended), poppies and cornflowers sprout around a tin bath and a blue sky turns to sunset. Jessamy Willson-Pepper has designed a tranquil scene. It is beautiful, with costumes continuing its sepia palette. Its leaves and plants suggest a piece of real country, yet at the same time it is a dream landscape and it is subtly lit by Sherry Coenen (though one cue seemed mistimed on press night).
At one moment a literal reference to being in bed hints that this may not be happening in real time and point in the direction of the elegiac ending before a simple photograph of an old man on a bench provides a final resolution. This production is a theatrical gem.
Reviewer: Howard Loxton