Slava's Snow Show
Created and staged by Slava Polunin
New Victoria Theatre, Woking, and touring
(2007)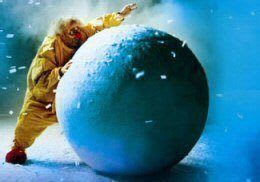 Last year I almost gave this show a miss, thinking it would be clowns performing for children. It was only Simon Callow's comment that it was the most beautiful thing he had ever seen in a theatre that decided me to go. This year I had to go again – I couldn't quite believe what I had seen the first time and had to check if it was as I remembered - what I could remember of it. So much happens on stage and usually without any obvious rhyme or reason to it, and nothing is rushed – the perfectly timed anticipation of what on earth will take place next is all part of the fun, and it will always be something unexpected.
This is a totally original, quirkily comical and strangely beautiful experience and impossible to describe accurately – you have to be there!
Certainly there are clowns, with red noses long green coats, hats with enormous wide 'ears' and elongated shoes, and they make their feelings obvious without the benefit of speech, perhaps just as well as many of them appear to be Russian.
This is a show which transports you back to the wonderment of childhood as one magical scene follows another - comical, sad, always surprising and sometimes even outrageous as Slava clambers over the audience balancing himself with the help of their heads and throwing their clothes about. He manages to get himself entangled in a spider's web, and it isn't long before the whole audience is engulfed too – from front of stage right to the back of the stalls. Well, it is a very big spider.
A myriad of colourful bubbles fill the stage and across the auditorium. One large orange bubble rises to the flies and bursts into a thousand stars. For no apparent reason a young girl appears on a swing. All in white and with long flowing skirts she sways to and fro, to and fro, and then disappears never to be seen again.
Slava appears carrying a 'heavy' suitcase – filled with balloons which float to the ceiling. He is obviously off on a train journey, but first he puts up a coat stand and arranges on it a coat and feminine hat. As he slips his arm through one of the sleeves it really doesn't take too much imagination to believe that he and a lover are embracing and caressing in a sad farewell – especially when he is leaving and the coat waves goodbye.
The most amazing sound and lighting effects are very much an integral part of the show, and very impressive.
Having become a favourite with the people of his native Russia, Slava now travels the world "with an art which contains the spirit of nonsense and absurdity ..with clowning full of poetry and insanity". Already this year he has toured Italy, Mexico and Brazil and at the end of the year will be off to China.
This art of clowning "draws on poetry and philosophy, moving itself closer to tragicomedy and metaphysical theatre". All I can say is that it's a true white winter wonderland, bringing back the magic of childhood – an experience not to be missed.
Touring to Milton Keynes, Nottingham, Canterbury, Brighton, Cardiff and Birmingham.
Read Sheila's review of last year's show.
Reviewer: Sheila Connor