Sleeping Beauty
Andrew Ryan
Martin Dodd for UK Productions and Anvil Arts
Anvil Basingstoke
–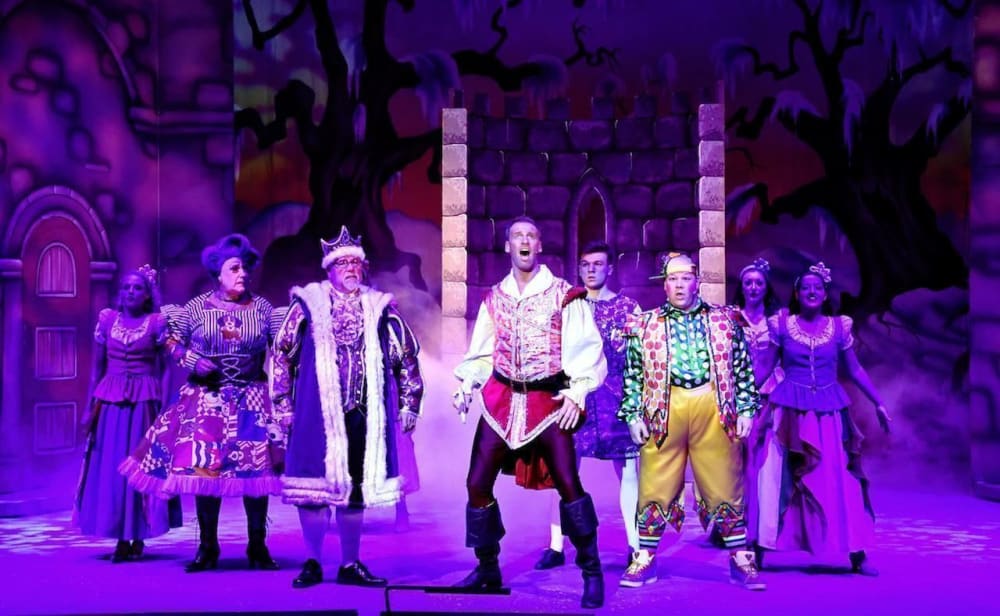 On a wet and foggy afternoon the Anvil's Sleeping Beauty was the perfect antidote to the dreary weather and it's filled with festive merriment and cheer that shimmers and sparkles.
The enthusiastic audience, with many of the youngsters dressed for the occasion, waited in excitement for the auditorium doors to open and the fun to begin.
This is a panto that has something for everyone. Spectacular sets and lighting, beautiful costumes, oodles of audience participation, pyrotechnics, an evil dragon and a highly talented and energetic cast.
Sarah Jane Buckley, well known from her appearances in Hollyoaks, makes a dramatic entrance as the Good Fairy as she flies in from the wings and quickly starts the story.
She is thwarted in her attempts to protect the Princess when the evil Carabosse, the splendid Sue Holderness (Marlene in Only Fool and Horses), who is furious at not being invited to the baby's naming and casts a curse on poor baby Rose and relishes all the boos from the audience.
Mark James as the rumbustious Silly Billy quickly builds up a great rapport with the audience including singing the song "Is Everybody Happy" that gets everyone in the mood as he shares his many madcap inventions.
As Nanny Glucose, Charles Burden is a consummate Dame wearing the most outlandish costumes and delivering some groan-making jokes and one-liners with plenty of innuendos for the adults. His interaction with Silly Billy was vivacious and the kids loved them.
Of course there are some topical gags including the traffic jams in Basingstoke and references to Donald Trump, Boris Johnson and Jeremy Corbyn.
Providing the romantic interest is Katrina Bryan (Nina from the Cbeebies series Nina and the Neurons)—a perfect Sleeping Beauty—with a fantastic singing voice and Ben Harlow as Prince Philip who powerfully sings "Can Anyone Find Me Someone to Love Me", amongst many others and is the all action man. They make a delightful couple.
Phil Cole is majestic as the King who has banished all the spinning wheels from the country to save Sleeping Beauty from the curse and his King Rap is great fun.
There is excellent support from the adult ensemble with slick dance routines choreographed by Sarah Day. On the day I attended, members of Basingstoke's JG Dance Company provided the junior chorus and their toy dream scene was charming.
There are many magic moments including clever computer-generated animation as the Prince travels forward one hundred years to the future to rescue his Beauty. Keep an eye open for the enchanted castle that appears before your eyes as it's covered in thorns and the battle with the giant fire-breathing dragon.
Director Damian Sandys ensures that the pace is maintained and everyone has a great time and the music is in the very capable hands of Martyn Cooper and his band.
This is a joyous festive treat for all the family that will certainly put you in the Christmas spirit—"Oh yes it will."
Reviewer: Robin Strapp