Some Like It Hotter
Richard Hurford
Fresh Glory Productions in association with the Watermill Theatre
Yvonne Arnaud, Guildford
–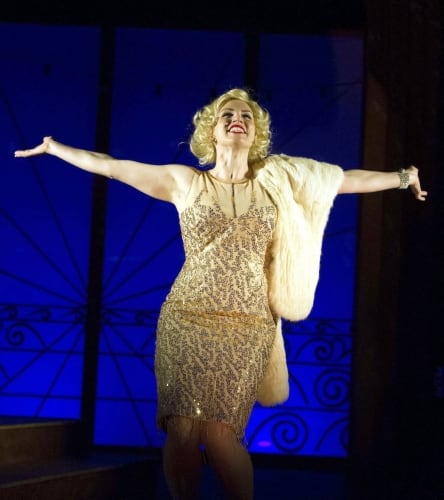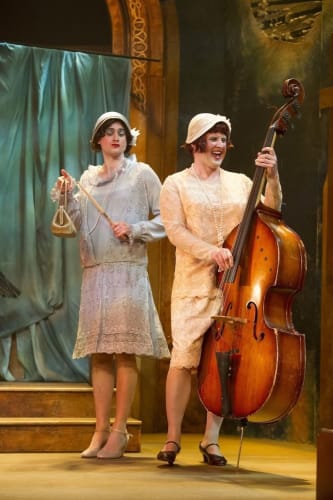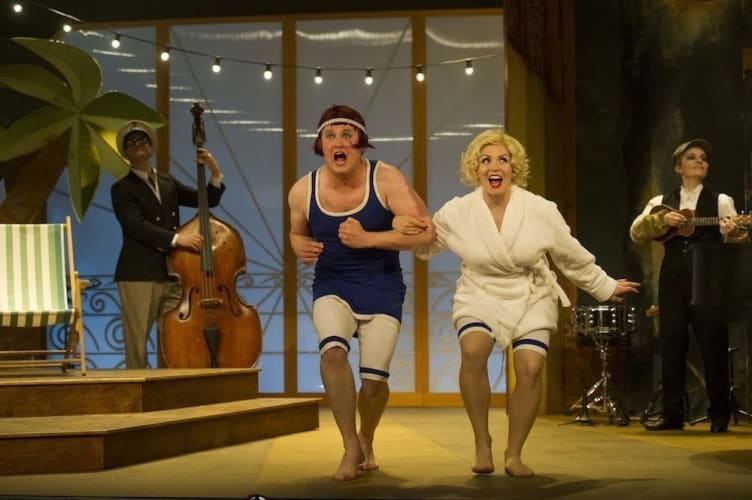 I went to this show expecting it to be tribute to Some Like it Hot, one of my all-time favourite films, but the cast make it clear at the start that this is not the case. What they have produced is a fantasy with the original three main characters in limbo—dead, but now trapped in the most iconic moment in their careers and forced to play the same roles over and over again until they find the way to move on.
Coming from the Watermill Theatre, it is no surprise that these are actor-musicians and extremely talented. Almost all the music from the film is here, played not only with enthusiasm but with exuberant expertise, and what a joy it is. A few other well-known tunes make their appearance, most notably "Clap Hands Here Comes Charlie", included to introduce a newly deceased Charlie (Patrick Bridgman), who enters, slightly bewildered and clutching a vanity case.
This is where everything becomes a bit confusing. This man was a fan of the film when he was twelve years old when he used to watch it with his mother, now deceased. The vanity case contains his 'mother's things', including Chanel No 5, and Ruby Red lipstick, and is now claimed by Marilyn Monroe. None of this makes sense. There appears to be a mystery here and we have to wait until the end to find the answer—or maybe there is no real answer, but that doesn't matter one bit as we re-live some blissful moments from the film.
The cast are superb at re-creating the characters with a sense of fun and arguing a little about the sequence to follow, putting in their own interpretation too and looking a bit more credible dressed as women than the originals did. (Terrific frocks and sets by Jane Lina Roberts).
Paul Matania is elegant and haughtily disapproving as Tony Curtis / Josephine, cheating a bit in his love life, pretending he is a rich yacht owner and even bringing in the Cary Grant voice that Curtis used in the role. Daniel Lloyd is a fun-loving, tango-dancing Jack Lemmon / Daphne, wobbling Lemmon-style in his high heels, but attracting the amorous attention of a real millionaire who presents him / her with a diamond bracelet. His tango in bathing dress implemented with Marilyn's maracas for 'enhancement' is a riot, and he has really perfected the Lemmon laugh.
Billie (Sophie Byrne) and Diamond (Andrew Venning) complete the cast, performing as gun-toting gangsters, musicians or waiters while not forgetting their music.
They are all great, but it is Sarah Applewood who steals the show as Marilyn Monroe, seeming more like a re-incarnation than a copy. In looks, mannerisms and voice she has the part to perfection and, just by the way, plays a mean clarinet, piano and saxophone. My one and only teeny negative thought was that Marilyn's version of "I'm Through With Love" was sung feelingly and from the heart with no artifice at all, but the feeling here was supplied in spades by Billie's soulful, yearning saxophone.
Karen Simpson directs this rather unusual show with panache and an obvious love of the original. It's a little surreal in the concept, but it is great fun and the music is sublime. With hits like "Runnin' wild", "I Wanna be Loved by You", "By the Beautiful Sea", and finishing with a spirited "Sweet Georgia Brown"—what's not to love!
Reviewer: Sheila Connor