Stateless
Subika Anwar
Kali Theatre Company
Tristan Bates Theatre
–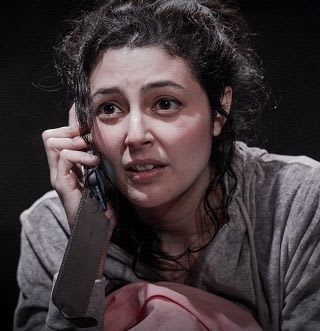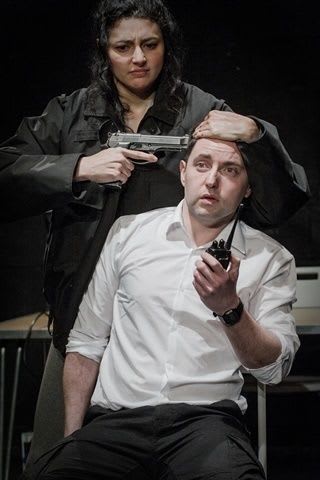 Sometimes, the elements of a show come together so well you want everyone to see it. That happened to me last night watching the Kali Theatre production of Subika Anwar's play Stateless.
It is set in an entrance security office to a mental hospital in the remote countryside. A single security guard Denny (Simon James Bailie) returns from a night patrol of the grounds. His shoes leak and a torrential rain beats against the roof of the office.
He is alone, checking in with his supervisor, when he notices on the monitor to the security cameras, a young woman he does not know approaching the office door.
The woman Kat (Shanaya Rafaat) has a gash on her leg from what she claims was a fall from a bike about a mile down the road. While she waits for a taxi, she has called to take her away, they talk. The conversation begins innocently enough with them touching on things visitors to the area might want to see but increasingly it turns towards Danny's former employment as a soldier in Afghanistan.
The director Trilby James carefully paces this atmospheric thriller, creating for most of its time a reassuring mood with an edge of danger.
Trilby James makes us care a great deal about what happens to Denny and Kat. Her confident attention to the positioning of characters, their expressions, the tone of what they say and the movements they make gives an intense, intimate and extraordinary power to the show.
Both Simon James Bailie as Denny and Shanaya Rafaat as Kat gave exceptionally strong and memorable performances.
Simon James Bailie, as the character Denny, is engagingly warm with a gentle sense of humour. Occasionally, we are reminded of his former life as a soldier by the way he constantly moves about completing practical tasks. With little fuss, Denny tends to Kat's wound before offering to 'phone for a taxi.
Shanaya Rafaat as Kat, the stranger from London, is a strong presence. However, nothing of what she says or does in the early part of the show indicates the threat to come except perhaps those odd glances Denny does not see which hint at something more worrying about her intentions.
Sitting across from each other talking about their past, Kat and Denny begin to find their lives have crossed in quite disturbing ways.
Denny tells her he would not go back to the army and that the war in Afghanistan is a waste of time. He wants to forget it but, when Kat begins to speak about her past, his war in Afghanistan returns to confront him with a terrible truth.
Subika Anwar has written a powerful play that is more than just a gripping thriller. It is also a frightening image of the way the horrors of Britain's foreign wars continue to weave their way into our lives a long way from the official battle lines.
Stateless by Subika Anwar appears as part of Kali double bill with She is Not Herself by Veronica J Dewan.
Reviewer: Keith Mckenna