Stop the Train (The Musical)
Rick Guard and Phil Rice
More to Life productions
Paradise in Augustines
–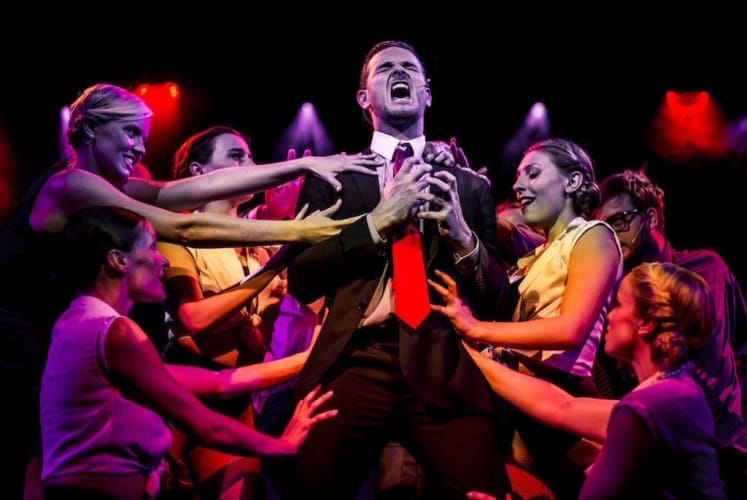 Stop The Train The Musical by platinum selling songwriters Rick Guard and Phil Rice is a highly-charged, energetic, brand new musical that explores the lives of commuters on their daily journey by train to work.
As they sing "there must be more to life than this", they spend their time engrossed in mobile calls, texts and wrapped up in their own personal worlds.
Everything changes when a dishevelled passenger enters the carriage and threatens to blow the train up. His rationale is that technology is destroying conversation and people communicating with each other personally.
Chaos ensues as each of the passengers is forced to reveal his or her own story. We meet Welsh Rhodri married with a family who has a gambling addiction and ever hopeful for the big win on the Lucko lottery.
Cue a hilarious song and dance routine, "waiting for his balls to drop", a very cheeky number that had the audience laughing with glee.
This was certainly going to be a very different musical as the characters reveal their secrets, hopes and aspirations.
The dancers are superb with sparkling choreography executed with precision and flair wearing many beautiful and spectacular costumes.
Tom and Chloe sit in separate seats reflecting the split in their relationships. He is a high roller in the city but wants to concentrate on his career and his many one-night stands as he sings "Stop It I Like It".
Northern lass Amy is studying to become a plastic surgeon but finds living in the south unfriendly. Bartholomew is a lawyer with a big secret that uproariously brought the house down. I won't spoil the fun.
Then there is Nicky the beautician whose ambition is to marry a rich soccer star and has "10 steps to be famous" sung with passion.
The threatening proceedings are interrupted by the conductor's messages suggesting some form of normality.
The cast sing with gusto with beautiful harmonies and perform with panache. The rich score and orchestrations include moving ballads, a Eurobeat explosion and rousing chorus numbers particularly the moving ending.
The clever and effective use of projected images adds a whole new dimension to the action on stage. This is a highly recommended show.
Reviewer: Robin Strapp