The Adventures of Pinocchio: A Family Musical
Book by Brian Hill Music and lyrics by Neil Bartram
Katy Lipson for Aria Entertainment, Guy James and Ilai Szpiezak for Szpiezak Productions in association with Greenwich Theatre
Greenwich Theatre
–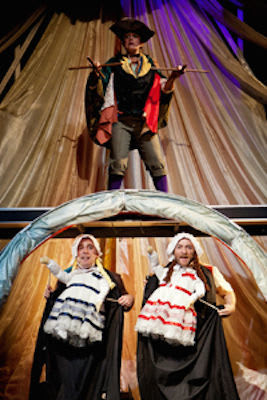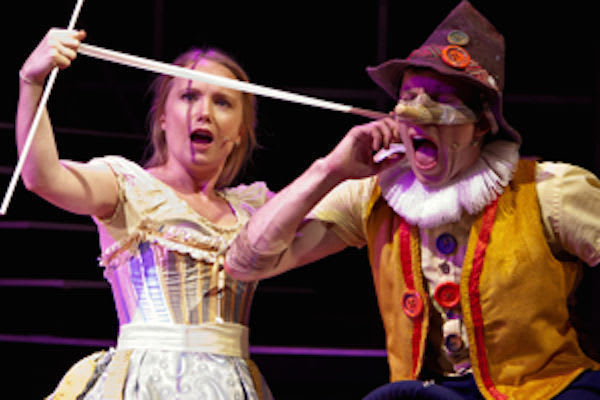 Commissioned by the Chicago Shakespeare Festival, who first staged it in 2011, and here getting its British première, this is musical version of Carlo Collodi's story aimed at a young audience of five upwards.
It starts a little awkwardly with Rachael Louise Miller's Fairy as narrator of the back-story of Geppetto's widowing and his decision to make something from the tree that grew on his wife's grave while it is played out by shadow puppets. It is not the best puppetry and in delivering speech Miller lacks the projection to connect with the audience and be understood—things are different once she starts singing.
Martin Neely's Geppetto is much more direct and delivers a warm personality as he explains how he makes things. "How do you carve an elephant? You chip away everything that is not elephant," that's his way of working. It takes quite a lot of imagination to believe what the production presents is a block of wood but when it turns into Christian James's Pinocchio the young audience gets caught up in the magic of theatre.
Fresh-faced James's puppet is immediately likeable and he captures an essential boyishness with which to identify. Bronagh Lagan's production does sometimes bring him out into the audience but doesn't include any interaction. Characters tend to address only each other without including the audience—though the show's best number, "Terra di Ragazzi" complete with spirited dance routine with which the whole company celebrate the pleasures of Boy's Town is played straight out front. But how many of the target audience will understand the Italian?
Although the production ensures there are always things happening to attract children's attention, this is a musical too heavily biased towards an adult audience, the lyrics and some of the ways they are set aren't always easy to follow. Even Ceris Hine's overblown Puppet Master has an almost impenetrable accent. But the cast work hard and double splendidly, though James Charlton's Fox and Hine's Cat don't get much chance to establish character and Charlton's Lampwick (the first in Boy's Town to turn into a donkey) only turns up at that point.
It is a short show, 70 minutes played without interval, good for matching young attention spans, but one could wish it gave the chance to explore detail and character more fully for there are sequences—like the long wave-tossed sequence that sees Pinocchio swallowed by the whale (here called a fish—it's a mammal!)—that would benefit by being shorter.
With its moral about making the right choices and a warning against greed as the reason for investment, this is a show with a message but it is its tunes, its dancing and especially James's Pinocchio that keep the audience happy for, despite my carping, it got an enthusiastic reception from a family audience.
Reviewer: Howard Loxton