The Argument
William Boyd
Theatre Royal Bath Productions
Theatre Royal Bath
–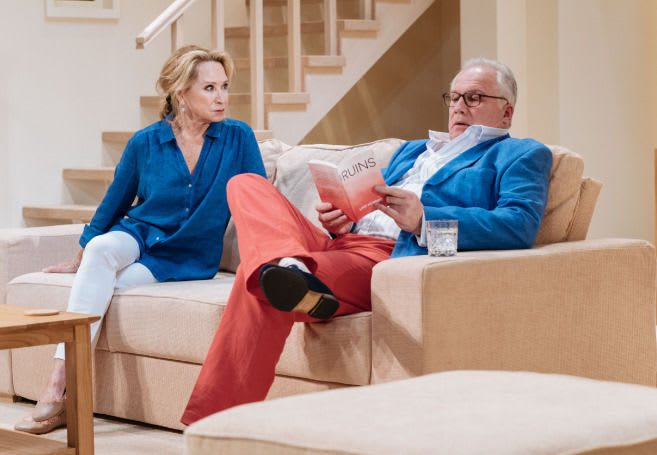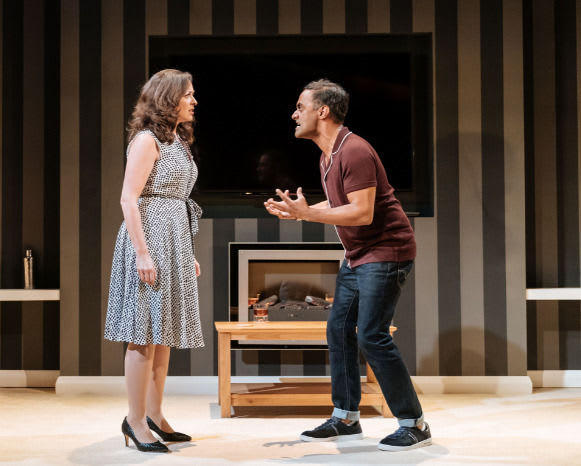 William Boyd is a master storyteller, with a host of novels, short stories and screenplays to his name. Just think of how The New Confessions or Any Human Heart mine the intricacies of lives lived long against a stirring backdrop of 20th-century upheaval.
Yet, as a playwright he is still a relative novice: though he has previously interpreted the short stories of Chekhov (a dominant figure in Theatre Royal Bath's 2019 summer season), The Argument is only his third play and the first with a wholly contemporary setting. Having premièred in the intimate space of Hampstead's Downstairs Theatre in 2016, it now comes to Bath's main stage.
Meredith and Pip have been to see a film. Meredith is full of criticism, while Pip is much happier to accept it for what it is. But their ensuing differences plunge depths that threaten to undermine their three-year-old marriage, delving into previously unspoken fissures of intellect and earning capacity.
The couple resorts to airing their relationship's shortcomings with Meredith's parents and their respective best friends in a succession of two-handed scenes. Each is sprinkled with Boyd's exemplary wit and verbal dexterity—Pip, for example, describing his friend Tony's long-standing dislike of Meredith as a "tinnitus of resentment"—and quickly escalates into an argument of its own.
Christopher Luscombe directs an impeccable cast. Felicity Kendal and Rupert Vansittart are compelling as Meredith's battling parents Chloe and Frank: she irascible and testy, full of twitchy repressed anger, he pompous and complacent in his entitled world view. Alice Orr-Ewing is self-confident and incisive as museum curator Meredith, intellectually condescending to Simon Harrison's less highbrow PR executive Pip. Esh Alladi and Sarah Earnshaw add strong support as their friends Tony and Jane.
There are some captivating scenes: when Tony meets up with Jane to discuss what can be done to reconcile the warring couple, confused by the rising inflections at the end of her every sentence, they lose the basic ability to communicate with each other. But while each argument reveals brutal truths and dwells on the nature of marriage and the accommodations required to maintain it over the long term, they are not as cathartic as they might seem. Old ground is covered as well as new and the descent of every scene into hostility becomes predictable and repetitive, even in a play that runs for only 75 minutes.
The ongoing fractiousness also tends to emphasise each character's cold-hearted cynicism; though Meredith hankers after a successful marriage that is "a small civilisation of two", she and Pip are far from achieving this dream. Very little human connection in the form of empathy or tenderness is on show, and so the characters at times feel inconsistent and two-dimensional, as though their sole purpose is to manoeuvre towards the point where a full-blown quarrel can ensue.
The production has all the polish that the Theatre Royal Bath applies so well. Simon Higlett's set slides seamlessly back and forth to reveal a succession of (mostly) neutral-toned chic and desirable spaces enhancing a central living-room sofa and chair, reminiscent of Tom Stoppard's The Real Thing or The Truth by Florian Zeller. Yet, The Argument's limited physical activity suggests it might be better suited to the Ustinov Studio space next door and in its short running time the narrative jousting—though amusing enough and neatly circular—fails to deliver full psychological complexity, feeling ultimately unresolved.
Reviewer: Claire Hayes