The Atheist
Ronan Noone
Graffiti Productions
Lion and Unicorn Theatre
–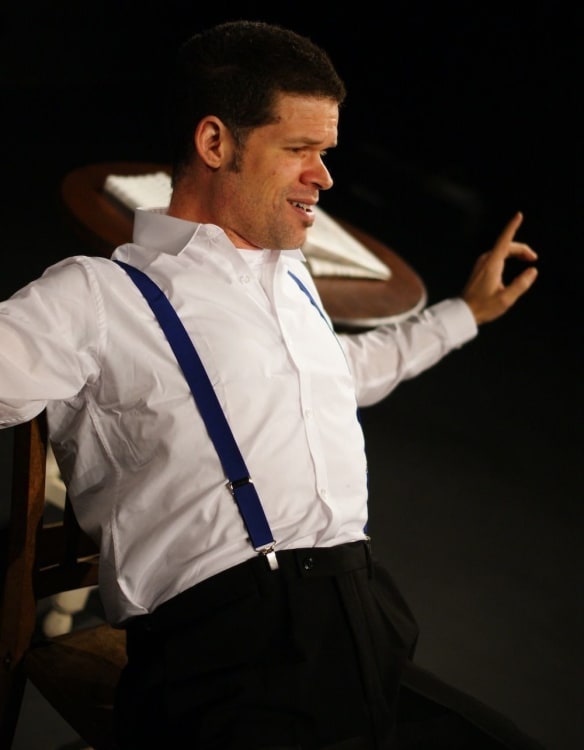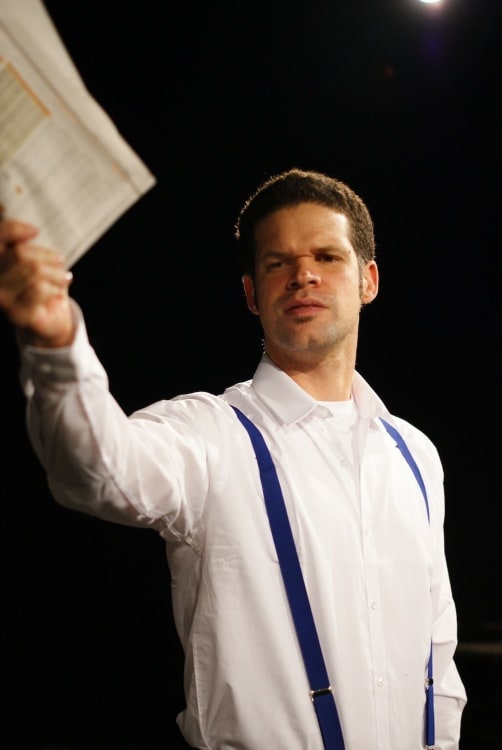 The Atheist was premiered in the US in 2008 and has already been seen in London at Theatre 503 in 2007, but this monologue was my first encounter with Irish-born American writer.
Monologue is not my favourite theatre form. Drama is built of conflict and requires interaction; otherwise it can turn into storytelling rather than a play. Though there is nothing wrong with storytelling in skilled hands, or if there is dialogue to characterise it can become dramatic, it needs to embrace all the audience and hold listeners for more than a limited time span.
Interaction can, of course, be with the audience as well as with other characters (Tim Crouch's recently reviewed I Malvolio is a marvellous example), but here Jonathan Chambers as Augustine Early doesn't interrogate the audience—this ruthless and irresponsible journalist is far too full of himself for that—yet he manages to sustain a monologue for about an hour and a half, and take a twenty minute interval in the middle and still keep us interested. That's quite an accomplishment.
Despite its title, it is not a play about belief in God or lack of it, though Augustine does tell us he "lost his faith" quite early on. It is the story of a man who doesn't let morals or scruples stand in the way of the opportunity to get what he wants.
His name Augustine doesn't seem significant. There is none of Augustine of Hippo's soul searching or Augustine of Canterbury's evangelising. Indeed, at first I though he said he was called Odyssey (sic not Odysseus), which could have sent the play in a quite different direction.
I suspect Chambers is himself American; his accent is certainly convincing, but that case of vague consonants apart he speaks very clearly. He was a trailer trash kid who first discovers his talent for using deception to is advantage when he petrol bombed his trailer home and burned it down as a way of getting rehoused by social services and he behaves just as unscrupulously when he decides on a career in journalism.
He'll get the story and headline the scandal whether it involves his girlfriend or the politician who befriends him. He gives graphic details of her sexual kinks and has a full range of four letter expressions—this is definitely not a show to take the kiddies to—but told for their humour not to shock and you'd have to be very prudish not to find it funny.
Chambers gives a beautifully timed performance that beguiles us with an attractive personality, even as he reveals his own duplicities and betrayals. It is not all down to the actor and Hugh Ross his director. It is very skilfully written, if not without its flaws.
Unless things are very different in the US of A I can't imagine that even a small town newspaper would not exercise some editorial control and there are few subs who actually accept a journalist's own headline. Somewhere halfway through the second act, continued failure of the law or other journalists to catch Augustine out did jar my personal suspension of disbelief and Noone then wraps things up in a hurried conclusion, but that didn't interfere too much with my enjoyment.
Chambers almost succeeds in making the play's faults pass unnoticed and he does it in the simplest setting (just a table and chair, a laptop and a newspaper) entirely through his performance.
Reviewer: Howard Loxton