The Babylon Line
Richard Greenberg
Lincoln Center Theater
Mitzi E Newhouse at Lincoln Center Theater, New York
–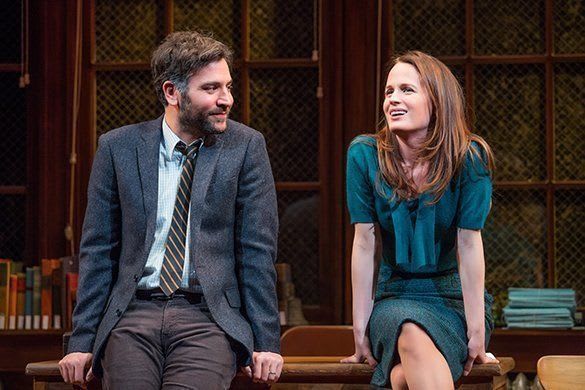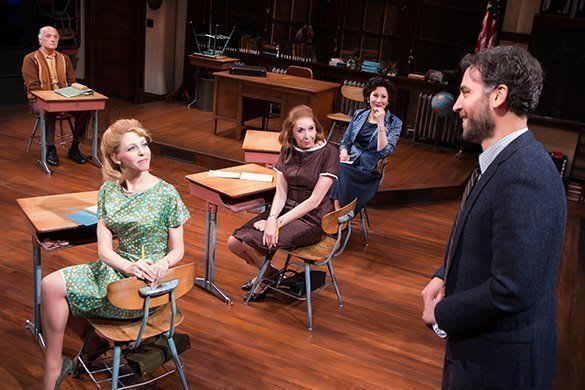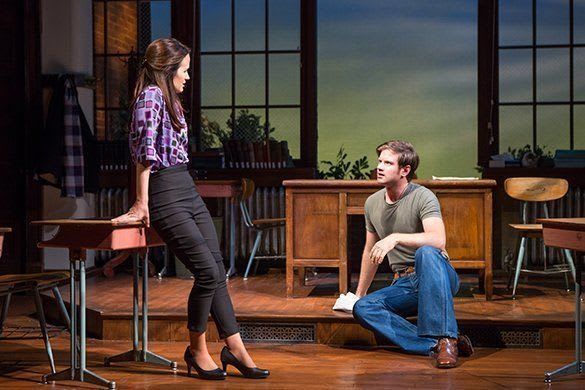 The Babylon Line harks back to suburbia in 1967 and in its quiet exploration of ordinary folks' psychic geography seems very characteristic of the work of Richard Greenberg.
Steppenwolf founder Terry Kinney, making a very belated Lincoln Center debut, directs a cast led by Josh Radnor as Aaron Port, a Jewish atheist writer seeking some minimal extra bucks by running a creative writing class for "adult ed" and Elizabeth Reaser playing who should be his star pupil, Joan Dellamond, with a sadness and accent that might owe something to Tennessee Williams.
However, our initial meeting is with a cackling trio who could almost have been Macbeth's witches. In fact, these members of the local (Jewish) sisterhood are respected pillars of the community. At their head is the well-cast Randy Graff's cruelly direct Frieda Cohen, a woman for whom subtlety is an unknown concept.
The diffident Aaron was never likely to be a match for her, nor is he suited to coaching a sextet of virtual no-hopers whose idea of creative writing would embarrass any reasonably bright eight-year-old.
Only slowly does it become apparent that, while the teacher draws little in the way of writing from the students, the stories that he and they tell build some quite detailed portraits of their mundane lives, though domineering Frieda's filter tends to subvert the truth before it reaches the audience.
Despite his denials, Aaron suffers from writer's block but that pales against Joan, who is struggling with what might be quite accurately described as liver's block, having locked herself away from society for seven years.
Even so, she has the ability to create some poetically Kafkaesque short pieces that say much about her psyche and limited world. Sadly, her sole escape route at this point is the prospect of an affair with shy, married Aaron, who has to travel from The Village to nondescript Levittown along the eponymous rail track every week to deliver his painfully uncomfortable classes.
At the same time, she generates inexplicable antagonism in her self-confessed nemesis Frieda, which becomes more understandable as the play develops and strangely prefigures events told from the perspective of the 86-year-old Aaron, when he eventually fills in a few of the gaps at the end of the 140-minute performance.
Josh Radnor makes Aaron into a sympathetic, if sometimes infuriating character, while Elizabeth Reaser quietly catches the desperation but also the humanity of the trapped Joan in a performance of great depth and feeling.
The Babylon Line is a quiet, thoughtful play that evokes the shade of John Updike and, like the master, says much about the human condition and American life in the days of Vietnam by putting a few samples under the microscope and then viewing them in mildly trying circumstances.
Reviewer: Philip Fisher