The Band Plays On
Chris Bush
Sheffield Theatres
Crucible Theatre
–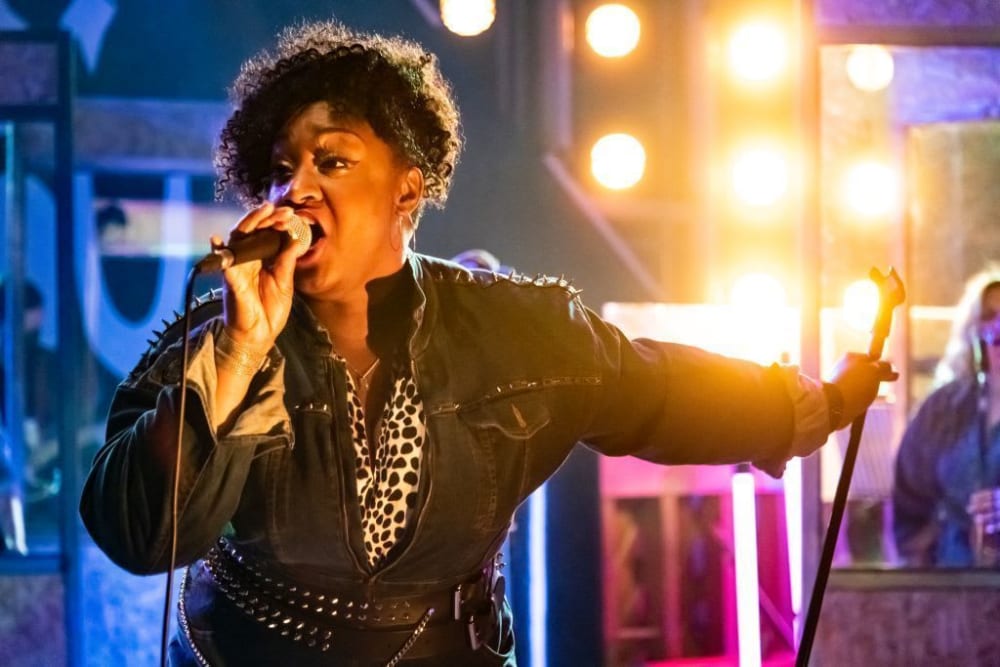 The streamed performance of The Band Plays On is a tribute to the artistry and determination of everyone involved in the production and provides a truly theatrical and thrilling experience in challenging circumstances.
Writer Chris Bush, familiar to Sheffield theatre audiences for Standing at the Sky's Edge and other plays, has crafted "a rousing night of extraordinary tales and live music" punctuated by songs from some of Sheffield's "best loved bands and artists".
The five monologues performed by five beautiful, talented actresses range over more than 50 years and explore different facets of Sheffield's rich and varied local history through the personalised accounts of local women who lived through it. Stories of 'solidarity and survival' are relevant to our current situation and positive in suggesting hopeful outcomes.
The show gets off to a cracking start with a blasting group performance of Arctic Monkeys' "I Bet That You Look Good on the Dancefloor" and thereafter the episodes are linked by solos, sometimes powerful, sometimes poignant by individual cast members who offer a variety of performance styles. "Pour Some Sugar on Me" (Def Leppard) is given a jazzy interpretation by a vocally powerful Sandra Marvin while later Jodie Prenger gives an intense and sensitive rendering of "The Crying Game" (Geoff Stephens).
The episodes offer a great deal of variety in terms of content as well as style. "Bunker Baby", performed by Anna-Jane Casey, takes us back to the days when a nuclear bunker was seriously considered a necessity for survival, but in this richly comic account, camping out provides an opportunity for deepening not breaking family relationships. "We're Alright" (Jocasta Almgill) takes us at lightning speed through left-wing politics from the '90s to the present day, with references to Women of Steel, The People's Republic of South Yorkshire, Neil Kinnock, Nick Clegg, David Cameron, Coalition, Brexit and a country 'split down the middle'. The deeply moving "Flood Gates" (Sandra Marvin) takes us back to the bursting of the Dale Dyke Dam in 1864 when 240 died as a result of serious misjudgement. A powerful connection is made with the Hillsborough Disaster of 1989 when so many football fans died of 'compressive asphyxia'.
The staging of the play is clever. The actors are divided by large plastic screens, the kind we are used to in supermarkets, which have the dual purpose of protecting the performers while providing a visual symbol of the world we now live in. Directors Robert Hastie and Antony Lau also make use of the empty Crucible Theatre, particularly effective in "Sheffield Rules" (Maimama Memon) where the protagonist is a successful female footballer who gives us a potted history of Sheffield's long association with football while travelling through endless concealed corridors in the theatre building. The final monologue, "Sanctuary" (Jodie Prenger), takes us away from historical material and focuses on the distress of a rejected woman who suffers but is sustained by friendship, consistent with the overarching theme of solidarity and survival.
It was interesting to see how effective the streamed version of the play was. The acting performances were a delight as was the music provided by Laurence Ungless on electric and double bass, Justin Quinn on electric and acoustic guitar and Becky Brass on drums and percussion. It was an asset to see the performers close-up, but at no time did this seem anything but a very successful theatrical performance. Get streaming!
Reviewer: Velda Harris