The Boy Who Cried Wolf
Mike Kenny
Tutti Frutti
York Theatre Royal
–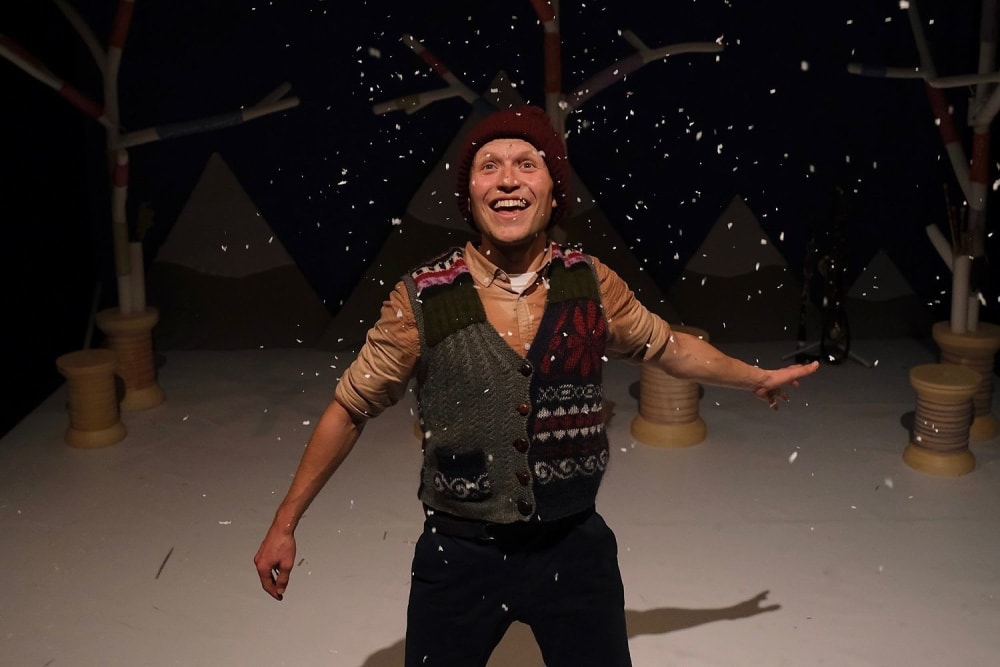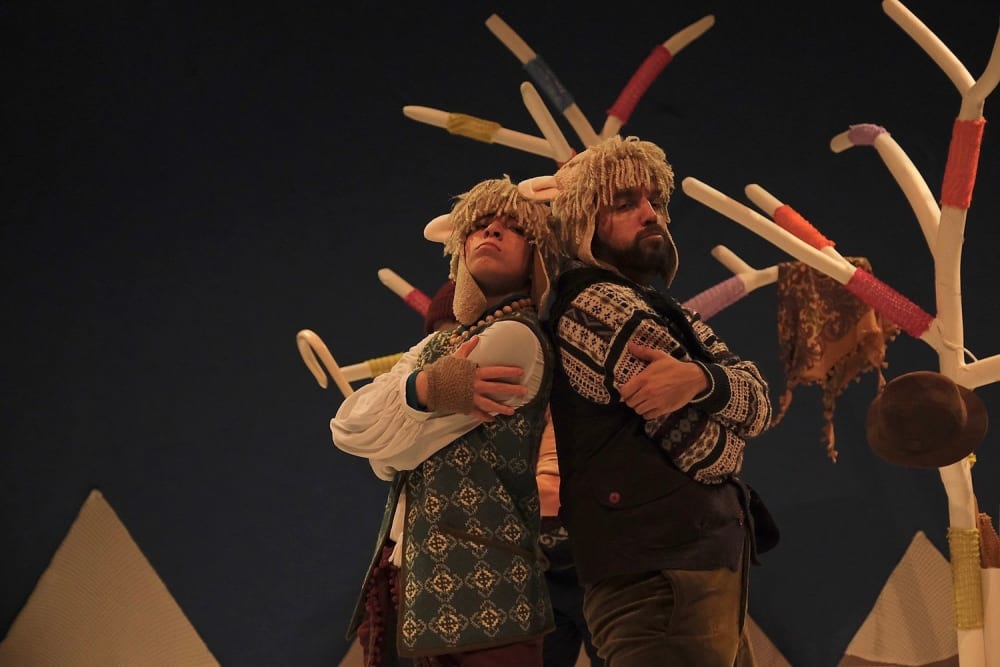 First performed in 2013, this charming family show reunites Tutti Frutti—one of the UK's finest children's theatre companies—with playwright Mike Kenny, whose adaptation of The Railway Children, equipped with an actual train, captured the public's imagination more than ten years ago.
Based on the classic Aesop fable, which warns against the dangers of telling lies, The Boy Who Cried Wolf focuses on a young boy, Silas (Alex Wingfield), who lives in a sleepy village at the bottom of a valley with his mum (Florence Russell) and granddad (Guido Garcia Lueches).
The villagers' lives are dominated by sheep and, more importantly, wool. Silas's mum is a brilliant knitter and the one to beat at the annual best jumper competition, and his granddad has been a shepherd all his life.
When his granddad becomes too frail, Silas is expected to go up the mountain to look after the family's sheep. However, the young boy dreams of being an astronaut and a storyteller—anything but a shepherd!—and, feeling peeved about missing the big village party, decides to shout "Wolf!"
I won't say anymore about the plot, except to say that Silas doesn't meet the grisly end that young shepherds have encountered in other versions of this tale.
Tutti Frutti has been a reliable fixture at York Theatre Royal for years, providing magical and entertaining shows for very young children and their families. I'm happy to report that The Boy Who Cried Wolf ranks alongside their best work.
Kenny's script is full of warmth and humour, and it's brought to rousing life by three talented actor-musicians who switch roles with consummate ease. Alex Wingfield makes an appealing lead, even when his character is behaving in a petulant way. Florence Russell and Guido Garcia Lueches are equally strong as his concerned relatives, but they are especially memorable as a pair of dancing sheep.
I was particularly impressed with the way the company portrayed the wolves—they managed to be sinister without upsetting the younger members of the audience too much.
Wendy Harris's direction is fluid and energetic, and Hannah Sibai's set design is full of lovely visual touches, including over-sized bobbins and spindly trees wrapped in yarn.
Funny, enchanting and visually inventive, The Boy Who Cried Wolf represents Tutti Frutti at their absolute best.
Reviewer: James Ballands