The Café
Ben Aitken
Old Red Lion Theatre
The Coffee Works Project
–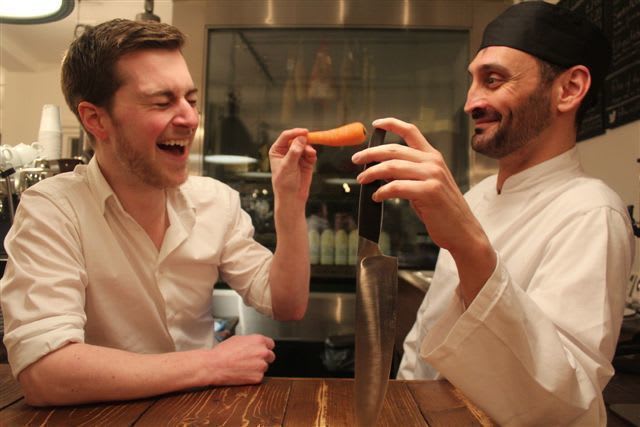 The service bar of this coffee shop in Islington High Street stands in for the kitchen of an ailing seaside restaurant in this otherwise site-specific production of Ben Aitken's short play, which had a successful earlier run on the Brighton Fringe in 2012.
Café owner Marcus Dearing is cutting costs to keep his business afloat. There's going to be a new menu, smaller portions and, more important for his staff, they lose their free lunches and cups of coffee, work breaks are truncated and tips redirected to the boss.
It is a hard regime that matches state cuts and austerity measures in the light of current economic problems. Perhaps it is intended as some kind of analogy for what is happening on a national level, but I doubt it for there is no attempt to reflect actual fiscal policies and actions in the play's construction.
Set up against the owner, a small-time businessman with self-protecting conservative values is Joe, a left-wing graduate who pays lip-service to socialist ideas but, though he claims to have spent the previous day in London on an anti-government demonstration, it turns out he actual spent it in a local pub. When he floats the idea of a strike, there is no support among his fellows. Come to think of it, that isn't a bad representation of political apathy today in a world where people have grown up in a me-centred culture.
Aiken however is probably less interested in politics than people and Dearing's employees include a Turk, an almost silent, English-lacking Pole, John, a man who's known unemployment and is glad to have the job and a Rose, another ex-university type whose origins are vague for she was often unintelligible. A busy production with actors coming in and out through the back of the shop or out onto the street made this seem a larger cast.
The acoustic of the coffee shop with its hard walls and a deep space behind actors is difficult. Playing relatively close-up audience the cast keep to conversational levels. It is very natural but it makes some of the dialogue difficult to follow. Are actors no longer trained to suggest naturalness while ensuring clear delivery, adapting to the playing space?
Aitken's writing seems fluent and natural. It would gain from being heard clearly. I would not be surprised if Aitken has spent some time himself in just such employment for he captures that sense of matey familiarity with a little joshing in the work environment that ends when people leave for home.
Director Josh Roche does an excellent job in making this production flow. Nothing much is actually happening but there always seems to be something going on even though this is a kitchen in which no-one seems to cook. For nearly an hour the performers hold the interest but they present a situation rather than a story although at various points it threatens to burgeon into a plot. There is the possibility of staff rebellion and at one point we learn of money being stolen, but these are brief hiatuses that lead no further. Like so many new short plays today it's a slice of life without much narrative.
Paul Lincoln makes café owner Marcus fraught but efficient, a charmer if you aren't working for him. He has a relaxed relationship with Turkish Naz, given a vivid personality by Christopher Kouros. Would-be rebel Joe is too weak a personality for Jolyon Westhorpe to stand out strongly but he captures his sense of disappointment and self-disgust.
Aitken has a good ear for cultural ethnic differences and a quirky sense of humour and he seems to be expressing some of the dissatisfaction of a generation that is entering a workplace with no work to offer. I look forward to future work from him. I hope he will tackle something longer, giving time to dig deeper and tell more.
Reviewer: Howard Loxton