The Comeback
Ben Ashenden and Alex Owen
Sonia Friedman Productions, Tulchin Bartner Productions with Playing Field, Eileen Davidson Productions, Rupert Gavin/Mallory Factor, David Mirvish
Noël Coward Theatre
–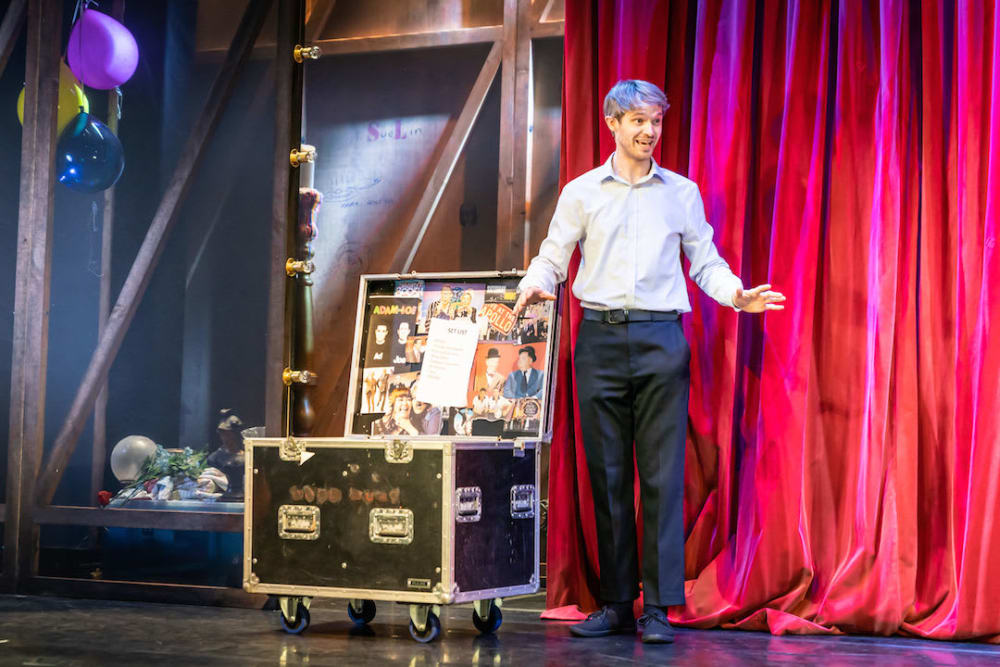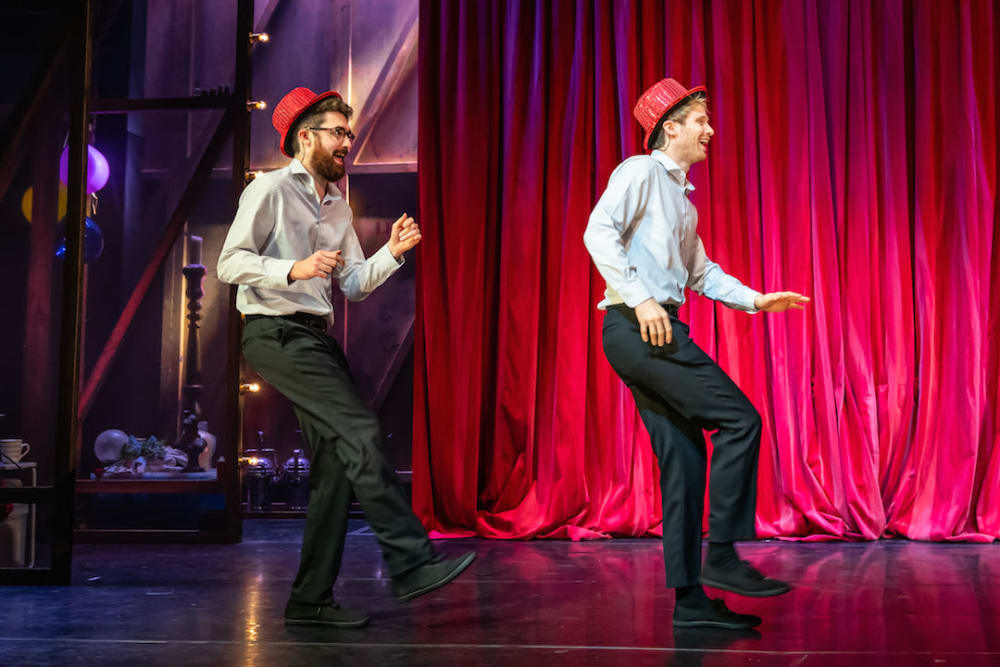 Ben Ashenden and Alex Owen are a comedy duo, also known as The Pin, whose Radio 4 sketch show The Pin won a "Best Comedy" BBC radio award. Here, in their debut play, they have written themselves a show in which they appear as both an aging duo called Jimmy and Sid, relics of vaudeville, and as another duo (also called Ben and Alex) who are their warm-up act.
When they discover that a Hollywood producer is out front, it becomes a competition between the two couples to impress him. Can they succeed? For the older pair, it might lead to a comeback while the younger see the chance for a career breakthrough.
First, there is a glimpse of Alex and Ben's act onstage on tour at the Diddlington (sic) theatre, then it's backstage where they are discussing how the act is working and rerunning some things that didn't go smoothly. Lively Alex is the optimist but wants to try new material, Ben to improve presentation of what they've got. Are there the beginnings of a rift here?
When, with spangled red jackets and titfers, they turn into Sid and Jimmy, who are still using material they scored a hit with back in 1970, there is a similar situation but this isn't a play about the problems of double acts for it turns into rip-roaring farce.
After the youngsters accidentally put one of the old-stagers out of action, things start to go crazy. Not only are the same two performers playing two sets of comedians, but now, in yet another layer of impersonation, become each of the young pairs passing themselves off as one of the old boys.
Farce often depends upon accepting something that logic wouldn't let by in real life but that's no problem when things move as fast and precisely as under Emily Burns's direction. The red house curtain central to Rosanna Vize's design alternates between representing on or behind stage.
Things get very silly, which the audience finds hilarious. It needs ratcheting up higher to make that really work, but there's delightful fun here, including a running gag about the way props seem to get smaller when you take them on stage and a neat exploitation of a guest celebrity: Clare Balding when I saw it but Ian McKellen and Danny Dyer are among the stars who have already taken part.
An enthusiastic, packed house (though with empty seats spacing out bubbles) gave The Comeback a standing ovation. That reception partly reflected the pleasure of being at a live show, enjoying all those vibes we've been missing, but there was no doubt that this show gives a good time.
Press night for The Comeback was due to be on 16 December but, with Third Tier status threatening, invitations were moved forward. Sadly, like those other theatres so recently opened, it did have to close after Tuesday's performance but producer Sonia Friedman has vowed it will be back as soon as they can reopen.
Reviewer: Howard Loxton