The Dead Monkey
Nick Darke
Mongrel Thumb, in association with Falmouth University
Park 90
–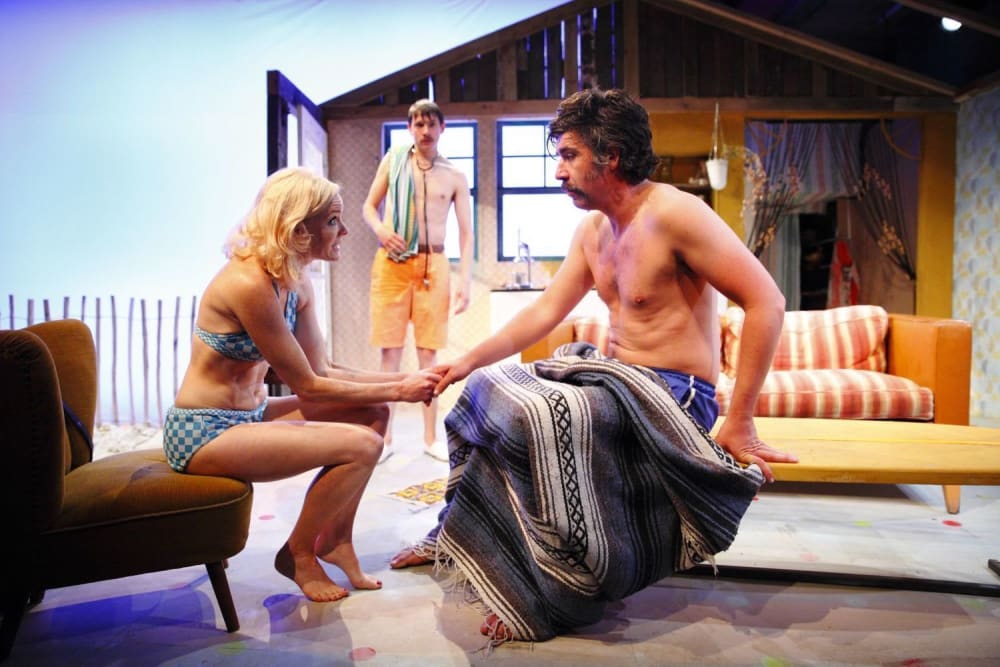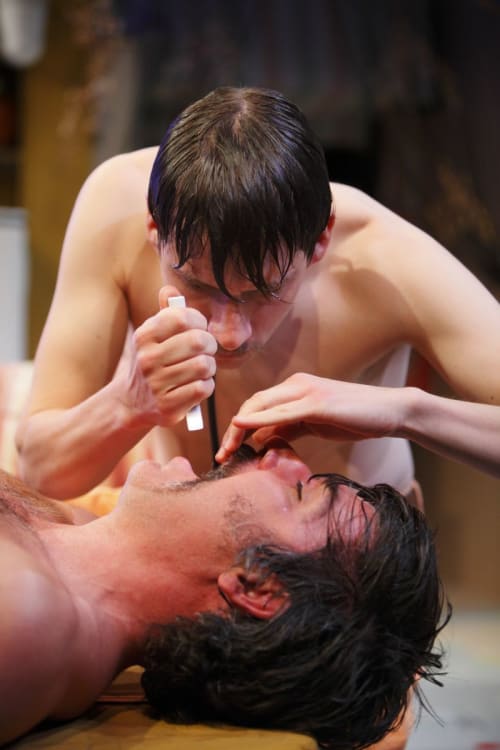 Like their home on a Californian beach, Hank and Dolores's 15-year-old marriage isn't in good shape. Anthony Lamble's set overdoes it: peeling layers of wallpaper, daylight seen through the gaps in its wooden walls, along with the tired kitchen cabinet and ancient fridge—but that matches the comic imagination of this dark comedy.
Hannah Price's production and the playing of James Lance as Hank and Ruth Gibson as Dolores are perfectly pitched to a notch above natural. That is what's needed to earth its action in a heightened reality without tipping it too far into surreal farce.
Hank used to be the king of the surfboard, riding the waves with his pet monkey. Now he's a travelling salesman, away on the road for long trips and no longer the sexy Adonis he used to be. He may come "gunning down the highway" as randy as ever but Dolores no longer fancies him and anyway during those long absences she's found satisfaction elsewhere—with Hank's pet monkey (who has pleasured Hank too in the past).
Now Monkey is laid out on a table and Charles Reston's Vet is pronouncing him dead. Without Monkey (they never appear to have named him, so how should we read him as a symbol?) their marriage becomes even more fractured. The vet brings a new pet, a Macedonian Curly-haired Pig, that Hank trains to be surfboard companion while Dolores becomes some kind of animal counsellor but there's much worse to come.
This is too broad a sweep at presenting the decay of a marriage and the failure of the American dream (with a few side swipes at money driven society) to be considered satire but played as well as this it is very funny. Reston makes his near caricature vet so charming he becomes believable (well almost); Gibson's Dolores is so open and honest that she makes placing glossy magazines over monkey shit seem practical housekeeping and Lance suggests the shadow of the sun-bleached beach boy the older man still thinks he is.
These are also strong physical performances not just in a vicious broken-bottle fight (fight director Gillian Reston), but in plausible presentations of drunkenness, dancing on a tiny table top and in Lance's case able to get a laugh just by the way he falls backwards onto a sofa.
It is a fun evening with the actors timing it beautifully and Price's direction turning the scene breaks into opportunities to explore the characters further.
This production marks the tenth anniversary of playwright Darke's death and forms part of the celebrations with which Falmouth University commemorates his achievements, which include an annual stage, screen and radio writing award worth £6000.
Reviewer: Howard Loxton