The Effect
Lucy Prebble
Sheffield Theatres
Crucible Studio
–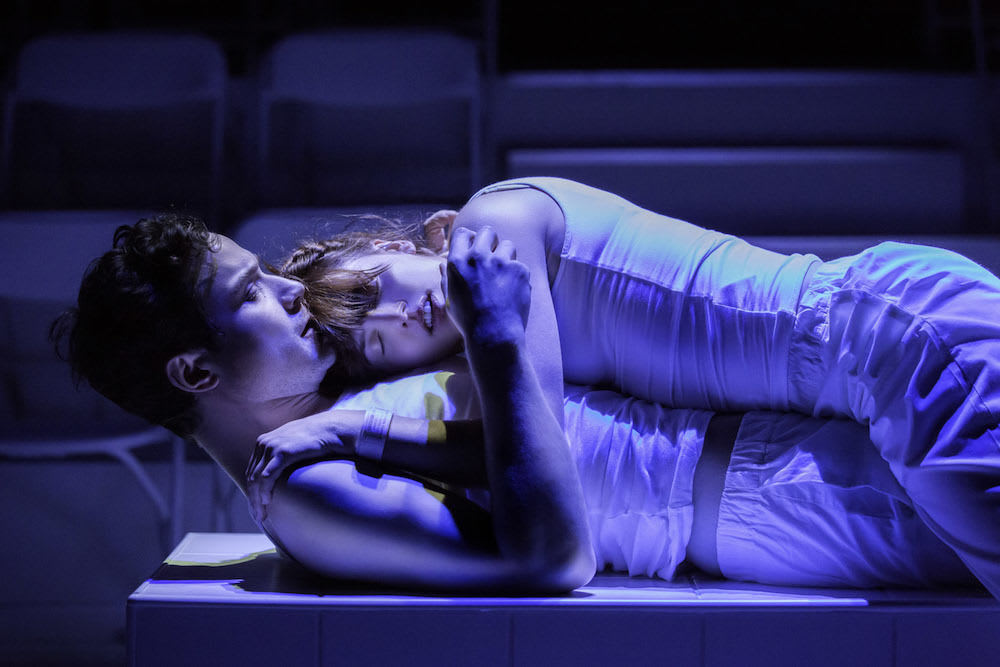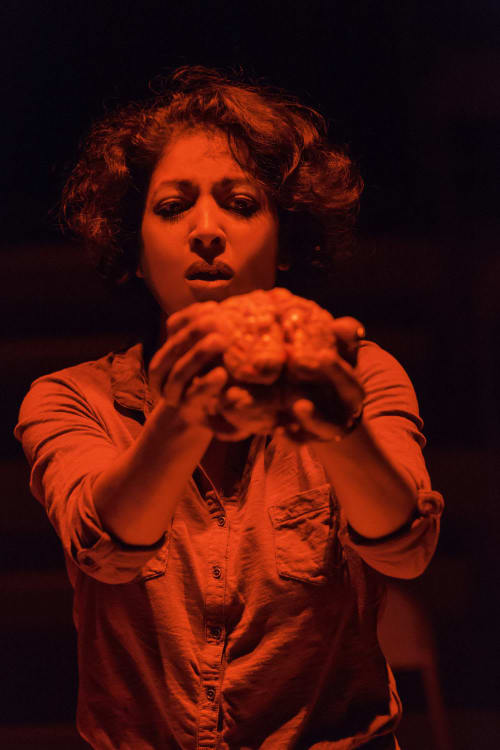 Lucy Prebble's challenging and wide-ranging play explores the similarities between the heightened experience of falling in love and the heightened experience induced by anti-depressant drugs. Among the many striking images in the play, we see an actor cradling and contemplating a brain, Hamlet-like.
The play is set in a medical research centre, where two young volunteers have elected to take part in the clinical trial of a new anti-depressant drug. They are supervised by a psychiatrist with a concealed history of depression, who is in turn monitored by a representative of the drug company determined to achieve a successful (and financially rewarding) outcome.
Daniel Evans's stark white setting emphasises the experimental nature of the procedure where all four actors are subjects exposed to the clinical eye of the watching audience. The tests are accompanied by effective projections, most notably the projection on the stage floor of a grid representing a graph.
The structure of the play progressively reveals different issues relating to feeling and rationality, the heart and the brain, love and altered sensibility. The most interesting of these relates to the 'placebo' effect where a subject not taking the trial drug may imagine the expected symptoms.
At the heart of the play is the developing love affair between Tristan (Henry Pettigrew) and Connie (Ophelia Lovibond). But can this really be love or is it the effect of the drug?
In a beautifully directed early sequence when Tristan and Connie have broken the rules and contrived to spend the night together, we see a relationship developing, which in normal circumstances would have taken months.
The simple device of short scenes in which the actors change body positions in a brief flash of light suggest all sorts of conversations and are lyrical to behold (movement director Lucy Hind).
Considerable physicality is required of the two central actors: in the discrete love making sequences, in a prolonged and well choreographed fight (Bret Yount) and in a frightening representation of a seizure.
While the play is concerned to explore issues relating to heightened mental states, this is done very much through the medium of character. In the course of the play, we learn a great deal of information about all four characters, which is amplified through stage action.
The relationship between psychiatrist Dr Lorna James (an effectively controlled performance by Priyanga Burford) and deceptively charming, drug representative Toby (Stuart Bunce) is shown in more detail in the second half of the play, and throws a less than flattering light on commercial drug development.
This is an outstanding ensemble piece with sensitive and intelligent performances from the four actors, strong and controlled direction from Daniel Evans, an appropriate, minimalist set designed by Amanda Stoodly and excellent creative effects from the lighting, sound and video designers, David Plater, Emma Laxton and Tim Reid.
Reviewer: Velda Harris