The Exterminating Angel
Thomas Adès, libretto by Tom Cairns
Met Opera on Demand
Metropolitan Opera, New York
From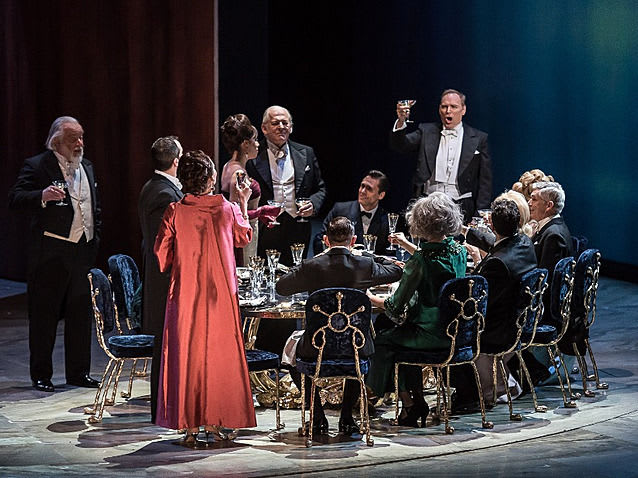 In Luis Bunuel's 1962 surrealist film The Exterminating Angel, a group of people find themselves trapped inside a house, unable to leave; as the days drag by, tensions rise and they begin to turn on each other. Whether or not that scenario has a familiar ring to it, it's a fascinating premise which proves well-adapted to the stage in Thomas Adès's 2017 opera version of the film.
It's only his third opera (after Powder Her Face and The Tempest) but it's full of exciting instrumental textures with some novel effects. Novelty can be quite off-putting in a contemporary composition, if it's arbitrary and only used for effect, but here it really spices things up. He uses the weird wobbly sound of the ondes Martinot, the electronic instrument beloved of French composer Olivier Messaien, to introduce spooky, often comical sounds and at one point employs a group of 1/32 sized violins. That may sound like a gimmick but it also sounds great. The orchestral interludes are a real highlight of this work.
That's partly because the vocal writing is not as good. I don't know if the part of opera singer Leticia was written especially for Audrey Luna (who impressed as a stratospheric Ariel in Adès's The Tempest at the Met) but it feels that the part has been given such high notes (including the highest note ever sung at this venue) just because she's capable of delivering them. Sally Matthews as guest Silvia and Amanda Echalaz as host Lucia suffer similarly from vocal lines that are sky high and after a while just sound like screeching.
The intention may be to grate on the nerves to simulate what's going on in the room but I'm not sure the composer really wanted the audience to be praying for it to stop. I know I was and I have a pretty strong stomach for dissonance.
Matthews and Echalaz are just two of a contingent drawn from the best of younger female singers from the UK that Adès takes with him across the pond and it's good to see Christine Rice, Sophie Bevan and Alice Coote with them on the New York stage. The UK male singers tagging along are John Tomlinson and Iestyn Davies.
They all play their parts well and the direction under fellow Brit Tom Cairns (who also wrote the libretto with the composer) is visually inventive and as bold as the score. Three real sheep are led about, as is a less real bear, and we see glimpses outside the room, just as in the film, with a small chorus of onlookers and anxious relatives.
The Exterminating Angel is arguably Buñuel's best film (I'm inclined to think so) and it does convert to an opera very well, although the nature of the two media means that Buñuel's light and adept plotting gets slowed down, adding some 30 minutes to the run-time of the movie.
Stephen Sondheim was rumoured to be working on a musical version of the story, combined with that of The Discreet Charm of the Bourgeoisie (there are strong similarities between the two scenarios), and it would be fascinating to see how that treatment turned out.
In the meantime, Ades's opera is a lot of fun, if you can take the barking and squealing from the singers, and well worth a watch. There's more contemporary operas to come in the Met's nightly streams (Philip Glass's Akhnaten and Satyagraha as well as John Corigliano's The Ghosts of Versailles) so it's well worth keeping an eye on their web site.
In case you haven't tuned into it yet, the Met's web site is streaming a nightly opera for free, and it is available until 6:30PM EDT the following day. After that, there are a number of ways of tapping into this opera and others at will. The Met Opera On Demand service offers annual ($149.99) and monthly ($14.99) subscriptions as well as a one-off payment ($4.99) for those who have limited time or only want to watch the occasional opera.
Reviewer: Simon Thomas