The Great British Bake Off Musical
Book and lyrics by Jake Brunger, music and lyrics by Pippa Cleary
Mark Goucher Productions and Richard McKerrow in association with Love Productions and Tulchin Bartner Productions, Gavin Kalin Productions, Laurence Meyers, Anthology Theatre and Matthew Gale present an Everyman Theatre Cheltenham
Noël Coward Theatre
–

Listing details and ticket info...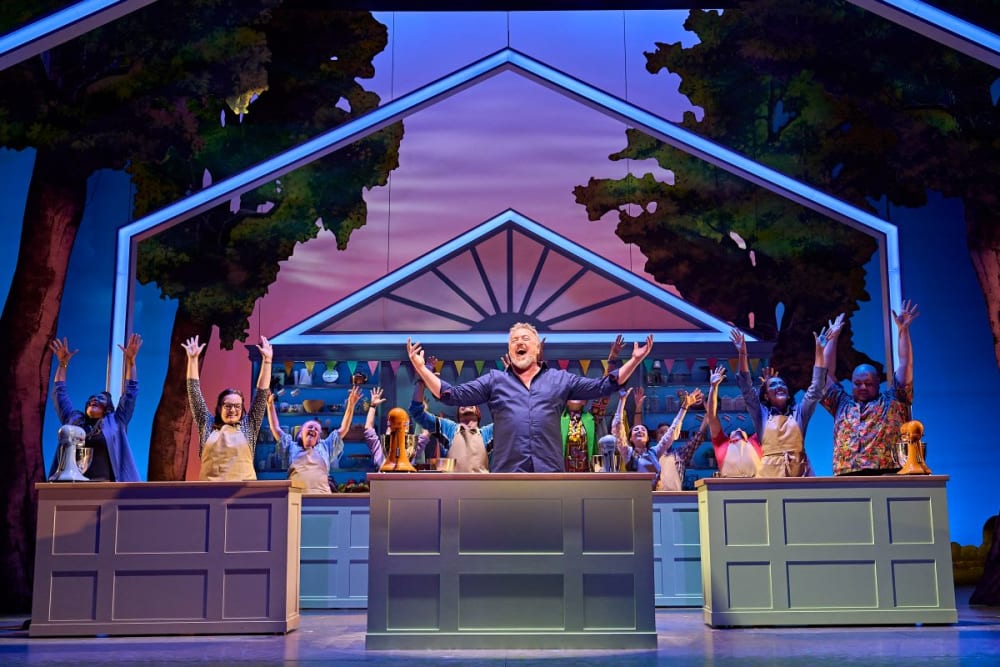 Is cake the cure? If you surrender to the sweetness, it absolutely could be.
The Great British Bake Off Musical is a deliciously light show, part love letter, part parody and part musical revue. It celebrates all the wonderful traits of the TV programme whilst gently sending many of them up too.
The plot follows the structure of a TV series with the bakers introduced one, by one, each with their own backstory. Combined with perky presenters and judges who look strangely familiar, it's stuffed full of fun, puns and lively musical numbers. The central TV theme is carefully woven throughout the score and the iconic tent a character in its own right thanks to Alice Power's carefully crafted set design that envelops the stage.
Familiarity and comfort are what drives the show lending the production its strength and, for those who like their musicals slightly less saccharine, its weakness too. It's hard to manufacture drama when the success of the source material largely depends on a lack of it, so a half-hearted villain and 'will they won't they' love story creates some stakes, albeit very gentle ones.
However, for those happy to succumb to the sugar-coated treats, there's plenty to enjoy from the perfectly cast contestants and creatives. Haydn Gwynne and John Owen Jones are on fine form as judges Pam and Phil, their duet a catchy number (that is very likely to feature in future pantos!) reflecting their friendship and eccentricity with a twinkle. Similarly, Zoe Birkett and Scott Paige as presenters Kim and Jim strike all the right notes with their rehearsed patter and dramatic pauses.
Unified by their 'big hug' moments and shared Bake Off journey, the contestants are each given their own defining personalities and moments to shine, although Russell (Michael Cahill) and Hassan (Aharon Rayner) feel strangely underused compared to their fellow bakers. Uptight Izzy is keen to demonstrate that she's there to win and Grace Mouat lets rip in "Obviously", an impressive number complete with full MT choreography treatment that unfortunately gets overshadowed by later equally flamboyant routines. Cat Sandison's gentle Italian teacher Francesca provides some pathos with "Grow", a deliberately underdone performance that offers an unexpectedly emotional moment following a surreal sequence 'front of tabs' featuring scones in a boxing match.
Jay Saighal, the vegan baker Dezza creates many moment of fun, an amalgamation of so many previous real-life contestants, and as Babs, Claire Moore provides an absolute showstopper with a Victoria Wood-style lament that brought the house down.
As Ben and Gemma, Damian Humbley and Charlotte Wakefield are delightfully uncertain of themselves and their blossoming romance. Whilst cynical Izzy quips that it's all for TV, it's easy to see how this relationship could have been presented on the real show and there's no doubt they'd have won many hearts with their backstories and hopes for the future. "The Perfect Petit Fours" is a number that evokes old Hollywood and elevates them briefly from their normal lives. Congratulations to Aanya Shah for making her professional debut as Ben's daughter Lily, a confident and sweet performance that's the icing on the cake to their relationship.
With 18 songs in total, Jake Brunger and Pippa Cleary clearly had a blast creating original music and lyrics but with nods to other musical theatre and comedy legends too. As a result, the show bounces along, although with some of the most crowd-pleasing numbers reserved for act two, the pacing is a little unbalanced. For all its lightness in tone, however, there is also an attempt to represent the diversity of Bake Off and what it means to be British—admirable and in keeping with the TV ethos but unfortunately a little laboured in places.
If Mary Poppins is practically perfect in every way, then The Great British Bake Off Musical is a show that certainly rises to the occasion and serves a slice of unapologetic joy. Sentimental, comedic, larger than life and with a big heart, it will force even the most hard-hearted audience member to leave with a smile.
Reviewer: Amy Yorston