The Greater Game
Michael Head
LAPA with Stephen Jenkins and Peter Kitchen
Southwark Playhouse (The Large)
–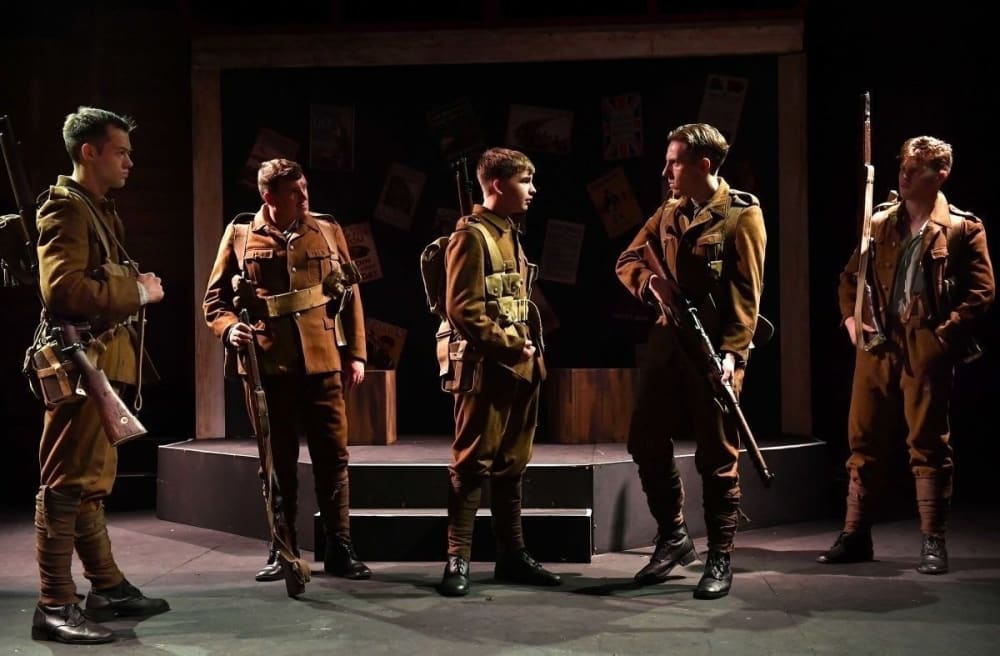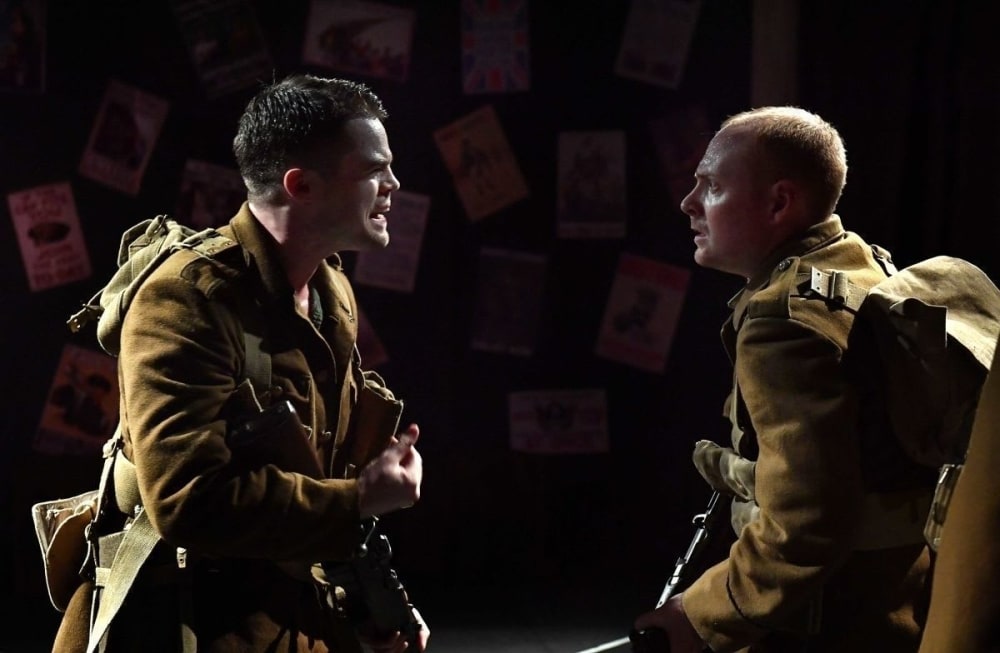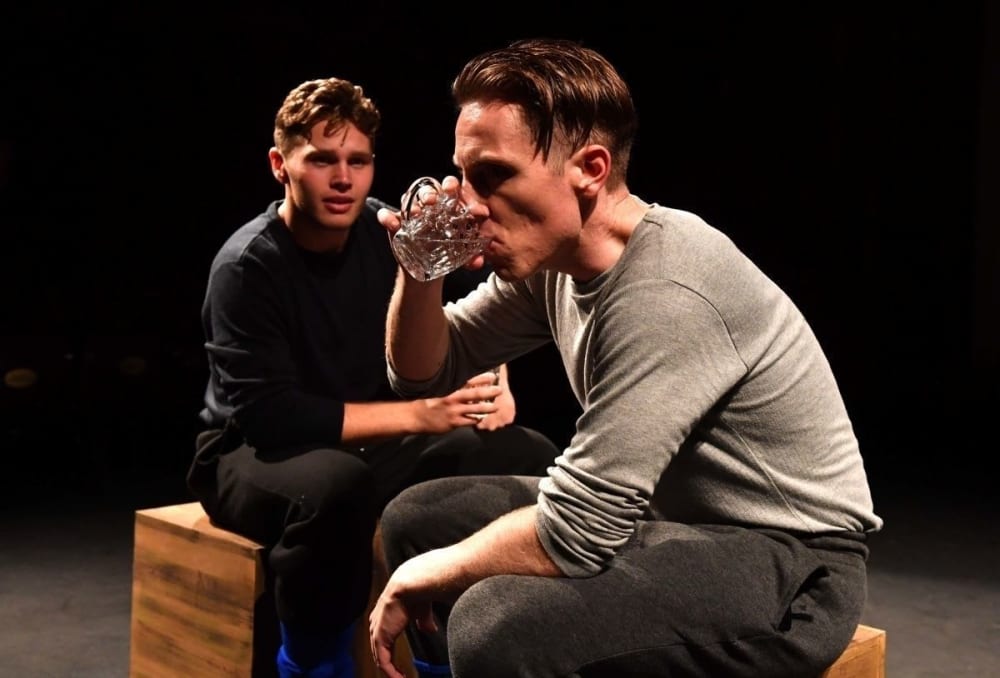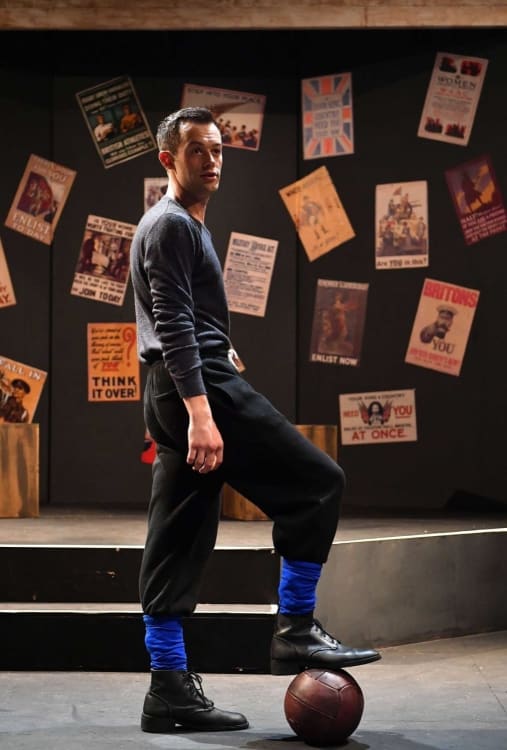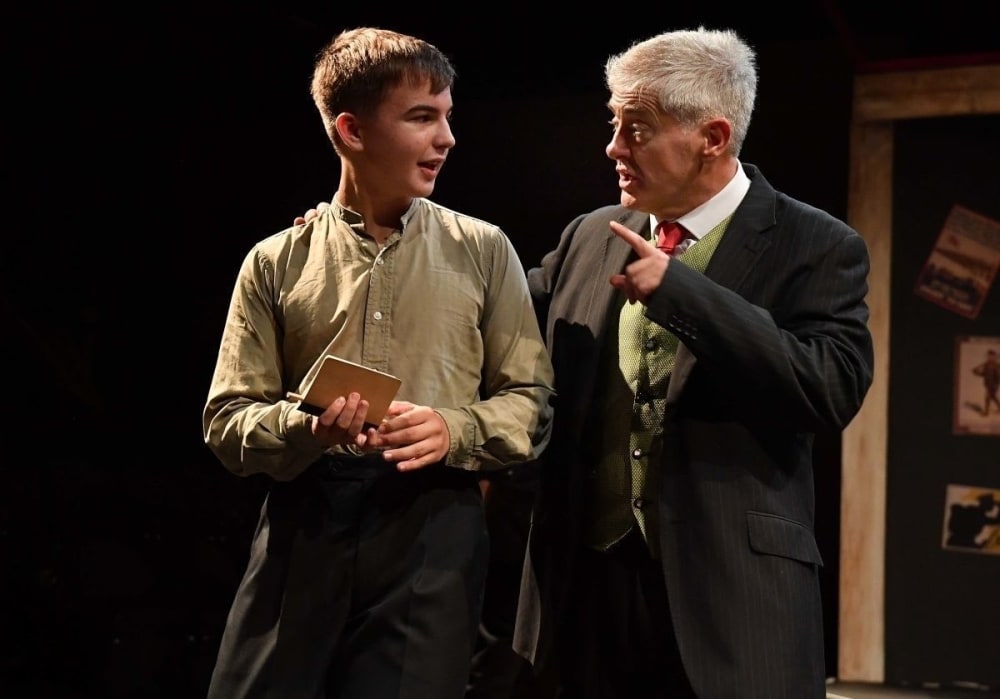 Presented with the support of The Royal British Legion as part of its Sport Remembers Campaign, this is the story of the members of the Clapton Orient Football Club (Now Leyton Orient) who in 1914, all 41 of them, volunteered for service in the 17th Battalion Middlesex Regiment. It is based on the book They Took the Lead by Stephen Jenkins.
Director Tilly Vosburgh starts her production with a group of soldiers at the front line with the guns going suddenly quiet and the sound of a gas warning, but then pushes time back and up north to two young Geordie lads making friends because one has a football. They are Richard McFadden and William Jonas and the play follows them as, having grown up and got married, they move south to join the East London club and then in 1914 sign up after hearing a speech at a recruiting rally at Fulham Town Hall.
Jonas and McFadden are the members we learn most about, warmly played as adults by Will Howard and Peter Hannah. McFadden is a bit of a hero: he saves some kids from drowning in the Lea and is always looking after his mates and turns down a £2,000 transfer fee to stay with the club. Jonas is a loyal best friend who gives his life for him.
Others from the O's team are Fred 'Spider' Parker (Charlie Clements) whose letters home to Club Manager Billy Holmes (Nick Hancock) carry news of their time at the front, Herbert 'Jumbo' Reason, a heavyweight who is always back first from a training run because he hops on a bus, cockney joker Nolan 'Peggy' Evans (Danny Walters), George Scott (Graeme McKnight) who is sometimes the butt of the others and Jimmy Hugall (Gregg Baxter, who also plays an unfeeling officer) who gets wounded and sent back to Blighty several times.
We don't get the rest of the 41 volunteers but this number already diversifies attention too widely.
At first, the play is good at creating the sense of team spirit and dressing room banter but it never digs any deeper. Transitions are not always easy and the device of newsboys calling out facts that seem unlikely headlines just feels awkward.
At the beginning of the war, football matches were seen as a good morale booster but opinion began to question why these fit men weren't fighting. A display of critical posters on the back of the set represents this but they are there all the time and arranged as a pattern. A single big one at the right moment would be more effective.
The staging is deliberately simple but the setting with a white wooden frame a token goal mouth and palisades flanking it representing the trenches does nothing to create any atmosphere which depends on Ben Wallace's lighting.
It is something of a shock to see Mac and Jonas's wives (Patsy Lowe and Laura Webb) waving their men off to war singing "We don't want to lose you but we think you ought to go," as though they mean it, we are so used to that music hall recruiting song being sung satirically—but these men didn't know what was ahead of them. Even the more sarcastic soldier songs the men sing later are there to create a good mood rather than critical comment.
Spider's letters do paint a more sombre picture (it is surprising they got past the censor) and we see Mac badly wounded but the emphasis is more on team spirit and bravery than loss. And there was loss: both McFadden and Jonas were killed, Scott was taken prisoner and died in a German military hospital and Hugall lost an eye as well as being wounded in leg and shoulder and not all the others came back as they went out.
There is a memorial now, unveiled in France in 2011 and memorial gardens by the Matchroom stadium and this production is itself a memorial, to individuals but also to a team and a club. The O supporters in the audience clearly thought it succeeded for them whatever other people might think.
Reviewer: Howard Loxton