The Grönholm Method
Jordi Galceran, translated by Anne Garcia-Romero and Mark St Germain
Menier Chocolate Factory
–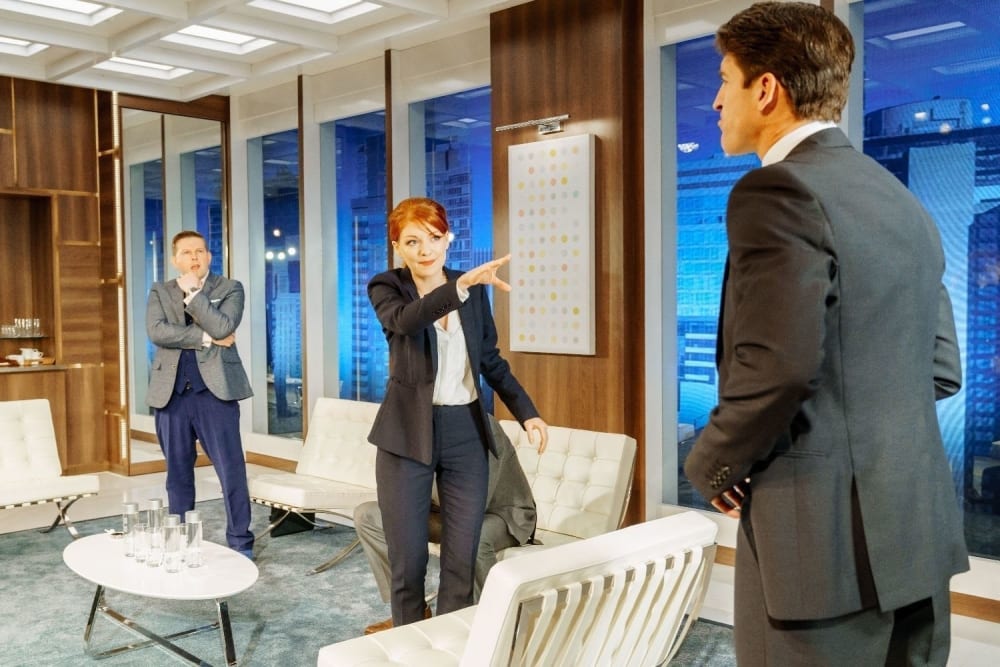 David Babani has done well to sign up what is already a global cult hit for the Menier Chocolate Factory. The Grönholm Method has played in 60 different countries and now makes its UK debut with a strong cast under the direction of B T McNicholl.
The attraction of a simple, 90-minute piece is obvious since, to all intents and purposes, it is the theatrical equivalent to reality TV.
Although its creator is Catalan, this translation by Anne Garcia-Romero and Mark St Germain places the drama firmly in a modern, ultra-stylish 11th floor meeting room amongst the towering skyscrapers of downtown Manhattan, beautifully depicted by designer Tim Hatley.
This is where four candidates for a high-powered role as sales executive for a Fortune 500 company meet in a gladiatorial battle to the (career) death, forced to undergo a series of role-playing games, several of which might easily be borrowed by the producers of Big Brother for the next series.
Each individual has his or her own stereotypical characteristics. Jonathan Cake somewhat sardonically plays an archetypal asshole committed to winning at all costs, Lara Pitt-Pulford is the woman who has to overcome prejudice by being harder and better directed than the men, Greg McHugh is the softy with gender issues, while John Gordon Sinclair portrays the failed family man with psychological weaknesses on which the others can, and do, play.
Amongst other amusements there is a balloon (actually airplane) debate seemingly designed to humiliate, the hint that one of the number is not what he or she seems and enough unconventional situations to fill several episodes of the worst of soaps including a death, a sex-change and sequential human meltdowns.
Following an opening scene that could almost have been written by David Mamet, on one level The Grönholm Method then offers some amusing light entertainment. It also shines a deeply cynical and at times convoluted light on the rat race and the lengths to which successful business people will go to make their names and secure highly paid jobs, happily eliminating their rivals by knifing them metaphorically in the back either singly or collectively.
While this may not be the deepest theatrical experience of the year, the play is undoubtedly good fun and is likely to sell out the Menier for a couple of months and might well have what it takes to move straight into a West End run, if an appropriate smallish theatre comes free at the right moment.
Reviewer: Philip Fisher