The Inn at Lydda
John Wolfson
Shakespeare's Globe
Sam Wanamaker Playhouse
–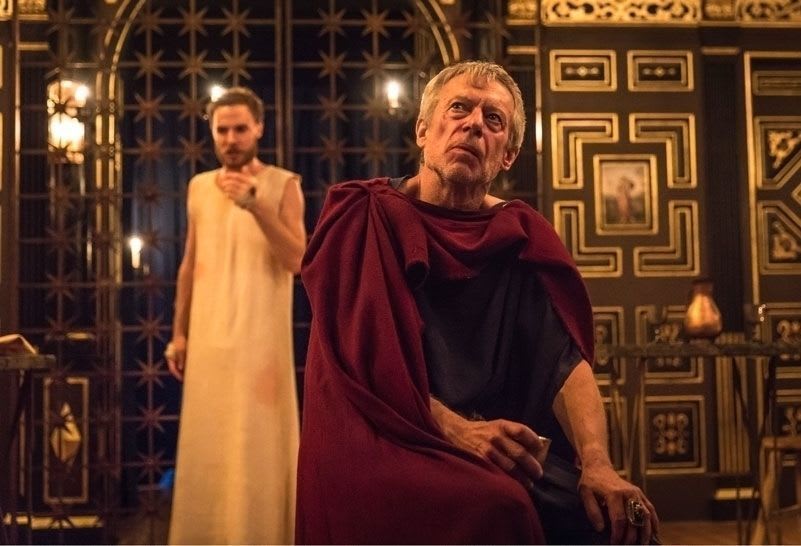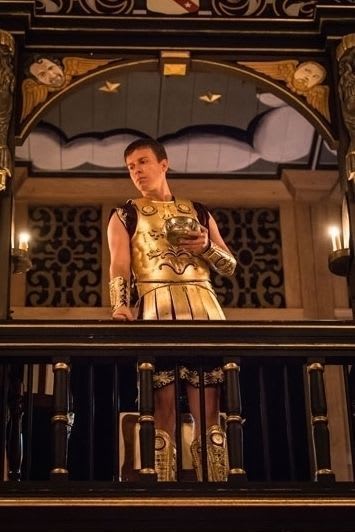 Caesar meets the risen Christ. That confrontation is the core of John Wolfson's play, first produced as a reading at the Globe in 2000 and now revived, directed by Andy Jordan in the indoor Sam Wanamaker Playhouse.
The Caesar is Tiberius (Stephen Boxer), Roman Emperor in 32 CE, the date when Jesus is said to have been crucified. Gossip and writers who include Suetonius describe his debauched sexuality and his diseases but there is also an apocryphal suggestion that he became a Christian.
The programme prints a translation from The Death of Pilate, a text describing how a terminally ill Tiberius heard of a Judean healer and ordered Pilate to have him brought to Rome. Jesus was already dead, crucified by Pilate who himself was now condemned to die. A painting made for St Veronica cures the Emperor in this version. Such tales are this play's inspiration, though Wolfson's is his own invention.
You might expect this to be a heavy-going drama of theological argument. It begins with a sung "Sic transit gloria mundi" and it does have its serious elements in confrontations between the temporal and spiritual leaders. For the most part, however, it is a comic, almost frivolous invention.
Tiberius has just saved the life of his sick pet beaver but he himself is dying and even his Greek astrologer and personal physician Thrysullus (David Cardy) cannot save him. He's just executed all the senate; Thrysullus might be next but, in this version, he does not send for Jesus but himself sails from hedonistic Capri to Judea taking his "slimy Greek conjurer" with him to keep him alive on the journey.
Nephew Caligula (Philip Cumbus) turns up in Judea too, fresh from a singing tour of Greece, accompanied by his terpsichorean sidekick Mnester (Chris Lew Kum Hoi).
Converging on Judea earlier are three other old astrologers: Balthasar (Richard Bremmer), Caspar (Joseph Marcell) and Melchior (Kevin Moore), the magi present at Jesus's nativity called by the conjunctions of stars and planets to mark his death and resurrection and there passing caustic comment.
Thrown in also for good measure, St John the Evangelist (Matthew Romain). The Magi tell him not to write this down, which is why none of it is in the Gospels, but, draped in off-the-shoulder scarlet, he's already spouting apocalyptic visions ready for Revelations.
Then there is Jesus (Samuel Collings), white-robed, his hands and feet still bound in blood-stained bandages, guiding Thrysullus to find healing herbs, cool and collected as Caesar roars at him.
This isn't balanced Shavian polemic as frightened, blustering Caesar justifies his violent, murderous rule as making a safe, strong Rome and it is monstrous Caligula who predicts how religion will spark death and destruction.
There are splendid performances from all the cast with Marcell's Caspar leading his delightful trio, Thrysullus more lively East-End Jew than Hellene, camp Mnester and a growling, impulsive Caesar.
Christopher Bianchi's Innkeeper, offering sweetmeats around the audience to start the second act, is entirely in key with the tongue-in-cheek approach of this production which has the on-stage chandeliers raised and lowered to match the darkening sky as the Magi mark the moment of the crucifixion but also uses Nick Powell's music to create more spiritual moments.
It is a jeu d'esprit more than a serious message but no less enjoyable for that.
Reviewer: Howard Loxton