The Merry Widow
Franz Lehár, libretto by Victor Leon and Leo Sarein
Met Opera on Demand
Metropolitan Opera House, New York
From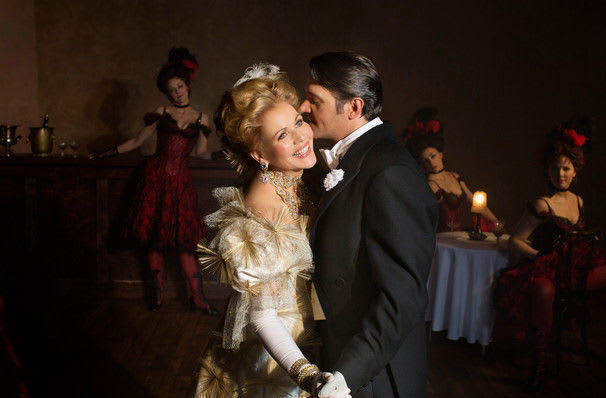 Franz Lehár's The Merry Widow was an enormous success at its première in Vienna in 1905 and its success was repeated in 1907 in London, New York and Buenos Aires. He gave the then moribund Viennese operetta a new lease of life.
Fashionable women everywhere wore The Merry Widow broad-brimmed hat. There were Merry Widow cigars, Merry Widow cosmetics, Merry Widow corsets, Merry Widow cocktails, even Merry Widow dogs.
Lehár (1870–1948) became the leading operetta composer of the day. The score has one of the most famous and hypnotic waltzes in the world and its infectious, haunting, tender, slightly erotic melody is repeated again and again.
Franz Lehar and La Belle Epoque and Maxims are synonymous. The operetta is romantic, glamorous, frothy fin de siècle escapism. The satire at the expense of Austrian-Hungarian high society and its decadence is tame.
There have been three film versions. In 1925, Eric von Stroheim directed Mae Murray and John Gilbert. In 1934, Ernest Lubitsch directed Jeanette McDonald and Maurice Chevalier. In 1952, Curtis Bernhardt directed Lana Turner and Fernando Lamas.
The plot concerns the efforts of a baron (Thomas Allen) to save his native country from bankruptcy by getting a playboy count (Nathan Gunn) to marry the fabulously wealthy widow (Renée Fleming) he once had an affair with and so ensure that her 20 million francs do not leave the country.
The sub­plot concerns the Baron's young wife (Kelli O'Hara) and her flirtations with a French diplomat (Alek Shrader). The plots are thin and the dialogue is not nearly funny enough.
The Met's handsome production, directed by Susan Stroman and conducted by Andrew Davis, dates from 2015. I was not as bewitched and beguiled by the performance as I had hoped. The cast are not natural comedians.
Fleming, gorgeously costumed, sings "Vilja" in act 2 affectingly but the sexiness and chemistry she and Gunn need for their high comedy scenes are missing.
Broadway director Susan Stroman, making her Met debut, is at a loss what to do with singers who can't dance and a show-stopping number like "Women, women, women, who can tell what the hell women are?" doesn't stop the show.
There are a number of ways of tapping into this opera and others at will. The Met Opera on Demand service offers annual ($149.99) and monthly ($14.99) subscriptions as well as a one-off payment ($4.99) for those who have limited time or only want to watch the occasional opera.
Reviewer: Robert Tanitch