The Only Way is Downton
Luke Kempner
Seabright Productions
Pleasance Courtyard
–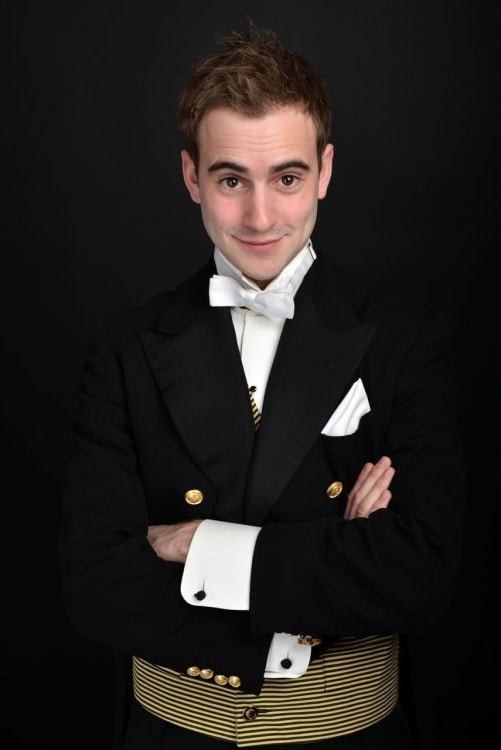 For devotees and fans of the hit television series Downton Abbey, Luke Kempner's splendid one-man show is a sheer joy.
For those who are not so familiar with the genre, you have to admire the sheer artistry of Kempner's impressions as he brings to life the various characters from this period drama.
In fact, Kempner plays over 30 roles, each one perfectly formed from creating the voice and accent to individual gestures, and quickly builds up a rapport with the audience.
It is set in 1912 with frequent references to the Titanic as the family are still in mourning over its sinking.
Downton Abbey is once again in financial difficulties and everyone from both upstairs and downstairs will need to make sacrifices and tighten their belts. As Carson says, "We'll only have lobster for breakfast every other day."
The Lady Dowager has decided that she is going to marry for money but no one expected it would be Tom Daley.
Daisy and Mrs Patmore have decided to enter in Mary Berry's The Great British Bake-Off and an extract from the X Factor contest.
Mr Bates has a plan to make over a million points by taking on Andy Murray in the final of the tennis competition, whilst Sarah and Thomas compete in Pointless with hilarious results.
The humour ranges from farcical one-liners to groan-making puns and even an extract from Downton Abbey: The Musical. "Well you can turn anything into a musical."
There is even an appearance of Alan Carr as the vicar who asks, "What is a dowager anyway? I always thought it was a type of duvet."
This is a real tour-de-force performance, skilfully directed by Owen Lewis, and the capacity audience loved every minute.
Reviewer: Robin Strapp