The Theatre Channel Episode Three: The Rock Episode
Various Artists
Adam Blanshay Productions
The Theatre Café
From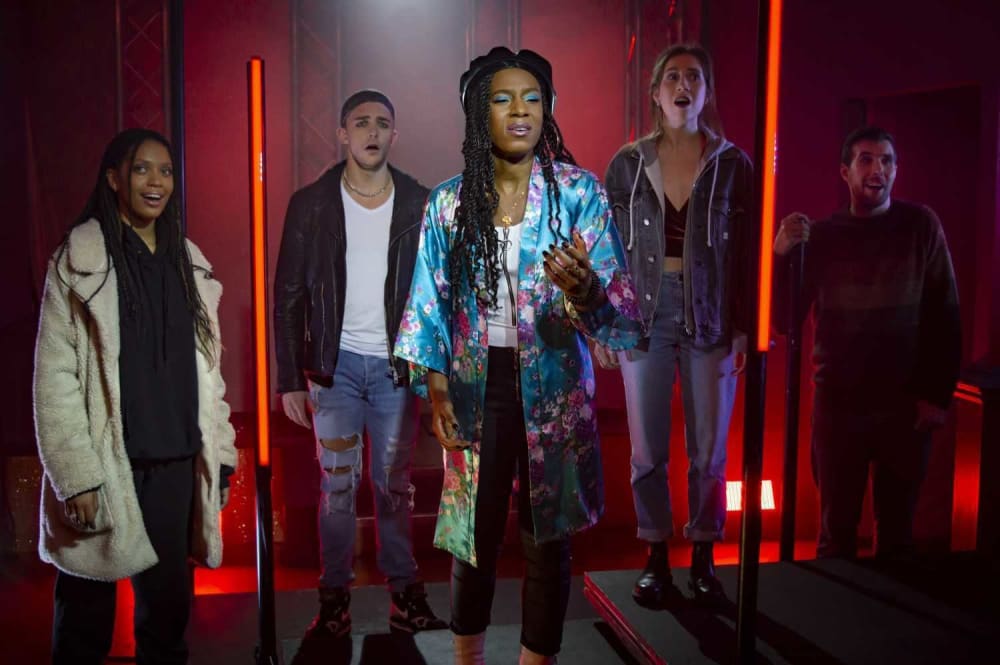 The third episode of the Theatre Channel's celebration of musical theatre runs to 35 minutes and is dedicated to rock musicals. Once again, the production is imaginatively staged by director Bill Deamer in and around Central London's Theatre Café.
The opening sets the scene, featuring resident ensemble, the Café Four (comprising Alyn Hawke, Emily Langham, Sadie-Jean Shirley and Alex Woodward) with their trippy, psychedelic version of "Aquarius" from Hair.
In parka and knitted blue tea cosy hat, Francesca Jackson appears reflective and, at times, pained as she belts out "Forgiven" from Alanis Morissette's Jagged Little Pill.
Had Rob Houchen delivered his astonishing rendition of "Gethsemane" from Jesus Christ Superstar on a stage, he would undoubtedly have brought even the most placid of audiences to its feet for a long period of wild applause. Instead, symbolically, he starts outside St Martin-in-the-Fields, before moving into a deserted Trafalgar Square, seemingly addressing many impassioned pleas directly to Lord Nelson on his plinth, ahead of a crucifixion image on the bars protecting the locked-up National Gallery.
Aisha Jawando is quite frankly terrifying as she vamps her way through "Acid Queen" from The Who's Tommy.
This series has generally concentrated on familiar favourites from popular musicals, so the injection of a touch of Gallic novelty courtesy of Alex Gaumond singing "Le Monde est Stone" from 1970's French-Canadian show Starmania by Michel Berger and Luc Plamondon is refreshing. Monolingual Brits will be relieved to learn that the French lyrics are translated into English subtitles by Jeremy Sams, allowing them to understand the depth of this character's sadness and depression, which borders on the suicidal.
Subscribers keen to learn more about what might be a forgotten classic will enjoy the final few minutes of the film, which features interviews with Plamondon and Gaumond about the musical.
Shan Ako has both a great voice and tremendous stage presence, as she proves while singing "I'll Cover You (Reprise)" from Rent.
This offering ends with "Pity the Child" from Chess, very much a child of its times having been brought into being by Benny Andersson and Björn Ulvaeus from Abba in association with Tim Rice. John Owen-Jones sings a tune that builds slowly into a rock anthem, never neglecting its storytelling responsibilities along the way.
Each episode of The Theatre Channel can be purchased directly from the Theatre Café for £12.
Reviewer: Philip Fisher