The Wind in the Willows
Book by Julian Fellowes, music and lyrics by George Stiles and Anthony Drewe
James Hendry Productions
London Palladium
From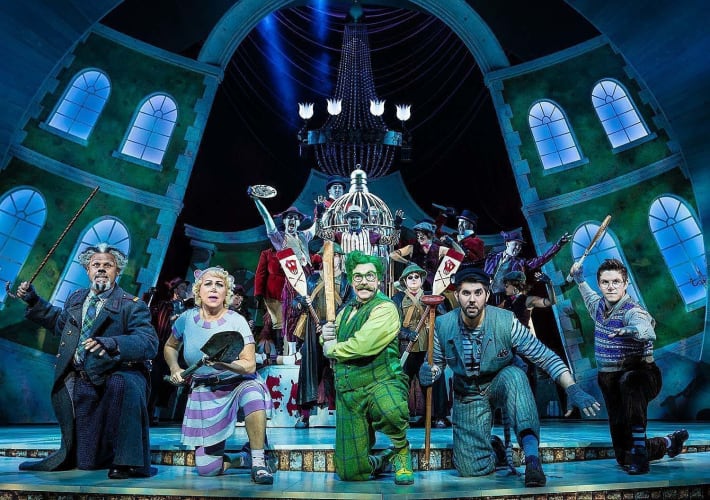 James Hendry Productions' contribution to the current proliferation of online theatre is this adaptation by Julian 'Downton Abbey' Fellowes of Kenneth Grahame's well-loved collection of riverbank tales with music and lyrics by British songwriting duo Stiles and Drewe, recorded at the London Palladium in 2017, where it ended up after a national tour in 2016 with a few changes in the principal cast.
It's a delightful family musical that has translated well to the small screen (though I'd recommend a TV screen rather than a phone if you can manage it). It's bright and colourful with lively characters and songs and runs for around 2 hours 10 minutes, so doesn't outstay its welcome.
Grahame's original book is a collection of stories rather than a single narrative. Fellowes has largely taken the usual route to bind certain of the tales into a continuous plot, but he does add a few elements of his own and includes as a continuous side-plot the otter with the troublesome, straying pup—although both parent and child have been made female—which adds to the jeopardy of the final battle at the end. But the main points of the expected story of Mole and Ratty trying to save Toad from his changing and damaging obsessions, resulting in Toad getting imprisoned and Toad Hall being overrun by the Wild Wooders, remains intact.
Rufus Hound won the Manchester Theatre Award for Actor in a Visiting Production in 2017 for playing Toad when it was at The Lowry in Salford, and it's easy to see why, as he's the perfect embodiment of this lovable but frustrating and annoying character. Craig Mather is naive but principled Mole, with Simon Lipkin as his cynical and stubborn friend Rat—with some great comic delivery—while Neil McDermott moves and sounds like a classic cartoon villain as Chief Weasel. Gary Wilmot brings sufficient gravitas to the role of Badger, and Denise Welch is concerned parent Mrs Otter and the Toad-hating Barge Woman.
Stiles and Drewe's songs are musically fairly typical for a modern musical with a few touches of brilliance in the lyrics, including some groanable rhymes. Peter McKintosh brings a bright and cheerful colour palate to his costume and set designs, the latter enclosed in a circular proscenium arch, like the entrance to a woodland animal's burrow, with the scenery distorted to match the circular shape as though viewed through a fisheye lens, which I loved.
It's a fun couple of hours genuinely suitable for all the family, so a great option if you're looking to entertain your locked-down household and can stream it to your TV—and do make a donation if you can, which goes to the Acting for Others charity.
Reviewer: David Chadderton